In many minds, riding a bicycle is associated with a certain feeling of freedom and independence. While miles flow by under your tires, the wind on your face brings out a sense of adventure and exhilaration. The Berlin-based bike manufacturer Vetra Bikes—stemming from the Slovenian word "Vetra" meaning "wind"— aims to form an emotional bond between the bikes and their buyers. Founded by André Roboredo in 2021, Vetra Bikes produces unique and customized bicycles at the intersection of design, craft, and culture. It's a love for riding, which André shares with his close collaborators, graphic designer Christophe Synak and Rachel Walker, who comes from a background in contemporary art and curation. With unfailing attention to detail, Vetra Bikes pushes the boundaries of the industry forward. 
In the following interview, André, Christophe, and Rachel talk about their motivation behind the brand, their plans for the future, and what distinguishes them from mainstream production nowadays. It's a story of passion, hard work, dedication, and deep care. 
What was the very start of your fascination for bikes?
AR: To me, bikes have always been a symbol of freedom and defiance. Growing up, I was influenced by trials and BMX videos. These people were defying what was considered possible in their environment and culture—even when the consequences were sometimes life-threatening. I was 14 and this punk attitude felt more relevant than school. I wasn't interested in doing what people wanted me to do. I was much more excited by the feeling my bike evoked in me when reaching for the clouds and crashing back down into the world. I spent most of the next 10 years riding out on the street or in nature with friends. I was filming bike videos which eventually got me into film, 3D animation, and arts and culture in general.
I love that each of us has such a personal relationship with our bikes. I feel butterflies in my stomach every time someone tells me the story of how they started riding, from the simple act of their parents removing the support wheels to riding around the block escaping from home or problems, or as a tool for emancipation. I see bikes as so much more than a physical vehicle. They provide a gateway to learn about ourselves and the world around us, independently with our own eyes.
Can you tell us a bit about what prompted you to found Vetra Bikes? And looking at the mainstream production of bikes nowadays, how did you want to be different?
AR: Through my experiences from bike touring, I became fascinated by the effect of natural phenomena on people and the landscape, especially the wind—this invisible and impermanent force that shapes literally everything around us. When I crossed Peru and Bolivia by bike, I got swept up in a tornado ("Viento Blanco") down in a valley near the Laguna Colorada. Crossing the Salar de Uyuni, I listened to the maddening noise of the fast headwind while gazing at the infinite, plane horizon for days on end. Experiences like that made me wonder about our relationship with natural causality and the speculative realities it binds us to.
"Vetra," which means "wind", started as an attempt to communicate the idea of this universe of invisible forces that we constantly cross through, causing us to change our direction and orientation. I want to create bikes that don't intrude on the environment but rather allow people to connect more deeply with their surroundings. Bikes that people fall in love with and with whom they can form a relationship of mutual care.
Every bike has its story, its quirks, influenced by its builder or owner. I usually start with a blank slate and try my best to translate that intent into a dialogue. I believe that what exists within that dialogue delivers a sense of belonging which ultimately could amplify the relationship between the bike and its rider.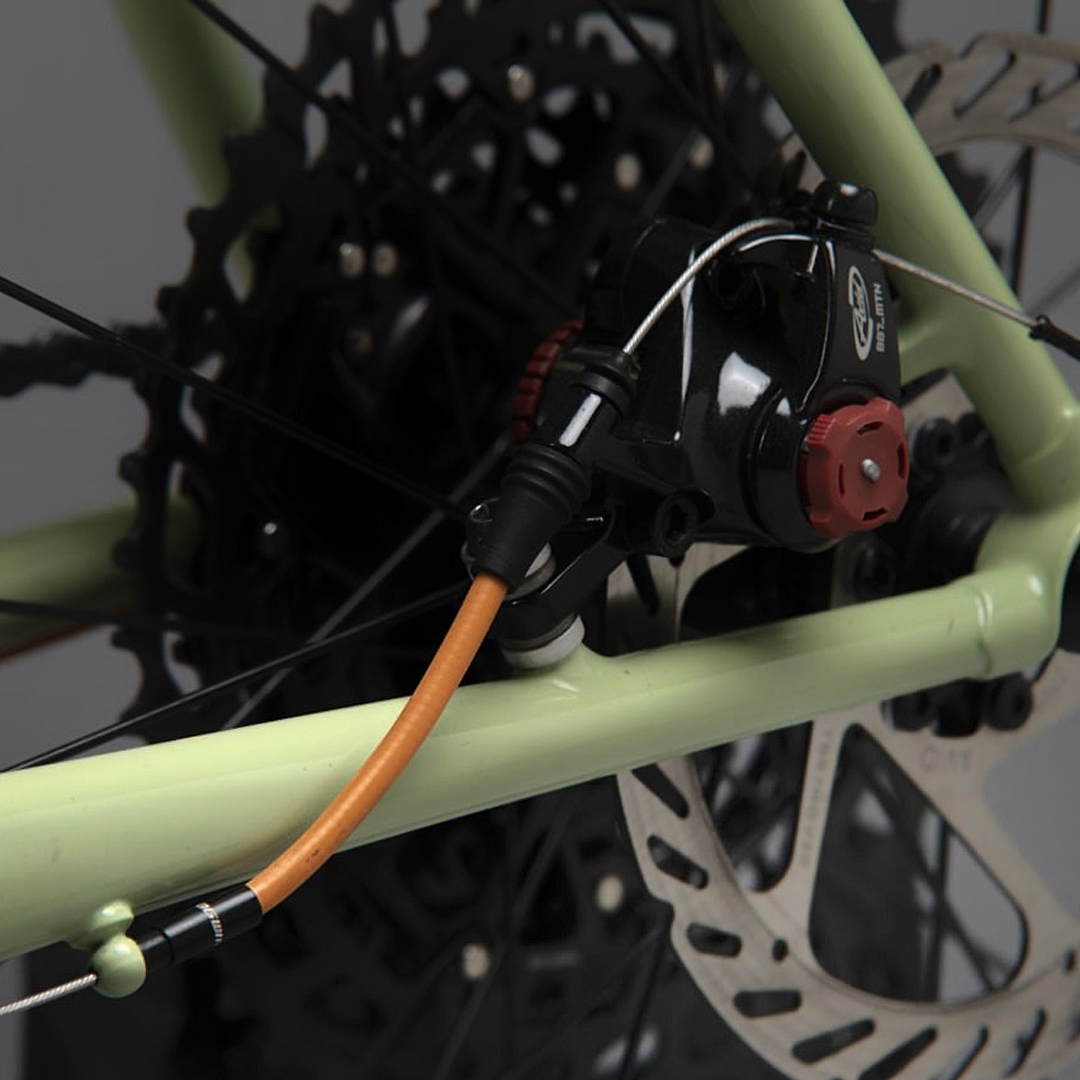 While each bike is customized, has there been an epoch or style in bike culture that you are generally inspired by?
AR: Yes! Indeed, I'm really into the 70's up until the 00's period of mountain biking history. This was an interesting period when many builders were creating bikes in a very DIY, cottage industry-type of fashion. A lot of independence, diversity, and uniqueness arose in these times. Charlie Cunningham and Steve Potts are big inspirations, as were many other independent frame-builders from that time. Their advances in frame geometry were crucial and, in my opinion, still hold true to this day, in the sense of what I consider to be a good geometry for an all-terrain bikepacking bicycle.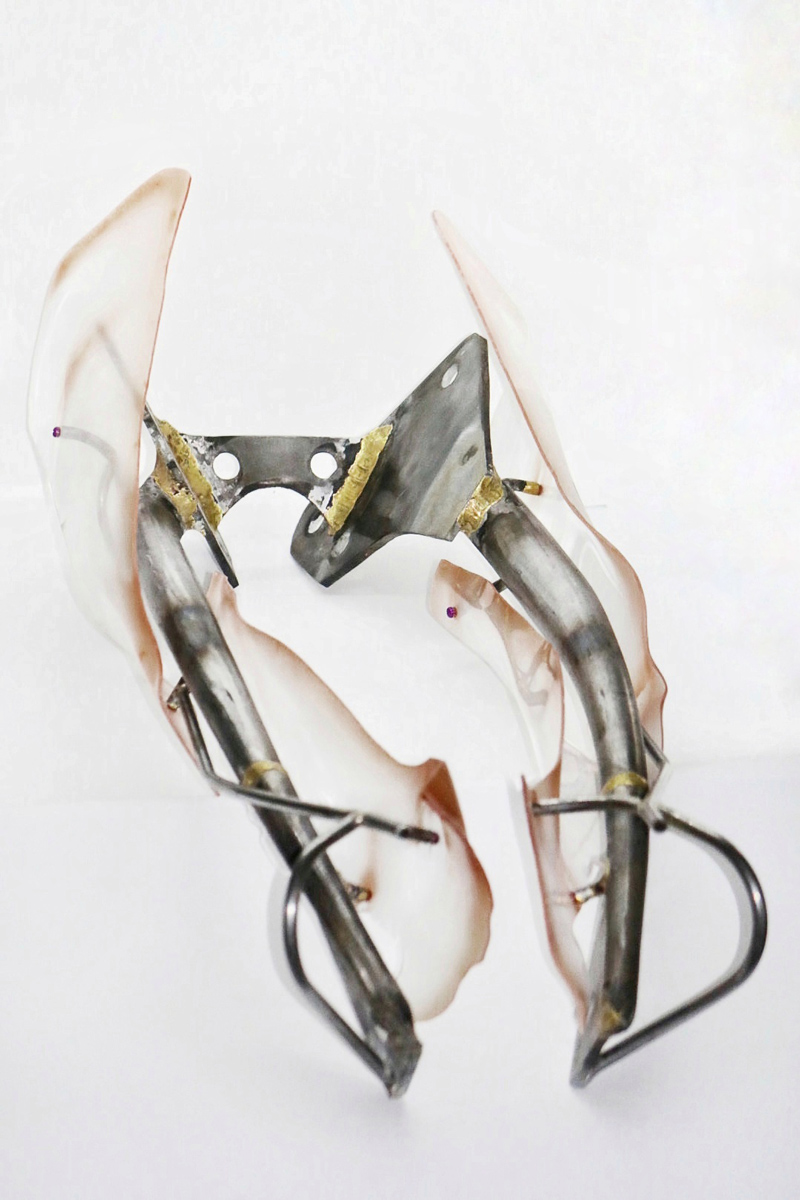 Is the choice of material and varnishing all about functionality or do they have a more significant role within the whole construction?
AR: Vetra frames are made of steel, a material that is hard but also gentle and forgiving. Steel has a memory—you need to stay in dialogue with the material during the process. I use filet brazing to join the tubes together mainly because of its sculptural quality and the creative freedom it offers. It's a more time-consuming process but it feels more like a dancing ritual rather than the surgical, precise, controlling type of other fabrication methods. It feels literally like a balancing act, playing with gravity, rhythm, and melted metal. 
Painting these bikes is a big part of the process. I see color and design as a kind of bridge between the bike itself and the people and environments surrounding it. The goal is to create a visual universe that can translate color and graphics into real-life experiences. There is definitely something animistic about this way of thinking, seeing bikes not merely as functional vehicles made for performance, but as objects with deep potential and meaning.
Each bike is the result of close creative interaction, resulting in a unique and highly customized product. What does working collaboratively bring you that you couldn't do alone?
AR: This is the most important value of Vetra. Bikes are, by definition, collaborative objects because there are so many elements involved in the process—a bike is quite literally the sum of its parts. 
I'm very lucky to have collaborated with Christophe Synak since the beginning. He took over the graphic design for Vetra and played a key role in translating the ideas around Vetra into a cohesive graphic vision that keeps on evolving with every new bike. In addition, many of our clients come from creative fields and have also contributed to the bikes, by sharing their visions. So each bike is the result of a very personal dialog. Every creative input has to be taken into account to achieve a balance between functionality and aesthetics.
RW: In a sense, riding is also an important part of the collaborative process. A lot of the ideas around Vetra come up while riding with friends or other people who we then collaborate with. Going on multi-day long-distance rides is a constant act of balancing synergies—you can no longer think only as an individual when you are moving as a group. Each person brings their own energy and skillset, we help each other out, play on our strengths, and respect each other's vulnerabilities. Through riding, we have learned a lot about what it means to work collaboratively and we try to bring that into our work with Vetra. It's about fostering human connection and getting rid of this obsession with the ego or the gatekeeping of skills/knowledge.
CS: My relation to bikes has always been related to community, from Alleycat races, playing Bike Polo, or just going on adventures. I always found importance in the customization of bikes, when André reached out, I couldn't refuse. It was like a dream project.
As a graphic designer, most of my favorite works are collaborations with other individuals, learning from each other, being part of a team, and exploring new territories regarding any discipline is something very enriching. Working with André is like a Ping-pong game of ideas. And I love to play! We are very close and honest with each other, which significantly improves the quality of the finished design. This open flow of communication allows our ideas to evolve faster, in directions that wouldn't be possible when working alone.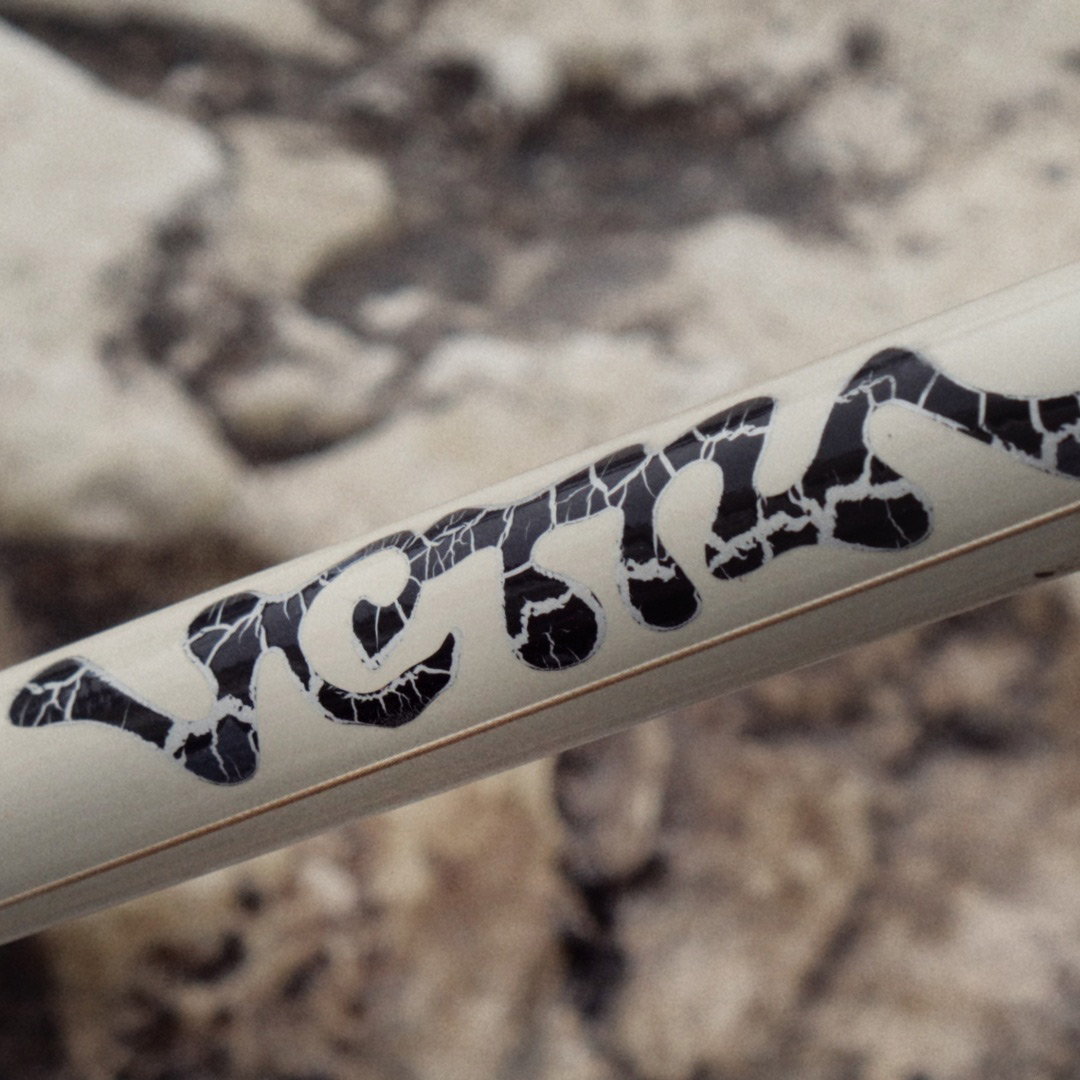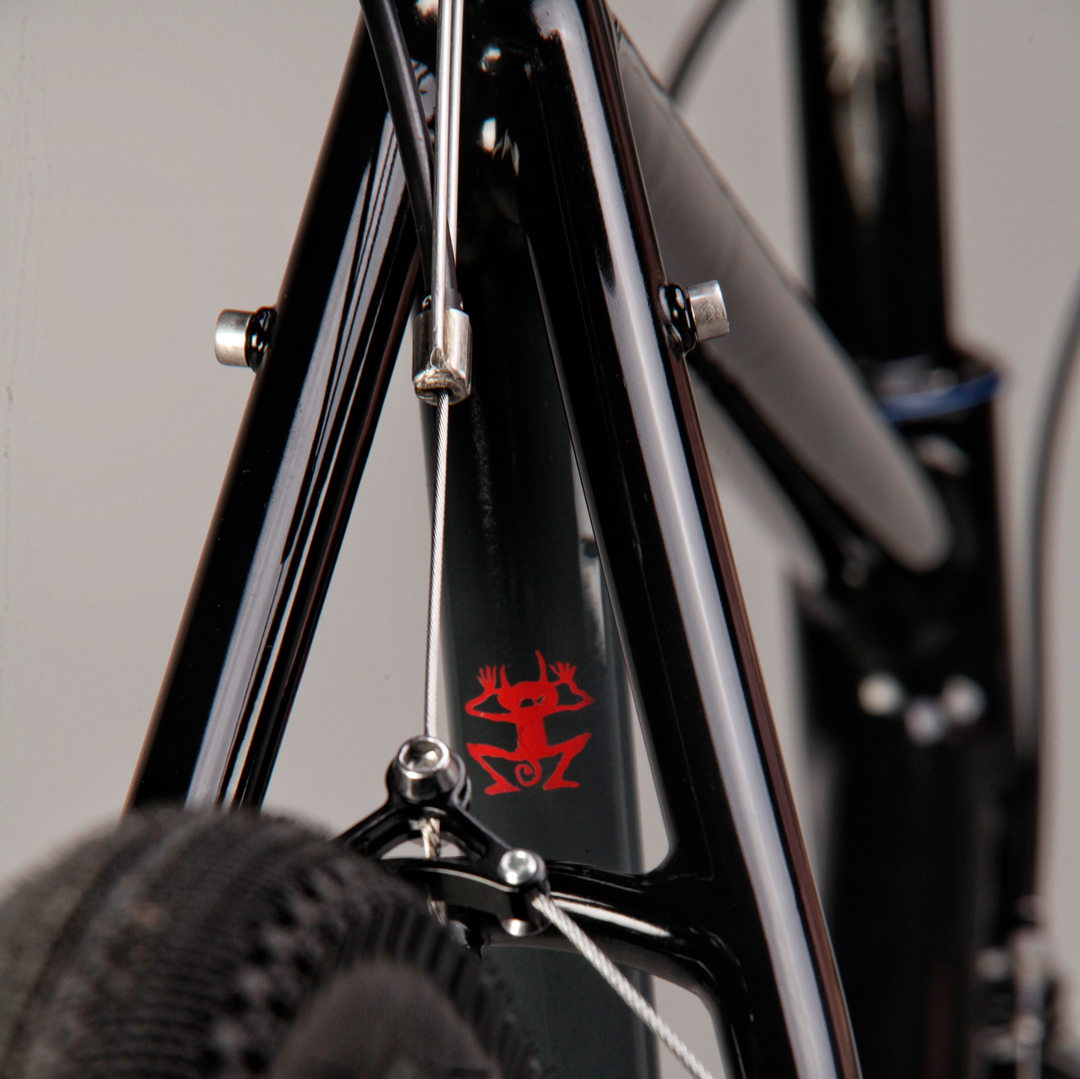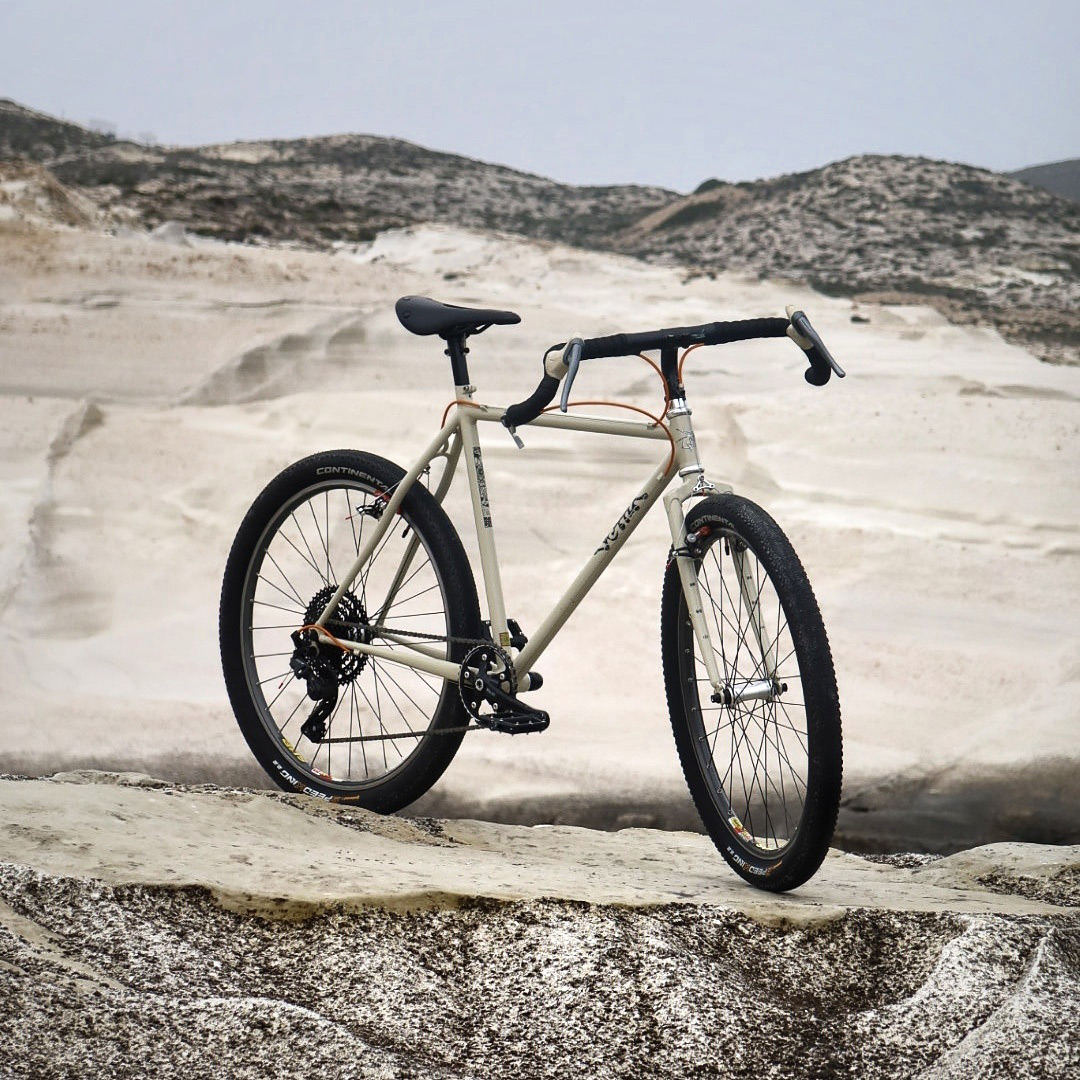 The work of Vetra Bikes lies at the intersection of design, craft, and culture. Where does your interest in this crossover of different disciplines come from?
AR: I studied film and worked as a VFX compositor so I have always been interested in image-making and visual culture. In Berlin, I have found myself surrounded by people from all kinds of creative fields—illustrators, designers, artists, photographers. So there's that. All my life I have been interested in bikes but always felt like the emphasis was too much on the technical aspect, on performance. For me, it missed the cultural and aesthetic aspects. And yet many of the people I was riding with and that I have collaborated with are also interested in visual culture. So the crossover happened quite organically. Same thing with crafts. My interest in frame-building came from a necessity at an early age to fix up and build my own frames, since I could not afford to buy new ones.
RW: My background is in contemporary art—I work as a curator and as a project manager for Artsy, an online marketplace, and art publication. When I started bike touring I felt a bit intimidated by the dominant bikepacking culture which felt mostly geared towards people with a lot of technical knowledge of bikes, and honestly, towards men. The process of radical collaboration around Vetra opens it up to a different audience. We have bikes that are custom-made and very high-tech but also invite you into their own aesthetical and visual universe. There aren't so many brands out there that embrace this crossover and obviously, this has the effect of making riding more accessible to an audience that might not have embraced it otherwise.
Are you building everything in-house or do some parts of the production need to be outsourced?
AR: At the moment most elements are built in-house. Each frame is designed and welded specifically according to one's size, preferences, and riding style. I also build stems and racks, and the painting is done in-house as well, which is uncommon in the usual frame-building industry. The only things I'm outsourcing are of course the different components, mostly from Europe, some of them second-hand or refurbished. It's fun to reanimate these refurbished items and put them into a new context
AR: I would love to keep collaborating with people from different disciplines and with different visions. We're soon going to move into a new workshop which I hope will provide more space for bigger ideas. I would like to expand the Vetra universe by exploring more mediums, and hence work with people from different disciplines, such as film directors. And of course, keep traveling and riding!