In a groundbreaking exploration of Venice's delicate ecosystem and its entanglement with hyper tourism and surveillance capitalism, a group of international artists-in-residence at Fabrica Research Center have collaborated to create Venezia Fabrica Futura, an eco-critical laboratory that challenges conventional narratives and reimagines the future of the city.
Asuka Akagawa, Riccardo Androni, Giorgia Burzio, and Stefano Dealessandri, each with distinct backgrounds and expertise, converged at Fabrica, a Renaissance-inspired research center located in a renovated 17th-century villa in Venice. Fabrica provides a platform for creative talents from around the world to collaborate and experiment across various disciplines. For the four artists, their shared residency at Fabrica and their fascination with Venice's fragile ecosystem was the catalyst for this collaboration. The project aims to create an "eco-critical laboratory," providing a space for multimedia research projects that explore alternative futures within the context of Venice's lagoon ecosystem, culminating in the creation of an exhibition that seeks to engage the local community and prompt discussions on the challenges faced by the city.
"Often referred to as the floating city, Venice is a captivating and historic destination renowned for its intricate canals, magnificent architecture, and rich cultural heritage. However, behind its romantic facade lies a deeper story that intertwines with the concept of the Capitalocene," Stefano tells Collide24. In his work, the recent graduate in visual communication focuses on investigating glitches, contradictions, and absurdities in the visual and verbal spaces we inhabit. He kicked off the collaboration by investigating the effects of surveillance systems on Venice. Through his projects "Intensivsimulation" and "J'adore Venise," he delves into the issue of hyper tourism and examines the impact of profit-driven investments on Venice's delicate ecosystem and the narrative distortion caused by tourism's influence. This exploration led to the concept of creating a space that embraces alternative narratives and investigates disappearing bodies within capitalist-driven frameworks.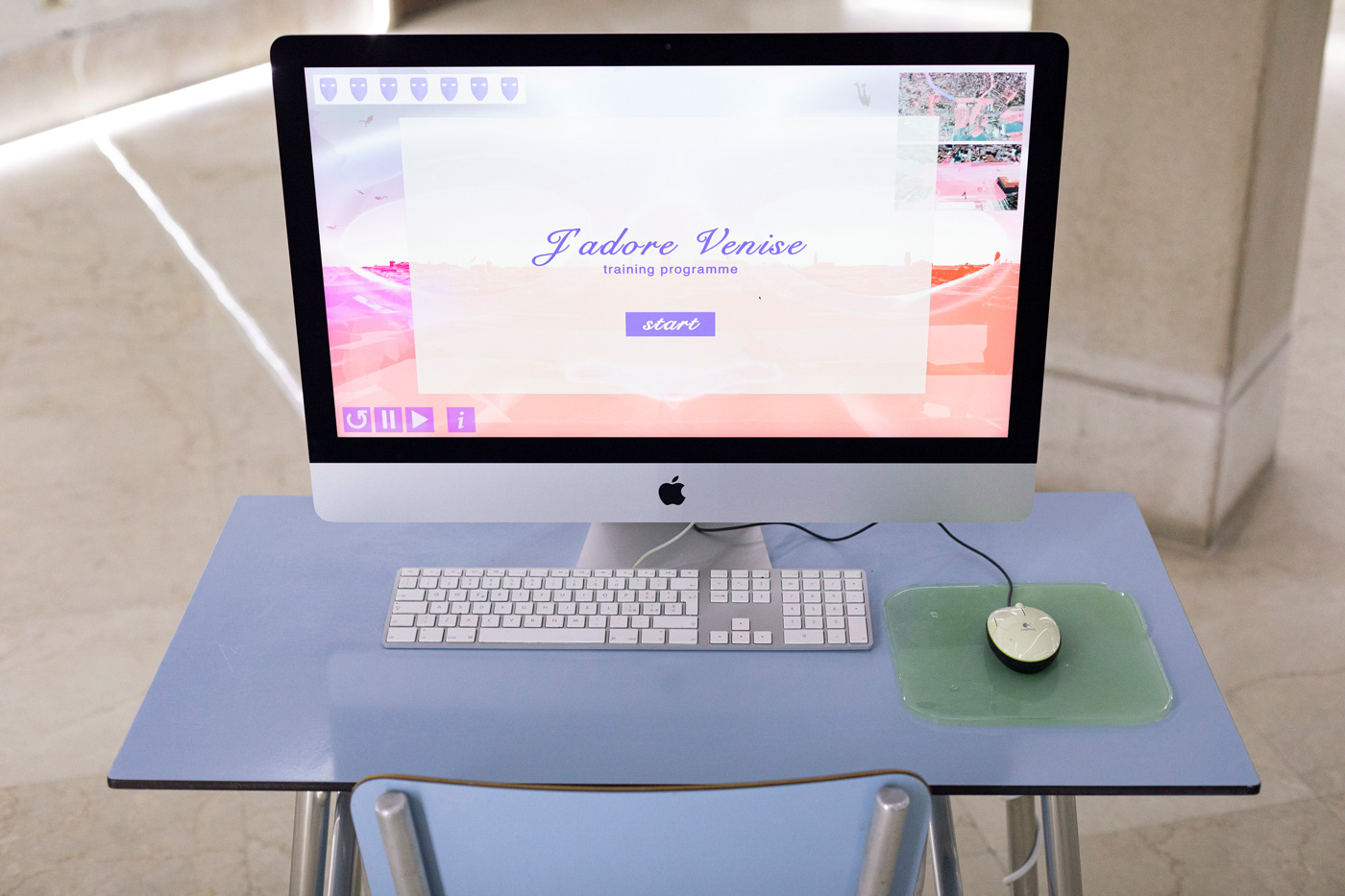 Asuka, an interdisciplinary artist, composer, and researcher, employs sound as his medium to shed light on underlying social issues which focus on the relationships between humans, technology, and nature. In "No, amaro è il tormento," he addresses the devastating impact of underwater noise pollution on marine life and seeks to evoke emotions toward encouraging people to question the human impact on the marine environment. "Coming from a sound background, being physically immersed in a space is essential when developing and realizing projects. To experience the rise and fall in noise at the location over time is a privilege and an assuring basis to work on topics relating to Venice," he reflects.
Giorgia, an interdisciplinary designer, translates environmental data into tangible objects and experiences intending to mediate our relationship with the environment. In "Gardentopia," she delves into the ecological relationship between Venice and its inhabitants. Through this installation, she offers a multi-sensory speculative vision of Venice's ecological future, aiming to engage visitors in contemplation of alternative scenarios as well as a fresh perspective on the city's potential adaptations to environmental challenges. "There are seeds of resistance in the city," she tells us, "taking form in artistic collectives and cultural spaces committed to avoiding the 'museumification' of Venice, to a place that continuously reinvents itself facing environmental, cultural, and political challenges. The sense of community, of belonging, stays strong in Venice. Kind of like the mussels hanging on the walls at the canals. Not even the movement of the water can drive them away."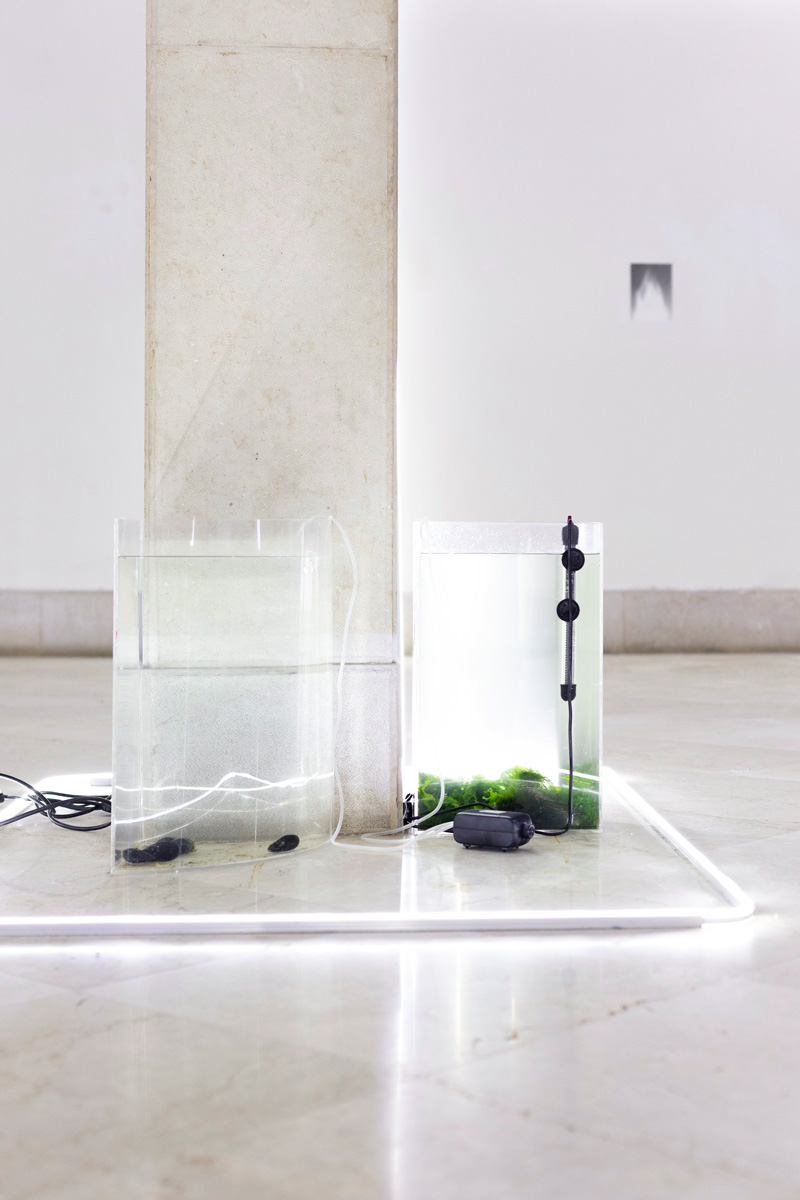 Riccardo, a photographer and visual artist, seeks to capture the fragile and mysterious aspects of human nature. To depict Venice's ecosystem, in "spazi esclusi," he took a unique approach by using material as his medium. "I wanted to rediscover the lagoon landscape through the intrinsic element that defines it, namely, seaweed, by collecting different types of native algae on the small islands around Venice," he tells us. This project involves capturing the beauty and essence of Venice's seaweed through a self-revelatory process that involves light, fermentation, and chloroplasts as a way of commenting on the circular economy of the medium itself, which begs further exploration of the potential of seaweed as a resource rather than a threat.
The collaborative process allowed these artists to leverage their diverse expertise to create an interconnected exploration of Venice's existential challenges. Stefano's interest in hyper tourism and capitalist narratives converged with Asuka's investigation of noise pollution, Giorgia's exploration of ecological relationships, and Riccardo's material-focused artistry. The result is an immersive and thought-provoking exhibition that challenges viewers to rethink their perception of Venice's future.
Indeed, the artists' collaboration embodies the essence of the eco-critical laboratory they created. This experimental space invites visitors to explore diverse projects, engage with alternative futures, and reflect on the local ecologies of co-existence in the face of global challenges. Their work is not only a visual and auditory experience but also a call to action. By engaging with their art, viewers are encouraged to consider their role in shaping the environment and society, ultimately fostering a deeper connection to the world around them.
The "Venezia Fabrica Futura" exhibition is more than just an artistic endeavor. It serves as an open dialogue with Venice's residents and visitors, encouraging them to engage in conversations about the city's complex relationship with its environment. Through interactive video games, bio-fabrications, experiential tastings, and sound re-elaborations, the exhibition offers a multifaceted experience that prompts reflection on global political, economic, and environmental crises.
As the creators of Venezia Fabrica Futura continue to nurture their individual as well as collaborative efforts, they plan to expand their impact beyond their initial exhibition. The project's second chapter, set to coincide with Biennale Musica, promises even more thought-provoking experiences and events that will continue to inspire conversation and action. Their dedication to spark change through cross-cultural exchange and critical dialogue demonstrates the power of art to address urgent environmental issues and challenge established narratives. As the exhibition continues to evolve and reach new audiences, it promises to be a beacon of inspiration and innovation for both the local community and the global art scene.