"We didn't have the plan to design anything at all. When talking about design once, we realized we were both looking for some special piece of furniture that we could use by ourselves. Despite coming from different directions, our aim was so similar", say Simone Bernardi and Simon Emge. After working together at schneider+schumacher, a big architecture office in Frankfurt, and becoming close friends, the duo soon decided to start a personal project together. A few sketches and drafts later, the idea for "SGABELLO" was born: a functional and minimalistic stool fitting all surroundings from messy workshops to elegant boutiques. The design is characterized by its trapezoidal side and comes in different kinds of wood and colors. Originating from the Italian word for stool, the title refers to the simplicity of the shape by using it archetypical name combined with an international twist. "If you cut the name – SGA-BELLO – it's a nice name for a small object and sounds good – even in German", the designers tell us.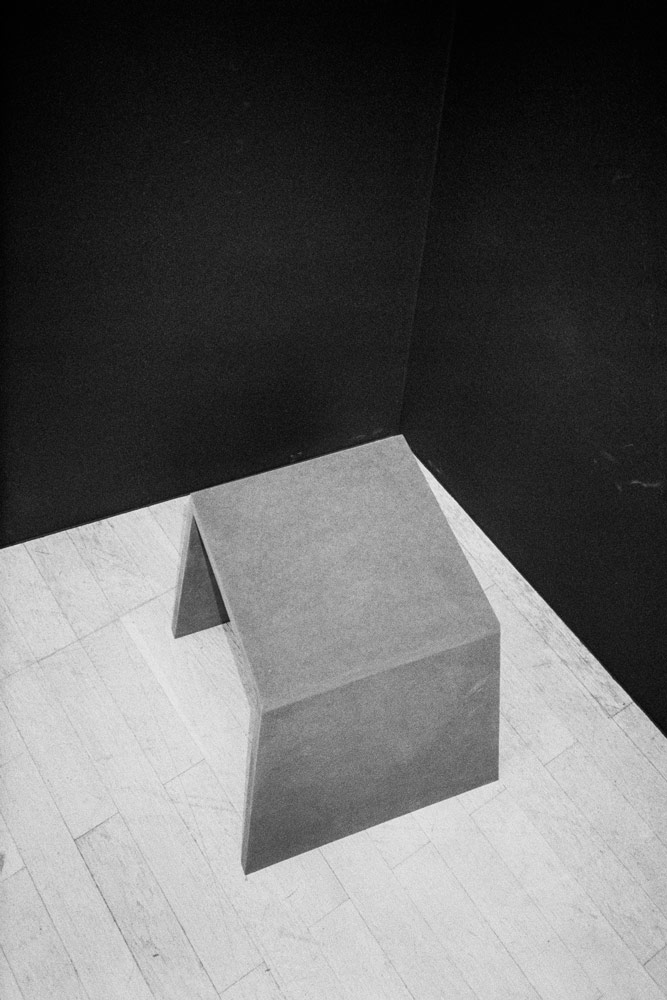 Being raised in an old town next to Rome, Simone has been fascinated by the historical building, churches and fountains when he was a kid. "I believe the complexity of my childhood playground influenced me unconsciously and therefore the way I perceive design today", the architect tells us. "As I child I loved to build things such as treehouses, cardboard spaceships and so on. In high school I studied art and illustration. I remember that one of my favorite artists was Sergio Toppi. Afterwards, I ended up studying architecture. To this day, it's still my passion and my influences have stayed the same. I find inspiration from daily life experience. I think it is important to be curious and have an open mind approach to everything." At the moment, he is part of an architectural competition team for a big and renowned office in Frankfurt, working on big-scale projects, such as highrises and campuses. Being interested in the experimentation with new and futuristic materials, Simone would like to work with bioplastic or animal waste material in the future. 
In order to relieve his boredom of growing up in a small town, Simon discovered his creativity at an early age. "As a kid I loved fast and beautiful cars and was hugely interested in classic car designs such as the 300SL. Therefore I wanted to become a car designer", he explains, "In the end I chose to study industrial design because it is a practice where you learn so much about design in general and how it could help shape the world we are living in. I got deeply inspired by Dieter Rams' Good design principles. I remember being fascinated by timeless designs that seemed to never grow old. Sometimes I was looking at pictures in books and could not believe how ahead of their time some designers must have been. What also impressed me were people that were working in many different fields such as Da Vinci. I also love the work of architects such as Le Corbusier and Mies van der Rohe." After finishing his studies in industrial design in Darmstadt and working in the same architecture office as Simone for a while, he finally risked to make a break and founded his own studio Emge Office together with his brother Lukas Emge. In the future, Simon would like to collaborate with a museum at some point. "I like the idea of reaching many people with creativity. I want to transfer knowledge and give people the chance to develop their own view."
During one of their conversations about design, Simon and Simone hit on the idea of SGABELLO. In order to come up with a clear concept, the duo met regularly and shared their sketches by phone in the meantime. "Every step we made in the process was approved by both of us but sometimes we wanted to take different directions and had to find our common ground", the two of them explain, "When you fall in love with an idea too much it's helping a lot to clean your vision by discussing it with your fellow designer." During the creative process, the functionality was an important aspect and led to the simple and minimalistic shape of the stool. "We were testing much more elaborate concepts in the design process, but in the end we always came back to this shape." Despite being faced with the challenge of finding a spot in the difficult market situation of Frankfurt, the duo worked on expanding their capacities to produce the stool and even found some prospective buyers from the early beginning on. 
During the overall working process, the duo drew a lot of energy and inspiration from collaborating with each other. "There is so much you can learn from friends and fellow creatives. After you leave school and university it's the best way to look for new knowledge. Each of us is trying to constantly learn and develop his personal skills", Simon and Simone tell us. "We think it's going to be even more important in our field. A good network is something we will rely on even more in the future. Things are becoming so complex that you have to rely on experts in different fields."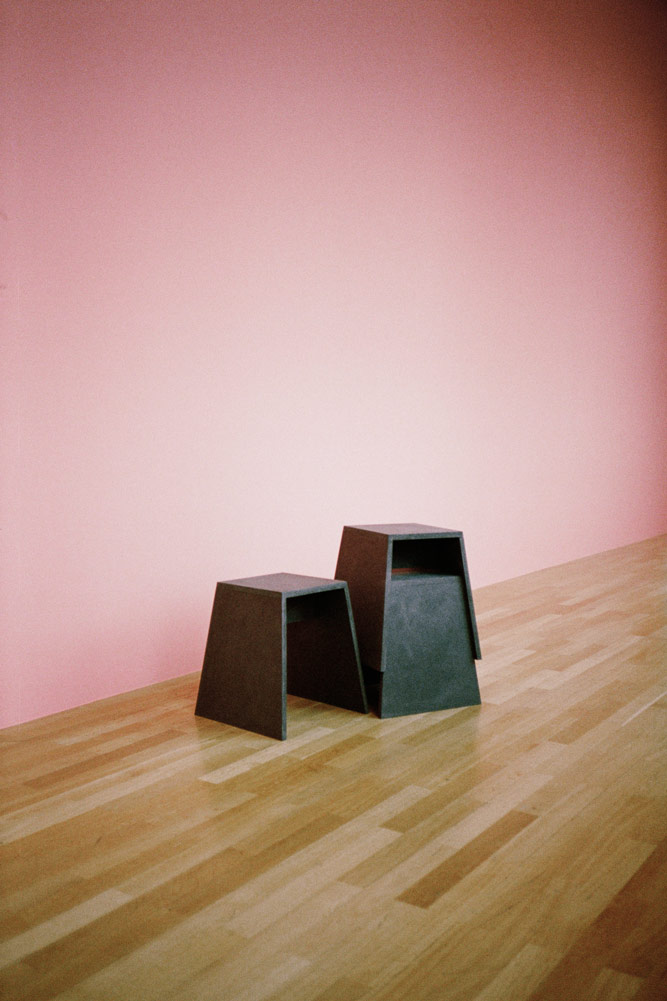 In the future, the duo is working on adding further projects to the SGABELLO line based on the idea and concept of the stool. They are also going to experiment with different materials. "We don't want to be limited by the material and depending on the usage scenario you need different materials", Simone and Simon tell us, "In a fancy boutique, you could like to see stone but in our workshop we would need something else which is more durable to a rough treatment." 
Collaborations to look at:
Ronan and Erwan Bouroullec
SGABELLO
Simon Emge
Simone Bernardi
Model: SGABELLO & Kai Wun Xu