Known since ancient times, steel is one of the oldest metals used. A deeply personal relationship with steel inspired French artist and producer Remi Sauzedde aka A/N also known under his moniker Apollo Noir to put the metal at the center of his new album ACIE E R R. For the album released on Florence-based label OOH-sounds, Remi teamed up with visual artist Nicola Tirabasso (aka VISIO) and French photographer Clement Moussiere, resulting in a fruitful collision of different visual and sonic ideas and interpretations of steel.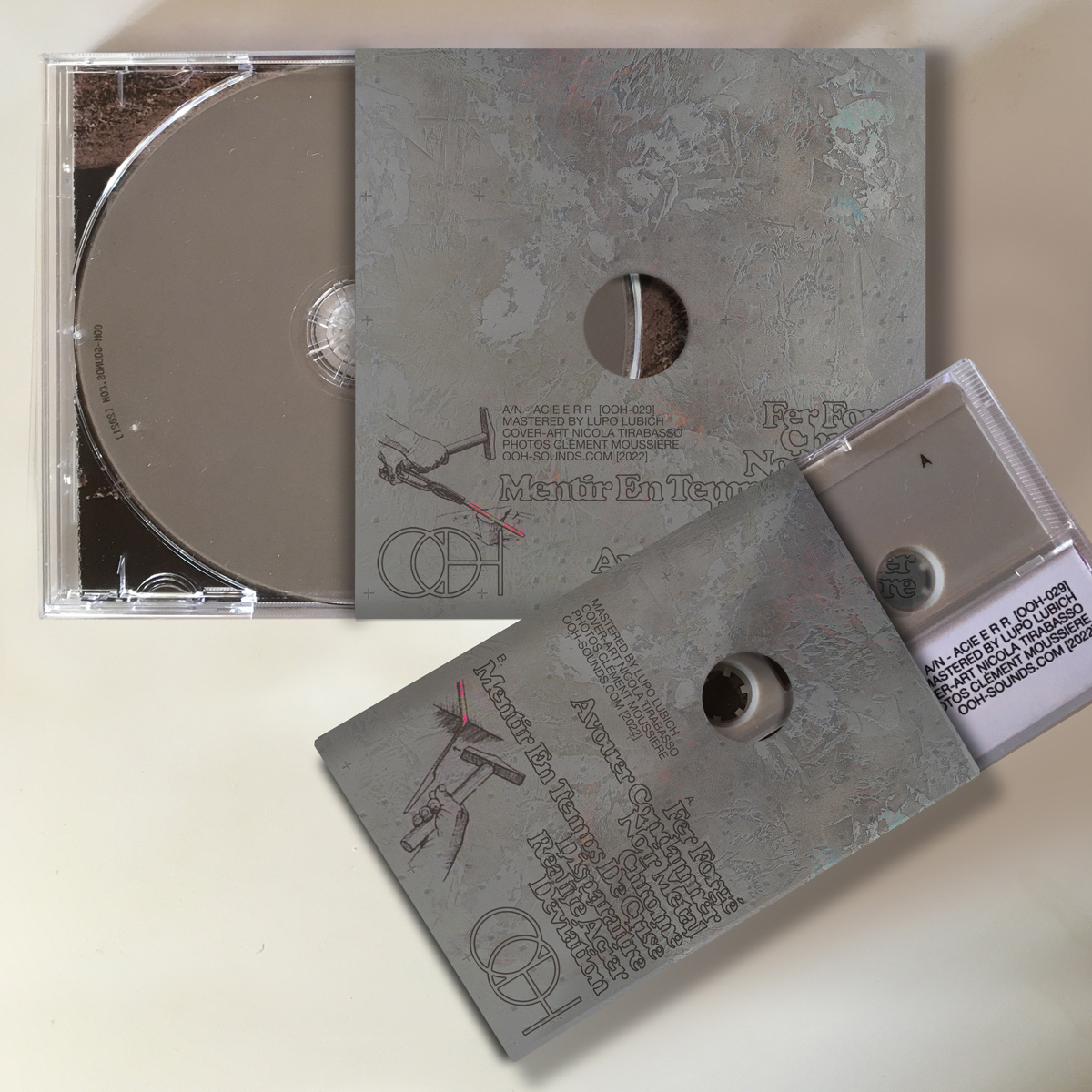 Over the past years, Remi has released music through Tigersushi and Santé Records and has been part of the Shape platform with a collaborative transmedia project with Thomas Pons. Like his previous releases, the complex soundscapes of his new album are difficult to put into words, let alone genre descriptions. While many tracks of the album clearly resemble metallic, raw, and razor-sharp textures, tracks like "Mentir en temps de crise" with its bubbling arpeggios build up dream-like sonic landscapes resulting in a "romanticism of steel". "It's like having a shovel filled up with debris and then emptying it on a steel plate, resulting in a random and chaotic yet appealing landscape," Remi describes the album's sound filled with atmosphere, beat, voice, and mystery. "I went pretty mad with the process trying to use very few things and push the gear as much as possible", he reflects. Relying mostly on modular synthesizers and the Korg M1 for choir pads, he built the album from just a few recordings that he cut, edited, and then re-sampled. "With the idea that nothing is ever finished, you can go further and further to transform and deconstruct. Use five minutes of beauty and turn it into a five seconds sample. I really like this idea", he explains.
Remi's relationship with steel and its production is closely interwoven with his family history. Growing up in Thiers, a French medieval town and mainstay of the country's steel manufacturing, it was natural to him to build the album's soundscapes around the metal. "As a grown man and a young dad, questions of time, roots, family and birthplace are some of the things I like to think about most. I do have the feeling that I have to know myself, understand my roots to become a better and true artist", Remi tells us.
Clément, also born in Thiers, shares this personal relationship with steel. Parts of his family were involved in the knife-making industry that the city is known for. "Skateboarding has also played a part," he describes, "grinding on some metal benches or stuff like that. The texture of metal and how it reacts to temperature, stress and its environment has always been interesting to me from a visual and abstract standpoint." A shared passion for skateboarding is also how he and Remi met when they were just kids. After a long time without contact and living in Montréal and Paris, they started working together on portraits for Remi's different projects a few years ago. While Remi expresses his personal relationship to growing up in a mining region in his music, Clément reflects on the subject in the portraits of Remi he shot for the album in a former mine close to Thiers. "I had this old mine of volcanic rocks in mind for a while and thought it would be a perfect fit for this project. There's a moon-like vibe that aligns with some of the soundscapes Remi creates while retaining a familiar and intimate feeling to us since it is deeply linked to where we started our personal journeys", Clément explains. "Finally the mining past of the location is a reminder of the struggles of industrialization, globalization, and in the end climate change, which make us face the tough reality of our lives as humans on this planet."
Nicola is best known for his recent artworks for labels such as AD93, Lith Dolina, Haunter Records, Halcyon Veil, and Forbidden Planet. For this release, he designed a speculative work immersing himself into the physical texture and aesthetics of steel. "I find it very fascinating discovering the beauty on the surface of things, revealing the hidden magic behind", Nicola explains. "Wootz Steel and Damascus steel are the ancient forging and smithing processes that aesthetically influenced the work", he adds. "The imperfections of their surfaces, the clustered and still visible elements of the minerals are so close to the sonic materials of the album." 
Asked about the process of collaboration, Remi highlights the close relationship with Pardo from OOH-sounds who he met through their common friends Hugo and Etienne from the band Glass. "We started to talk about the idea of an EP. I sent the first 3 or 4 ideas of tracks and he was very happy with them. He really pushed me to go further into the sonic experience. He helped me to be myself. A unique and true experience of collaboration, I never experienced something like this before. As for the visuals, Pardo told me about Nicola. I already knew his work mostly for AD93. Then I dug his art and fell in love with it. His work with textures reminds me of my work with sound textures. I was afraid he would be too busy but he accepted and sent a few propositions. It was hard to choose. I wanted something timeless and simple. He created something great." 
There is more to expect from Remi in the near future. In addition to another album with his friend Adrien Pallot, he has a number of live shows planned, both solo and with Thomas Pons performing as A/V. Finally, he wants to start an experimental hardcore punk band. "I've been working on this for 2 years now", he reveals. Considering his impressive musical output so far, this band is definitely something to keep an eye on.