Two elusive beings against a dark-shimmering background that seem to be kissing while drifting away from each other. It was mainly its title that influenced French graphic designer and artist chaggrin when creating this interpretive artwork for HeedLess' new collaborative EP "Senti/Mental Illness" on Club Late Music's (CLM) UNITED series. "I wanted to express the idea of fragile, complex, and intense relationships, with ghostly figures that float in this eerie and misty landscape. These figures seem both to appear and to disappear, to connect and to separate. Nothing is certain," chaggrin tell us.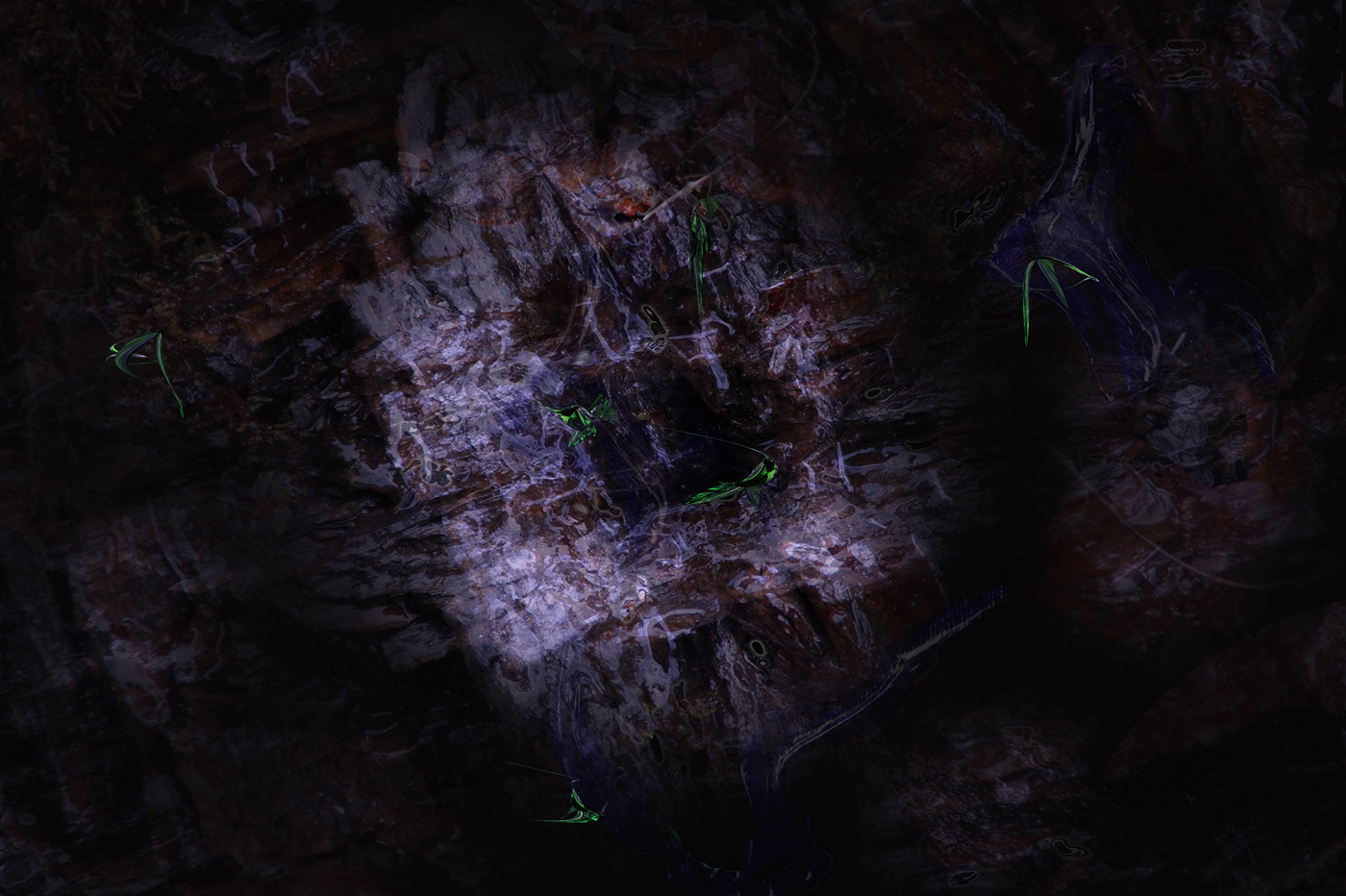 When listening to the four tracks of "Senti/Mental Illness" it quickly becomes clear that musically, nothing is certain either. Italian producer HeedLess and his collaborators DJ GÄP, Lithe, POL100, all known for their individual re-definitions of cutting-edge club music, have delivered a stunning and complex piece of work. With track names like "BROKEUP" and "Collision Course", Senti/Mental Illness can be read as a sonic deconstruction of breakups and the intricate feelings provoked by them. 
Providing a platform that embraces complexity and the power of collaboration is what CLM and their backbone Global URL Nation (GUN), a global network of musicians, designers and creatives, have been all about over the past years. Since our last interview with them in late 2020, they have pushed their vision further, looking for ways to open up their community and provide its members with even more freedom to participate and collaborate with each other. This resulted in the inauguration of a new version of GUN– "GUN 2.0–in early 202, which reflects on GUN's activities so far as well as the relationship they have forged through the network with their audience. GUN 2.0 will be underpinned by a written piece to be published later this year. They also started a new project called Ghostwares, a narrative audiovisual mix series around virtual creatures and sentient beings navigating the layers of our technological ecosystem. In addition, CLM have been releasing different singles and compilations, among them two EPs as part of their UNITED series. For each UNITED release, one member of the GUN community collaborates with other producers and artists of their choice. Senti/Mental Illness is the latest addition to the series.
For HeedLess, it is not his first release on CLM. He has put out different tracks both solo and in collaboration with others on several CLM compilations. HeedLess, whose real name is Mattia, has made himself known by producing all sorts of UK-inspired music that often contain elements of video game and anime soundtracks. "I'm quite a loner," he explains, "especially when making music. But since I started working together with CLM and GUN, I came to realize how productive and exhaustive it is to collaborate with other artists totally different from you and your taste. It is an incredible evolution. In fact, I am truly convinced that it is collectives and labels like these that make music evolve. Many established artists draw ideas and sounds from the underground realities these collectives create."
On some of these compilations, it was where HeedLess crossed paths with the artists that he now invited for his collaborative EP. "Each of them has something about them that prompted me to ask for a collaboration", he tells us. "I love the club drums and rhythms of Lithe's tracks and the bootlegs and re-edits of DJ Gäp with female pop vocals from artists such as Britney Spears, Rihanna, and Danity Kane. Finally, I've been friends with Paolo (POL100) for a long time, we live close to each other, and where we come from we are among the few who have the same taste in music, graphics, and aesthetics."
In each collaboration, HeedLess showcases a different side of his musical interest making it difficult to describe this highly versatile EP as a whole. Something, however, that holds these very different tracks together, is the complexity inherent in each of them. Starting off with soft synths that are complemented by heavy baile funk-type beats, HeedLess's only solo track "Pulverem Reverteris" sets the scene impressively. Clearly on "Collision Course" HeedLess and Lithe craft an utterly confusing and intense, yet hyper-melodic club sound. "Love Carenza" in turn, produced with DJ GÄP, builds on a fast Koduru-like beat and fuses deconstructed pop elements with video game synths evoking almost comical euphoria. "BROKEUP" featuring POL100 is the EP's grand finale, bursting with energy from distorted drums reminiscent of ZULI, E-Saggila, or Mang.
Those who expect the breakup theme to be audible in all four tracks will be disappointed. When references do appear, they are instead hidden behind intricate soundscapes. "The most fun thing about music to me is that it's such an abstract form of expression that I often don't know what kind of emotion it reflects at all", DJ GÄP, who also co-runs the label Mäss, tells us about his joint track with HeedLess. "My best tunes are the ones I made completely accidentally, where I just let it flow and had no idea what was going on and then just cleaned it up a little in the mixing phase. To me, it's the most honest form of self-expression which is much more abstract than what I can express with words." 
As for many other artistic collaborations that took place during the pandemic but also due to the distance between Italy, Slovakia, and Australia, the joint work on this EP happened entirely online. "I contacted everyone via Instagram and later sent out some ideas, tunes, or entire basic tracks that I thought were suitable for each artist. Once we had chosen the track or the idea, each of them worked on it and sent back to me a version which I reworked further" HeedLess explains. "After I was sent the initial stems, I completely switched it up, which was completely switched up again for the final version. I'm really happy with how it turned out," Lithe adds on the joint creation of the track "Collision Course".
HeedLess, DJ GÄP, Lithe, POL100 all continue to be busy working on new music with different EPs and albums already lined up. Pol100, for example, will release a new ambient album on Copenhagen label Katharsis and a six-track EP on Paris-based Champ Libre Records this month. CLM and GUN have much in the pipeline as well. The written piece they are working on as well as planned live shows, workshops and releases, will surely help cement the label's position as one of the most innovative collectives in contemporary experimental club music.