Since a few years, Everpress has revolutionized the market for shirts with original designs and offers a genuine alternative to the wastefulness of conventional retail. The London based platform which was founded by Alex Econs allows artists to manufacture and distribute their own creations professionally, but without the upfront costs and the risk of being left with boxes of unsold stock. "We believe creative originality cannot thrive without independence. For us, it's about You: what You know is right for you; what You know is right for the world", Everpress states, "We're on a mission to empower creative independence in a commercial world." In the last years, Everpress has released many, many shirt editions by incredible designers, as well as some special campaigns where they invited different artists to create a limited run of bespoke t-shirts.
Now, Everpress is back at it again with their first collaboration focused collection, tapping the creative community for their take on the importance and benefits of working together. "We've seen some incredible collaborations over the years at Everpress. So much so that they've inspired us to launch our new collaboration tab, to give these syntheses a home on our platform and give artists the opportunity to work with their partners, siblings, flatmates, friends or whoever they admire", Everpress explains their reasons behind the collection. Especially in these times of lockdown, Everpress aims at inspiring artists to collaborate together and exploring new possibilities. 
Here are some of our favorites from the Everpress collaboration tab. Let's start!
QUARANTINE WORLD TOUR
Enric Pérez Vercher and Pedro Mata
"We think that it's so important to collaborate because you learn new references or skills – and in this particular case to create without clients limitations", say Enric Pérez Vercher and Pedro Mata Nogueira who have created one of the shirts from the collection addressing the effects of the lockdown for creatives. "The message that we want to spread is that we are all working together to solve this problem. That's why we'd like to promote the collaboration between designers." After meeting each other at a workshop at La Festa del Grafisme in Portbou in 2018, the two Lisbon and Barcelona based designers always intended to work together at some point. As freelancers, they were both faced with the occurring difficulties due to the lockdown and took this opportunity to finally start their collaboration in the hopes of producing something positive from a negative situation. "We saw that a lot of people were doing posters with the same message, "Stay at home'', and we decided to do a different thing by creating a shirt based on this concept." By comparing the worldwide spread of the virus with an international world tour, like we know it from festivals or concerts, the Enric and Pedro decided to design its accompanying merchandise. "At the beginning we started discussing about the current situation that we both – and the whole world – had to deal with. The interesting thing of our process is that we didn't work by ourselves, but constantly shared our ideas and exchanged our file – without feeling that anything belongs only to one of us."
SISTERHOOD BROTHER
Johanna Burai and Pauline Le Pape
Similar to the first shirt by Enric Pérez Vercher and Pedro Mata, the two designers Johanna Burai and Pauline Le Pape collaborated on a world tour fan tee, starring a non-exhaustive list of female designers. After Johanna reached out to Pauline, the two decided to design a t-shirt together,  presenting the designers that have inspired them in the past. Through the shirt, the two designers want to invite everyone, women and men, to celebrate the very talented female designers that are often – and sadly – marginalized. "The process was very fun and organic emailing each other back and forth with ideas until we both was pleased with the final print. In most of my projects I work alone, only with a client to bounce of ideas with. But that relationship is never equal. The client always has the last say in terms of the final design. I am a strong believer of the old saying ' two heads are better than one' and if you find an equal collaborator magic can really happen", Johanna explains and Pauline adds on the matter: "Through my practice I see collaboration as a way to join forces, question my process and habits, and eventually make a greater, enhanced project. On a wider perspective, these last weeks showed us how much we need to establish more solidarity and collaborative efforts to change our societies effectively."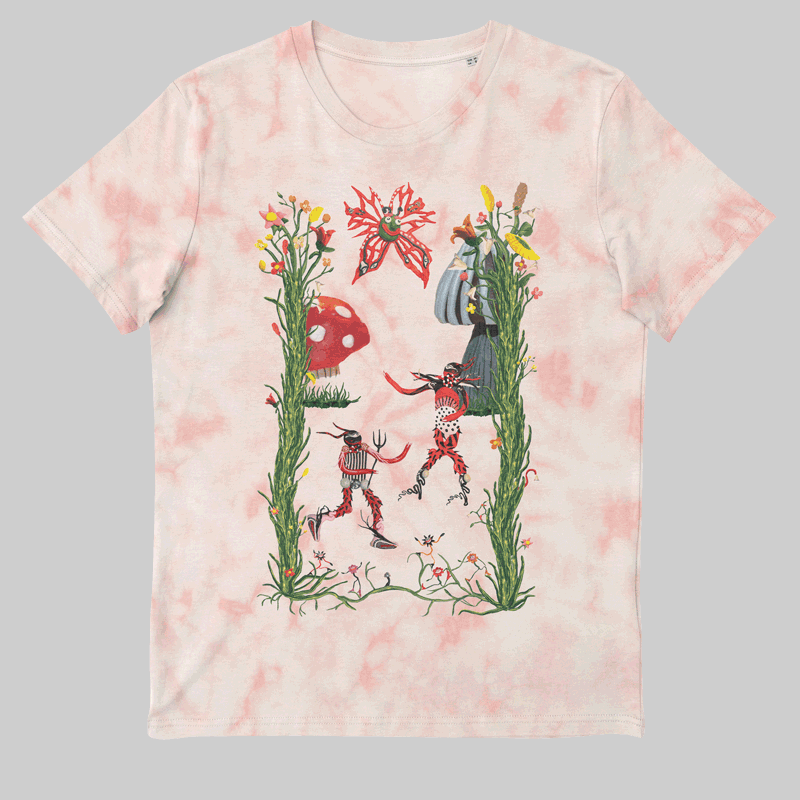 THE GARDEN OF EARTHLY DELIGHTS
Plant Boi and Jess Cadwell
Loosely inspired and titled after Hieronymus Bosch's triptych "The Garden of Earthly Delights," the collaborative shirt "The Garden of Earthly Delight" by Plant Boi and Jess Cadwell was designed with springtime in mind. With Demons and imps mischievously enchanting flora and fauna into performing their mysterious sacred rites, the scene appears to be placid as a pond in the Garden of Eden, suddenly awakened by demons on the verge of sin and delight. "As partners, we have a strong collaborative relationship that has always extended to the growth of our creative practices. For this project we wanted to challenge each other to work in a new, more sculptural medium intended for graphics that was inspired by our recent experimentations in ceramics", the duo states, "Plasticine clay started as a natural way to experiment and quickly document and share ideas, but the wacky tactile objects soon overtook our desks and became the bulk of this wild design. Each object was sculpted physically out of clay, photographed and then digitally manipulated into the final design."
MEXICOLA
Martin Heynen and Nando von Arb
For their Mexicola-Shirt, Martin Heynen and Nando von Arb picked up the theme of electricity, magnetism, plasmas and lasers and turned it into the visual language of the shirt. As they purposely went without having a conceptual talk at the beginning, they decided the send just send their design file back and forth, constantly "destroying and developing each other's work". "The design was very much out of our control most of the time. It was like unpacking a christmas present every time we opened the image file we got from each other. If you like surprises do collaborations!", the two designers state. After sharing some rough ideas and unfinished drawings, they chose an abstract, retro-futuristic spaceship as their starting point, adding different elements and objects from time to time. "At the beginning the roles were clearly defined. One had an abstract approach, ripping things apart and the other tried to keep things together transforming it into a more figurative direction. These roles then started to change and become fluid."
MMXX
Zak Jensen and Mary Banas
Having built a long and stable long-distance friendship themselves, the duo Mary Banas and Zak Jensen decided to center their shirt design on the different ways of forming connections. After they've heard about the statement by New York's Governor Andrew Cuomo who advised people to "be socially distant, but spiritually connected" during the lockdown, the two designers got inspired to work together and get "spiritually connected" through their collaboration. "We haven't lived in the same place for years, so staying in touch requires some effort and creativity. Now, in quarantine, this is true for most relationships everywhere. A shirt won't change things, but the process of making it was one way for each of us to stay in touch with a friend. MMXX is 2020", Mary and Zak state. "It's important to feel "seen" and understood as a person, and that can happen in a collaboration. Collaborating is also an opportunity to be reminded that things are bigger than ourselves—these days we welcome any excuse to get out of our own heads."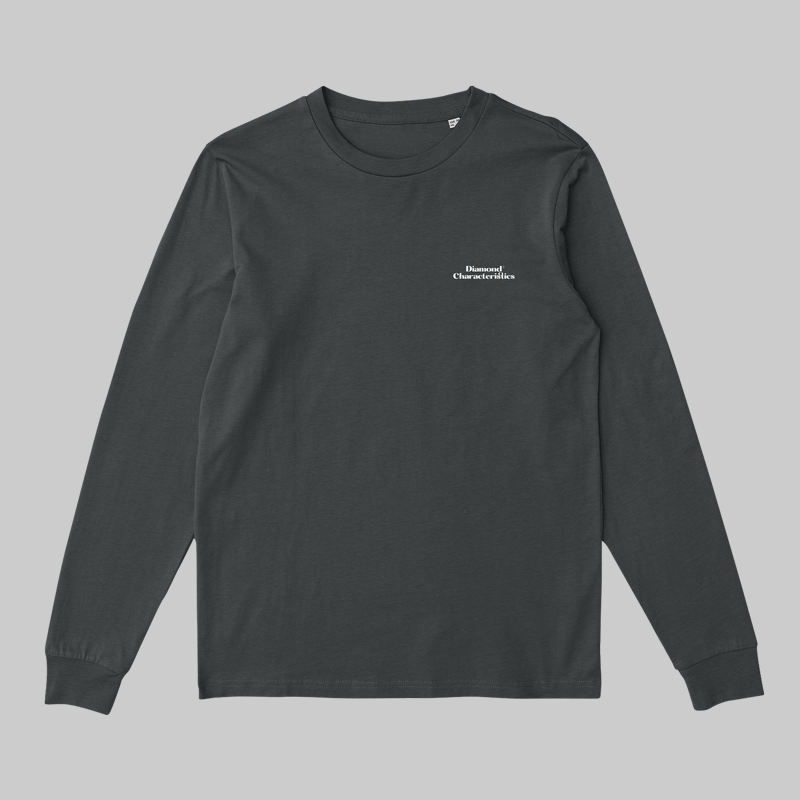 HATTON TYPEFACE
Pangram Pangram and Two Times Elliott
The next edition, created by typefoundry Pangram Pangram and studio Two Times Elliot, revolves around the typeface "Hatton" inspired by the area of the studio's previous space in the notorious diamond district, Hatton Garden in Farringdon. "We had begun researching heavily into the handcrafted typography found within the area and were immediately fascinated by the lack of consistency and the extremities of some of the quirks found within the hand rendered signage systems", the studio members from Two Times Elliot explain. After reaching out to Mathieu Desjardins from Pangram Pangram, they started with a few rough sketches which soon turned into the final design. "Much like a project we would tackle in the studio, it was extremely collaborative and we maintained communication via Slack throughout. In our opinion, embracing others and what they can bring to the table, keeps us ever learning and developing as creatives. Being able to be part of a process that doesn't form part of our daily workload and tackle a medium that we don't frequently create, is great and exciting. Collaboration forms the basis of a lot of our self initiated briefs in 2020."
AC3ED G4NG
Ignorance1 and Marcello Pisano
Another world tour inspired shirt on the list, is the cheerful design by Ignorance1 and Marcello Pisano. In order to find a concept that would fit to both of their personal styles, the duo came up with the idea of creating a merchandise shirt for an imaginary band, The Acid Gang. After having their last pizza together in London one day before the global lockdown, the two designers split up – one of them concentrating on wording and typography and the other one focusing on the illustrations. "For us, working together was a big challenge – and maybe without this opportunity from Everpress we would have never collaborated together", the two designers state, "It could be the start for more collaborations in the future."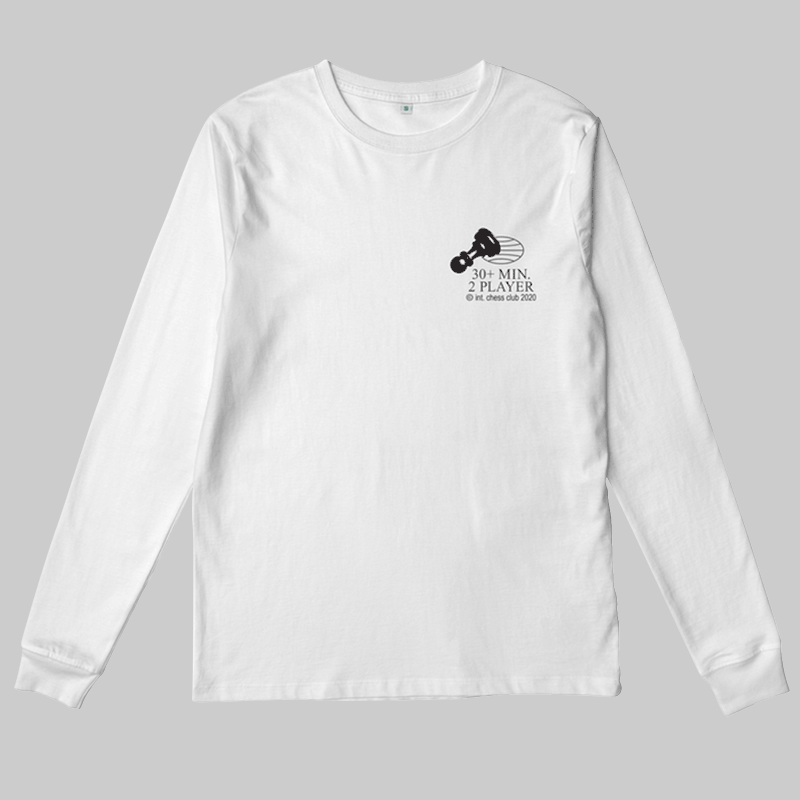 INT. CHESS CLUB 2020
Max Guther and Lucas Hesse
Although Max Guther and Lucas Hesse studied at the same university and have collaborated with quite a few people during that time, they never made it to collaborate together. "As we are both working quite strictly in our common fields, we thought creating a shirt together would be a great chance", the two Berlin and Hamburg based designers state, "Working as freelance graphic designer and illustrator we get to work a lot with but for people as well, so doing a collaboration on a personal project helps to keep the balance, stay focused and to get back to commissions with fresh spirit." As the two of them work on commissions most of the time, they feel the need to break out from time to time, by working on self-initiated projects, playing around and experimenting. Questioning the ways collaborations can work out over a long distance and how to visualize those ways, they came up with the concept of chessmans. "Collaboration is basically like a game, you get something, work with that and pass it back again — Step by step. We decided to take that 'PLAY' as our key element for this collaboration, not only using chess as the subject but working using its game-techniques as we were playing it as well."
ÅLBO
Our Place and Lucas Dupuy
For their shirt edition, Ted Heffernan and Alex Gross from studio Our Place and artist Lucas Dupuy recycled Lucas' findings during his time in the Swedish nature. After Lucas sent over the found materials, photographs and drawings, Ted and Alex reinterpreted them trough graphic treatments and compositions. At the same time, the two designers which were both locked up indoors during that time took the opportunity to dig through book and build references to inform the project. "We came across a diagram which we felt complemented Lucas' work. From here we then asked Lucas to respond to the drawing and interpret in his style", the duo explains, "The sleeve print is a selection of the 'everyday' in the forest around Ålbo, along with a new site specific sculpture by Lucas built to complement its surroundings." The studio has worked on a load of projects with Lucas over the years and are in the process of setting up a publishing arm together. "Working with like-minded artists and designers is always refreshing and important to keep each other inspired and respecting everyone's input always results in something much stronger than working on a project like it."