Inspired by the electronic, ambient song "Forth Rendez-Vous" by Jean-Michel Jarre, the two graphic designers, Najmi Arifin and Allya Matisa teamed up to explore their own interpretation of the universe in their collaborative project "Universal: A Guide To The Cosmos". Based on former illustrations of Allya, the two designers have created a mysterious and dark visuality with energetic colors and a futuristic formal language, inspired by cosmic spaces, distant galaxies and science fiction fantasies.
After reading two chapters of Brian Cox and Jeff Forshaw's Universal, Allya was fascinated by the concept of space, resulting in various illustrations. "This exercise soon turned into a very personal project, questioning the various spaces we occupy as humans, from physical spaces, to our own bodies and our energy", Allya tells us about the illustrations which laid the foundation for their collaboration later on, "The Artwork 'State of Mind' for example questions our own mortality and existence, touching upon sentiments like uncertainty, reflection and transcendence."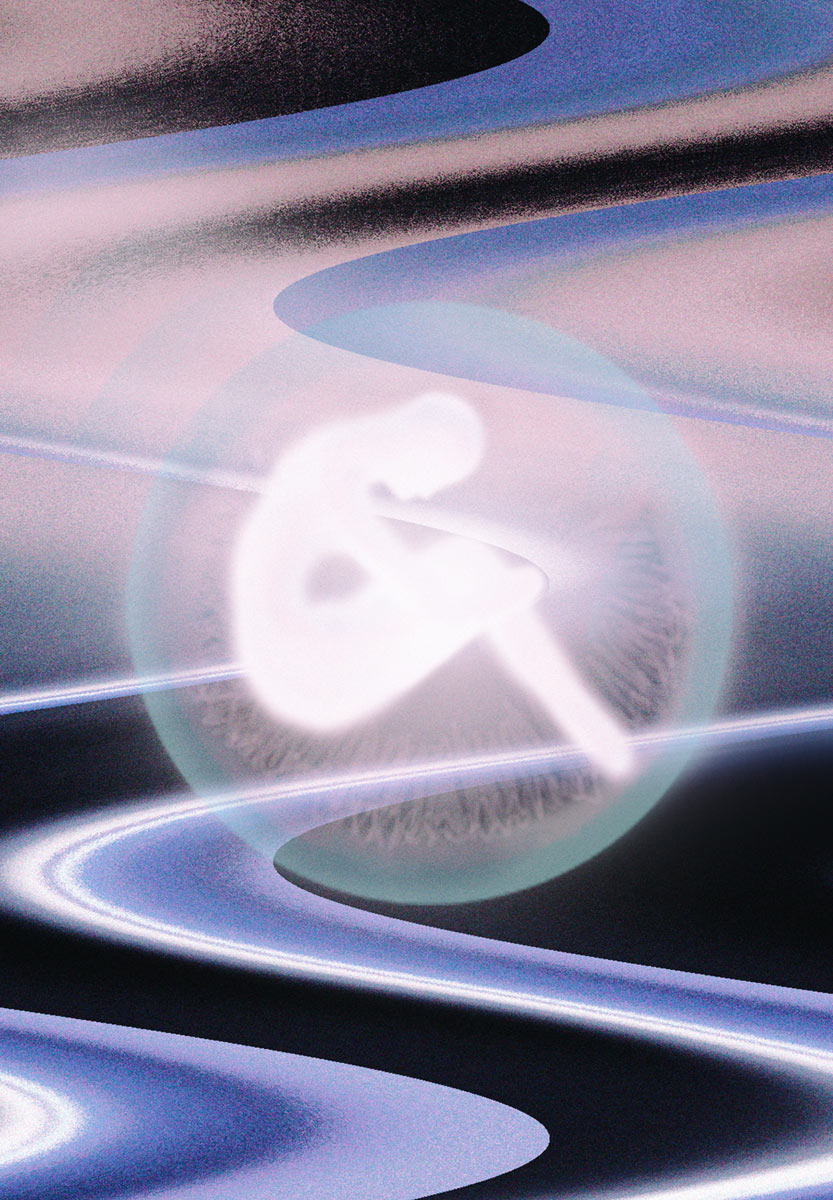 Since the collaboration is based on the original work of Allya, Najmi took over the graphic design, integrating Allya's illustrations into a cosmic, futuristic world. "At the beginning, I created a few designs for the look and feel, but somehow the first drafts lacked conceptual clarity. We decided to concentrate more on elements and details. Our time was really limited, but the tight schedule also pushed our inventiveness and creativity", Najmi explains. For both designers, this project was the perfect opportunity to experiment and explore with no limitations.
The two designers live and work as freelance designers in Malaysia, describing the design scene in Kuala Lumpur as "thriving". From Allya's perspective, this has not always been this way. "In my eyes, it's been quite hard for anyone to find their place in the design scene, as we didn't have the right platforms to show our work", she explains, "There's this newly found appreciation towards this art form and our community is constantly growing, due to the rise of social media culture and lifestyle." This brought important initiatives, such as the Malaysia Design Archive into being, that champions designers and artists from all over the country. "The creatives here are making some really impressive progress with their craft, it really motivates me to push my own boundaries", Najmi tells us about the design scene in his hometown, "I'd love to have the chance to encourage young designers through personal and self-initiated projects and guide them along the way."
Najmi's portfolio ranges from futuristic album covers to fancy shirt designs and bold artworks. While his creative process is never the same, all of his projects have something in common: a dark and alluring visuality with an internet-inspired formal language and typographic details. "I am heavily inspired by 90's hardcore punk flyers/posters. My passion to music became the major factor for me to become a graphic designer", he tells us.
Music has not only been the source of inspiration for this project, it was also the starting point of Najmi's design career. "I really loved music since high-school. I remember back in the days when I got this one album from Akta Angkasa with the title Kognitif. The album was designed by Zulhezan who is the brain behind the band itself. I listened to this album on repeat and it really just blew me away", Najmi tells us while indulging in his memories, concluding: "I was so impressed with the idea of the cd packaging and the whole album at that time. The layout was inspired by the swiss style: They used Helvetica typeface with white and silver spotted pantone print. The whole thing is like a synthesis of my love for the music." Since then, he always dreamt of pursuing a career as a graphic designer. "I still think back to this experience years later and I am really grateful that I had this album, it means a lot to me."
During her studies in Architecture at university, Allya discovered the I Love Type Series: Vol. 01 published by Victionary in their library which was her first introduction into the world of graphic design. Apart from borrowing books on drawing conventions and architectural history, she started reading about typefaces and visual communication. "At university, we always talked about the timelessness of certain aesthetics, when in reality, those concepts become more and more outdated", Allya states, "Graphic design and typography allows you to breath new life into those classical structures. The possibilities are just endless."
Actually coming from an architectural background, Allya's slowly but surely took her first steps into the world of graphic design. "I worked as an assisting architect for three years, when I started to get interested in coding and experimental design. It became an escape for me and slowly turned into a passionate side-project", she tells us. Immersing herself in experimentation, her dreamy and illusionary artworks sit somewhere between graphic design and illustration. "Most of my experiments play with image manipulations or distortions and include some sort of 3D modeling", she explains, "As I'm still fairly new in the design scene, so I think my style will continue to change while I grow personally, as well as professionally."
For both designers, collaborations are a good way to broaden the own perspective and to get insight into the other person's workflow. "It's always a learning process. Letting loose of your initial ideas always becomes the hardest challenge when it comes to a collaboration", Najmi explains, "I always want to create something new for everyone involved, which will be beneficial to our practice in the end and will lead us the way to a medium that we are less confident in." During each collaboration, the working process can be entirely different, depending on the similarities and differences between the artists involved. "In my eyes, it's especially exciting to work with creatives whose styles and working processes are completely different to yours", Allya states, "This unpredictable journey allows us to learn and extend our skillset, it pushes us to move out of our comfort zone."