As an artist, the only way to be truly satisfied with your work is to do something that you truly believe in. When creating her graduation project Spaces for bodies, a virtual group show featuring new media artists and designers, fashion stylist and art director Cristina Varabiev pursued this approach. "I wanted to try and give an answer to the crisis we are all facing as creatives, to find new ways to work and express", she tells C24, "I strongly believe in the power of collaboration, multidisciplinarity and the use of technology in the creative process. I hope to see more of this approach in fashion, too. Digital art and fashion are a trend right now because of the pandemic but I think they will strongly influence our visual culture in the next years." The exhibition features work from different disciplines, ranging from media art and graphic design to fashion design and styling, in order to collect different perspectives on the issue. Among the presented artists are Valeria Segna, Lucia Bertazzo alias Lux Meadux, Meggie Van Zwieten and Luca Zanotto alias Zano J.
"Everything is in constant change, and all things are interconnected. It's not a process we can avoid but we can be conscious of it", Cristina states, summing up the message she wants to spread through the exhibition. The show explores the intertwinement between virtual and physical realities and their influence on the representation of body and space. "I consider digital environments as a new habitat for our species. At the moment, our bodies and senses are still adapting to it", she explains, "We live in symbiosis with technology but staying in virtual realities for too long might still bring a sense of alienation, disorientation or disembodiment. I think it's interesting to follow and study this process of transition, especially the attempts we're making in representing the human body and translating sensory perception inside the digital world."
YELLY IN AMBIT, 2020
by Meggie Van Zwieten
SOGNO #1, 2020
by Valeria Segna
All of the presented artworks interpret the concept of body and space in their very own way. In her short film "Concrete Cloth", Lux Meadux – who also designed the logo of the exhibition – uses the four natural elements Earth, Water, Air and Fire to create an organic, physical, whilst at the same time digital experience. The second film, "Yelly in Ambit" by Meggie van Zweiten explores how digital bodies, fabrics and environments can co-exist harmoniously while becoming an alternative virtual biodiversity. In "Sogno #1", Valeria Segna questions the concept of love and closeness, while experimenting with abstract, unnatural and deformed bodies. Zano J interprets our constant transition of our bodies between the real and virtual world as a liquid existence in his artwork "We stay in touch".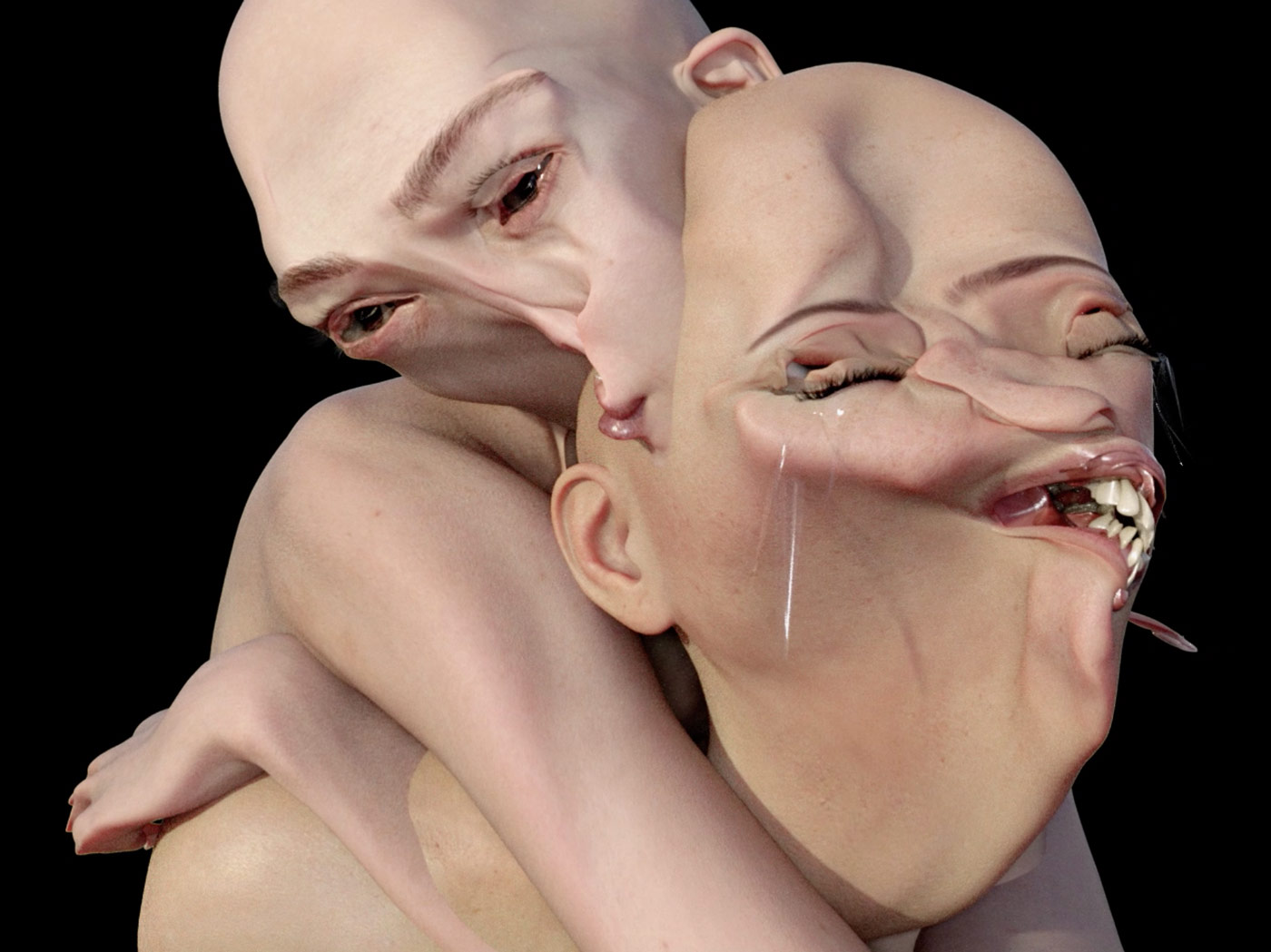 Spaces for bodies is Cristina's first curatorial project, which turned it into a process of learning and growing. "The whole process was a challenge and I learned something at every step", Cristina states, "Contemporary art has always inspired me but in the past I've been doing styling jobs mainly. This time I felt like I needed more to express my own ideas, it was an instinctive choice. I studied a lot on my own, I didn't know much about new media art before 2020. I started researching about it trying to understand how creatives were reacting to the pandemic and I grew fascinated by the idea of art and design with no physical or temporal limits."
When approaching a new project, Cristina often gets inspired by social phenomena, behaviors and conversations. "Usually, I start with focusing on a certain emotion or behavior, I noticed in people around me. People-watching inspires me a lot", she states, before guiding us further through her working process, "Then I start doing visual research, but I also discuss it with my friends, my team or even strangers. I can get quite obsessed sometimes. In the end, I try to translate that feeling into images, through colors, textures, fabrics and shapes."
CONCRETE CLOTH, 2020
by Lux Meadux
Ever since she can remember, Cristina has always been interested in fashion design and styling, starting with playing dress-up as a kid and being obsessed with a particular color or style. After being born and raised in Romania, Cristina moved to a small town in Northern Italy when she was eight years old. "At some point at the age of 11 or 12, right after a phase in which I was buying pop magazines with Jonas Brothers' posters inside, I started reading fashion magazines, mostly Vogue Italia, and watching runway shows on TV", she tells us, thinking back upon her childhood, "I'm not sure where all this came from at first. However, what I like the most about fashion and design is how they reflect contemporaneity and somehow 'predict' the future, responding to people's conscious and unconscious needs, as well as their capacity to create communities and a sense of belonging."
WE STAY IN TOUCH, 2020
by Zano J
Since she has always been obsessed with fashion, Cristina decided to pursue her passion and studied fashion styling and art direction in Milan, where she graduated this winter. Looking back on a chaotic and exhausting year, Cristina is now taking her time to re-focus and re-organizing her projects and researches. "Besides fashion, I discovered many different sources of inspiration while living in Milan, such as contemporary art or music", she tells us, while reflecting upon her recent projects, "These influences and my multicultural background shaped my eclectic vision."