When visiting the book fair "It's a book" in Leipzig, what caught our eye this time was "Synchron". The independent magazine founded by Lea Kloepel and Johannes Farfsing stood out among the vast number of books, publications, and zines, due to its careful curation and brilliant design. Flipping through its pages felt almost like looking at a scrapbook: raw, unapologetic, and intriguing. "Synchron" is dedicated to showcasing a broad spectrum of niche contemporary art, literature, and subcultural practices. During the pandemic, Lea and Johannes hit upon the idea to create a medium that would serve as a bridge between closed exhibition spaces and the digital realm. "We were both fairly startled by the bleakness of the first hard lockdown in Germany," Lea tells C24, "in which we found ourselves glued to small shiny scrolling screens in strange desperation for cultural input and a sense of connection. Out of this isolation grew the urge to start a project which brings together friends, autodidacts, and artists from basically everywhere, whose work we admire." 
The duo didn't think twice and founded the Berlin-based publishing house Dyer Press. After the successful pilot issue "Current Frictions", the first official issue of "Synchron" was released in February 2022, titled "Liminal Bridges". Along with the launch, they organized a four-week-long event series at the off-site space Trauma Bar und Kino Berlin, inviting artists from the issue to present their work.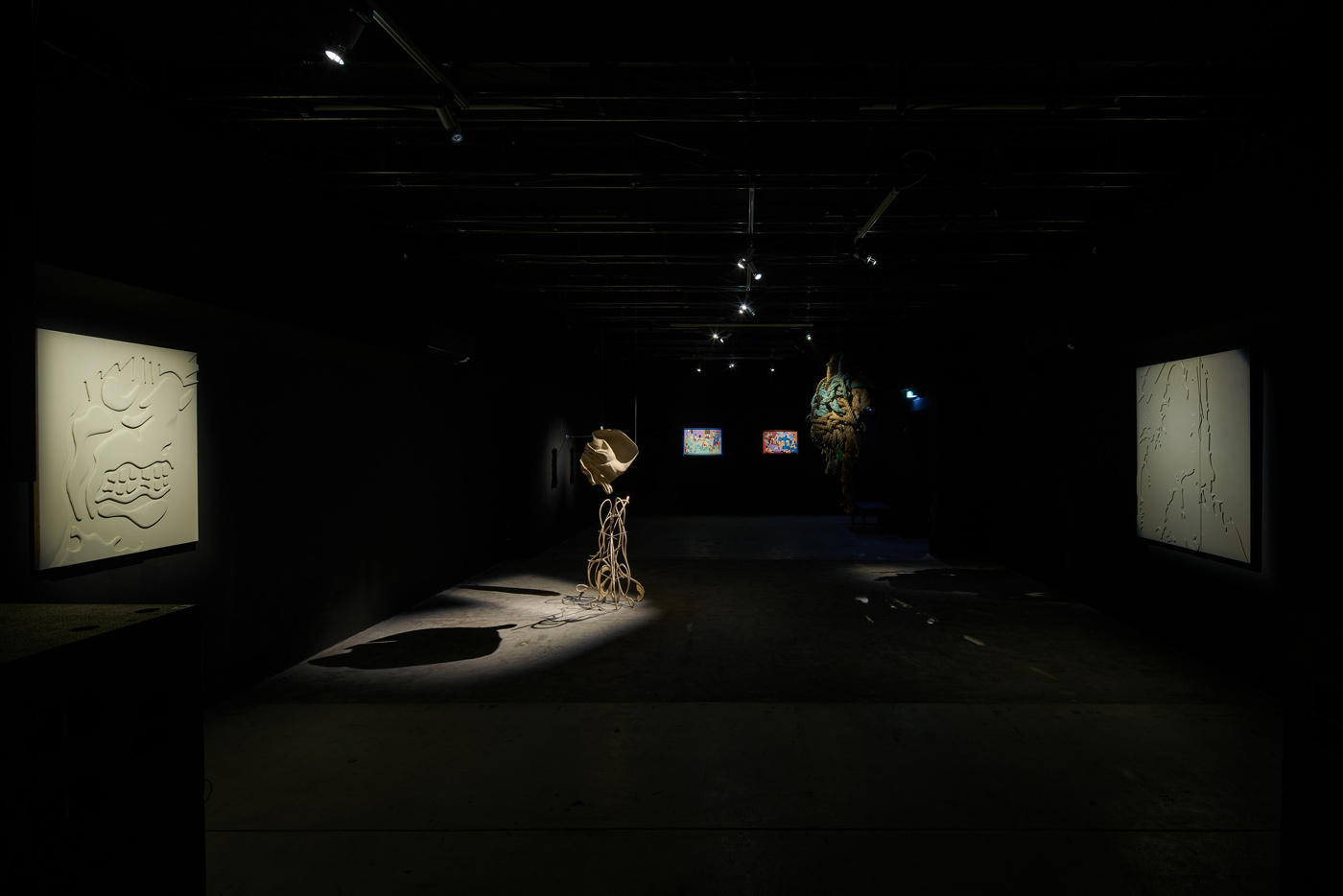 The title of the first issue was inspired by the same-titled book with in-game instructions for the medieval video game "Skyrim" by Bethesda Game Studios. "While replaying the game during the planning phase of Issue One, the title just resonated with the process in the terms that our goal was to present artistic positions and literature dealing with or researching about magic, religion, and supernatural encounters of all sorts," Lea explains. The meaning of "liminality"—as the disorientation that occurs when passing through a rite of passage and transitioning from one status to the other—can be seen as a metaphor for the artistic process. 
Looking into the future, "Synchron" aims at offering a platform for artists, graphic designers, and writers from various genres to connect, collaborate, and exchange ideas. The focus lays especially on young, self-taught artists and students who are often overlooked by the press and media platforms, to offer an honest insight into their creative process and champion their work. "We hope that our readers get excited about the artists and authors that we present, or discover a potential partner for their next collaboration. One huge moment for us was when Jeronim Horvat was invited to participate in an exhibition in Rome after contributing to 'Current Frictions'."
It's this spirit of collaboration and genuine excitement that distinguishes "Synchron" from larger art publications. Following the motto "Everything is possible, nothing is necessary", Lea and Johannes leave themselves open to surprises and unexpected turns throughout their creative process. When reminiscing about the making of the last issue, the duo shares a personal and very beautiful story with us, captured in a photograph of artist Sal Salandra and musician Harrison Sayed: "Since the beginning, the notorious autodidactic thread artist Sal Salandra was already on our wish list of artists we would like to feature. During that time, travel restrictions were still in place, and Sal was living in Long Island, NY. So we sent our friend Harrison on a little trip out to Long Island to meet Sal in person—trusting of his amazing conversation skills. He was accompanied by his close friend Emilio Subia, a young emerging director and photographer. You can tell from the picture that the three got along pretty well! It almost seems like they knew each other before. Instead of the usual, one-on-one interview, we wanted to create an open conversation. This was a heart-warming experience and so far our favorite collaboration, as it was based on love and trust, instead of plain professionalism."
The art direction and design of the magazine were handled in collaboration with graphic designer Daniel Bornmann who joined the team from the beginning. "Creating an individual design for each artistic position was important to us, to add a personal touch. In some cases, the pages were even designed by the artists themselves," Johannes tells us. But how to create a visual bridge between these diverse artistic positions? The answer came in a custom, very experimental font sitting somewhere between a brand typeface, 3D graphic, and illustration. "The shapes of the letters in the headlines are based on screenshots from Google Maps of actual lakes and rivers. Together with Daniel, our graphic master, we turned them into a full alphabet," Lea explains. "We've done a lot of research on materials and structures for the 3D headlines first, but, depending on the final contributions, initial ideas often evolve during the process. Therefore it's important to stay flexible and go with the flow, as cringe as that sounds."
This summer, "Synchron" is featured at several book fairs, including "I Never Read" in Basel, "Indie Con" in Hamburg, "Buch Berlin", and potentially the "Artbook Fair" Tokyo. Meanwhile, Lea and Johannes are already planning the next issue, in addition to their studies. Lea is currently enrolled in her second bachelor's degree at the Institute of Japanese Studies at Freie Universität Berlin, while Johannes is studying Fine Arts with a focus on conceptual painting in the class of Frances Scholz at HBK Braunschweig. Next to his studies, he is also working as a tattoo artist. Concluding with some thoughts on the meaning of collaboration for their practice, Johannes lands on the freshness of new perspectives: "When your mind gets stuck on a thought, it can be helpful to get a different view on the matter. Sometimes, getting multiple opinions can help you to find the right path, leading to more detailed—and sometimes surprising—outcomes."