The independent magazine LoveMag might be exactly what we need in 2020, the year of uncertainty and isolation, but also of change and revolution. The bi-annual publication aims at spreading universal love while raising awareness of several contemporary topics, based on the Love Foundation's five pillars: Universal Love, Water for All, Community Spirit, Joyful Purpose and Shared Sustainability. As an open network for artists and activists, Love Foundation aims at connecting like-minded people and fundraising money for water development projects with international partners. For the second issue of LoveMag, two of their members, Paulius Daunys and Alex Grace Hayes, have teamed up to take on the design of the magazine, exploring the topic of transition. "Although our roles didn't go beyond the realms of editorial design, we were inspired by the content manifested by the writers and illustrators at LoveMag", the two designers tell Collide24, "The topic resonated with us on a personal level, during this time we were in particularly transitional states, in a foreign country, experiencing new ways of living, discovering who we are and where to situate our design practices."
After being invited by its co-founder, Marius Jopen from ThePeople, to design the second issue of LoveMag, Alex decided to get Paulius on board. "Although I was happy to design issue 2 myself, I enjoy working alongside someone. It allows for ideas to grow and alternative perspectives to be included", Alex states, "I approached Paulius because he too is a member of Love Foundation, so understands the core values and people behind the words. I was also aware of Paulius's experience within the design industry and admired his work." After getting to grips with the content, by reading, unpicking and analyzing it, the duo started with gathering imagery and inspiring references. "After that, we'd separately design layouts and find potential typefaces. Then we'd meet up or Facetime and feedback, until we had a refined direction and final spreads. We sent the final version to the art director, Marius to confirm the design and check for errors", the two designers explain.
As the first issue of the magazine had different designers collaborating on it, Alex and Paulius had to follow no guidelines at all when designing the second edition. "We decided to not carry through any elements from the first issue, so we had the pleasure of working with a blank canvas for the current issue", the duo states, "The chapters get introduced with visually striking illustrations created by Ellie Anthony, which express the meaning of the chapter. We had to be very strict with our grid. The content was beautifully sporadic, but it needed structure in order for it to be communicated clearly and easy to understand." In response to the current situation, the team behind LoveMag decided to publish the magazine digitally and therefore make it more accessible to everyone. "Although we love the physicalities of a printed magazine, we see the rewards of digital publishing. It not only expands upon audiences, but also allows us to have more creative freedom in which the content is digested and perceived, from animation to sound, scale and pace", Alex and Paulius conclude.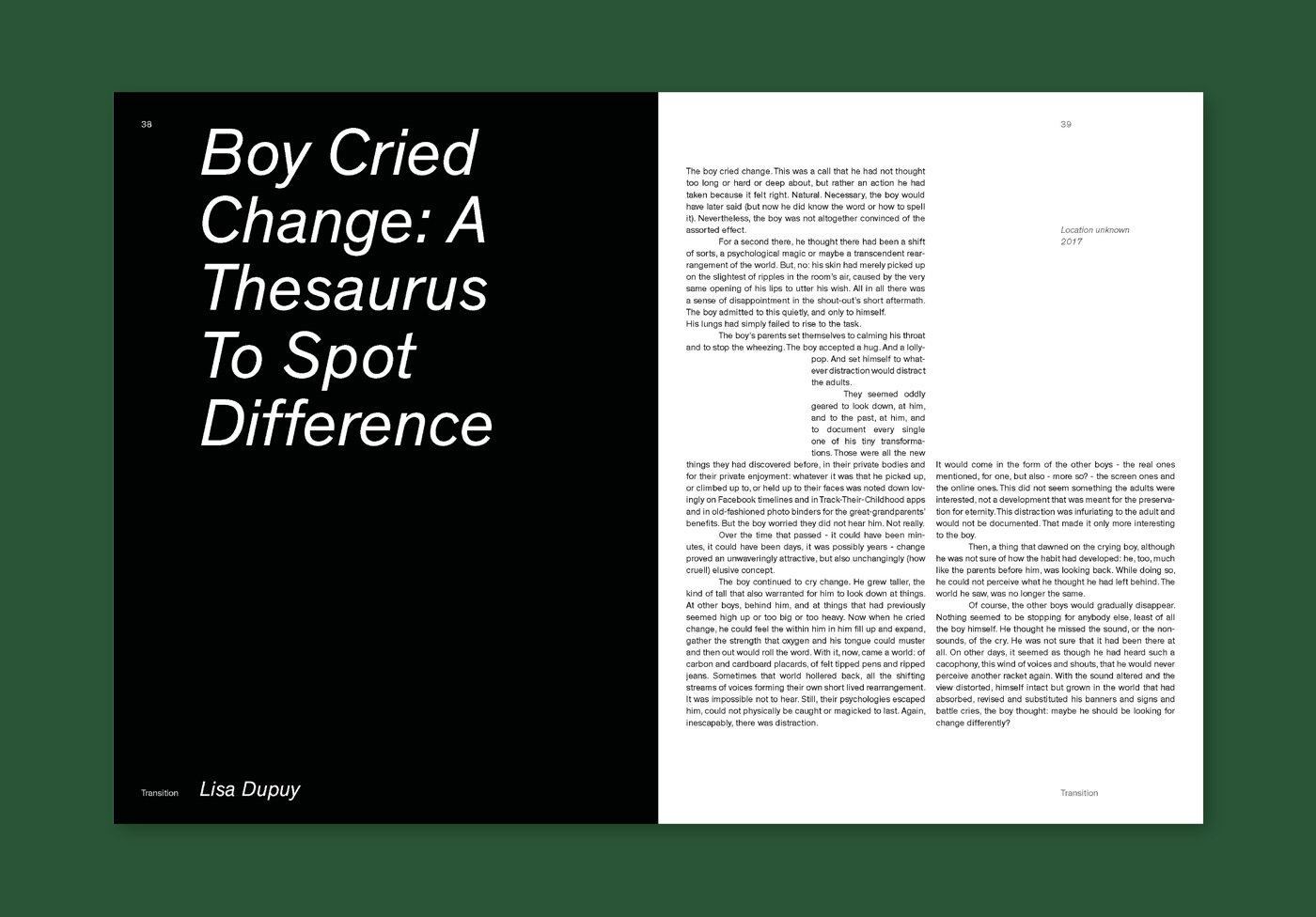 In keeping with the motto of Universal Love, LoveMag is a project that truly comes from passion. The magazine is not made for profit and is therefore more of a side hustle, taking up time and effort from everyone involved. "This is a great thing, but also a curse, as not many people can fully commit to work on the project", Alex and Paulius reflect, "There were no deadlines or any pressure to release the magazine. People chipped into the project whenever they could. Which for both of us, as designers, felt challenging."
For some reasons, despite studying together at the Kingston School of Art in London, Alex and Paulius's friendship did not begin until they commenced their Erasmus year in Berlin. "Although we were brought up in very different ends of Europe, Hythe in the South of the UK and Šiauliai in the North of Lithuania, we have a fair amount in common. We share the same birthday, 19th May 1997, have a dark sense of humor and love for design", the duo jokes.
During his studies, Paulius began working more and more on digital projects, constantly evolving his own personal style. "From a young age I thought I wanted to be an artist, but after studying fine art at college for three years I realized I was way more passionate about digital design", he tells us, "I draw inspiration from designers which blend fine art and graphic design into one discipline, such as Jonathan Castro."
In her childhood, Alex has found her peace of mind during art class and painting. "School wasn't really the place for me, I was never in top class and I dreaded most academic subjects. However art class was the exception. For the first time in my life I didn't have to try hard or worry about my grade, doing the work came naturally", she remembers, "I was most passionate about painting, the simple act of curating a pallet, choosing the right brushes and canvas was empowering. At the time, my biggest influence was my art teacher, she was extremely encouraging and we got quite close – bearing in mind I was the only student in my art class, everyone else dropped out. Even today, painting allows me to relax and puts life on pause." Today, Alex has a number of projects under her belt, among them the upcoming second issue of 34minus1, a magazine focusing on what it means to be a collective within a United Europe.
Since their graduation, the two designers have worked on several collaborations, often with creatives from different backgrounds and disciplines. "It's easy to work with like minded creatives or gravitate towards cool designers, but we aim to do the opposite, as it is far more influential and enriches the overall experience", they state.
As the duo is moving to Berlin in the next months – "finding our feet and sticking our fingers in a lot of pies!" – there are definitely more collaborations to come.