NEW DAWN | Tools to Touch in Times Ahead is a collaborative project bringing together 57 creatives from all over the world, exploring the visual and creative potential of an organic and speculative future around one central object: the glove. The complex virtual exhibition was initiated, created and directed by product and still-life photographer Tobias Faisst in November 2019 and unites a multi-disciplinary team of contemporary artists and thinkers from diverse fields of visual and performative arts, graphic design and curatorial practices. The space's architecture was created by Adrian Bolog, with exhibition design and curatorial narrative by Maximilian Mauracher. The sleek and futuristic logo by Johanna Burai was interpreted by nine different graphic designers later on, leading to a selection of multiple, speculative languages.
Based on the concept of a futuristic scenario in 2070, where our digital progress has enabled us to design unique ecosystems and therefore new interfaces between art and technology, the spectacular project envisions a future where animate and inanimate objects transform the human body in some sort of symbiosis. New tools enable new creations, forming a new enhanced humankind. With its many facets and levels of interpretation, the glove as the central object of the exhibition serves as a symbol of this organic and speculative future. Gloves function not only as a third skin for our hands, they also spark our imagination for ways to expand, fragment and design our body of desire. 
NEW DAWN | Tools to Touch in Times Ahead sees objects and materials not solely as human possessions, but ascribes them the ability to shape our lives through our interaction with them. In order to overcome current binaries, the virtual exhibition explores the object and its connection to humankind within different disciplines, ranging from animation, computer-generated imagery (CGI)-enhanced photography, design, performance, video, sound design, to custom-made gloves. Next to incredible CGI-Artworks by talented designers like Sam Balfus, Julia Kobel, Luka Lavrenci, Leeza Pritychenko and many, many more, the exhibition presents CGI-animations by Dean Giffin and Iven Jansen, GIFs by Ozelot Studios, the installation "Convergence" by OBJ.studio and un.studios and the typeface Utopiensum by Sascha Bente.
The exhibition is also accompanied by a performative video produced and directed by acte™, with choreography by Franka Marlene Foth, sound by Ozelot Studio, and creative direction by Tobias Faisst.  (Full Credits see below)
NEW DAWN's virtual showroom brings together 57 creatives from all over the world, exploring the visual and creative potential around one central object: the glove. How did you come up with the idea to initiate this kind of mega collaboration in the fist place?
In 2018, I curated and art directed a similar project called MOTIF, with 37 graphic designers for a client. I know from experience that I am more flexible in springtime. So I wanted to use my time effectively and give myself a challenging task that would allow me to grow both professionally and personally. It was especially important to me to cultivate and expand the field of digital image production. 
Since I am a product and still-life photographer, I saw the glove as versatile but also undefined object of research. For example, it can be decorative, it can support, it can protect. There are few objects whose use and purpose is as diverse as the glove. In this project the human being is pushed into the background, but is directly connected to the object. I found this symbiosis, this symbolic power to be particularly special and exciting. To combine functionality, aesthetics and utopia was a key stimulus for me. 
"New tools enable new creations", a principle that form the foundation of NEW DAWN. Can you explain us where this philosophy comes from? How does this subject matter to you personally?
Humans have always been dependent on tools and the use of them is what makes us so "successful" as a species. Every new tool changes humanity, and takes it to a new level of being as a collective. I have always been interested in the future, and my question at that time was:
What will be the next object after the smartphone that changes our way of working and life significantly? I have read a few articles on this topic and have come to the conclusion that VR-glasses and gloves could significantly shape our future. I think that's not rocket science to find out but at the current state this was part of the process. Since its invention, the glove itself was an object with many facets and levels of interpretation. I had the vision that the history of the glove could experience a renaissance. 
I have to say that at this point Covid-19 and the pandemic was not yet an issue. The glove as a tool, or rather as a complement to perhaps the best tool in the world, our hands, could create new worlds, products, art and commerce in the digital space, and function as a tactile interface between the real and digital worlds. 
Through my research on the glove I have developed a strong interest in the object itself and its application.  Since our world is becoming more and more digital, I wanted to work on this theme together with the artists also in digital space. New Dawn originated fully digital without real contact between the participants. 
In terms of contemporary history, I consider this process as a working method with new tools that significantly and irrevocably shape our lives.  
The CGI animations are created and directed by Dean Giffin with music production by Iven Jansen. Their sober character is a projection of NEW DAWN's aesthetics: A field of expansion and transformation. It reflects the performative and cross-genre ideals of a speculative and organic future, where new tools enable new creations.
Was there an overall message regarding this project?
It's difficult to break NEW DAWN down to a basic statement because the project is so complex; many partial aspects form the big picture. We have an ecological, anthropocene and object-oriented approach that tries to find a balance between theory and aesthetics.
NEW DAWN starts from a rather positive utopia: Humanity has managed to free itself from many negative aspects such as war, ecological catastrophe and human exploitation with the help of technology. Put simply: a new mind-set, where new strategies to deal with our environment and resources in a sustainable way were found.
This also raises the question of the extent to which humans, nature and technology can merge into something new, a certain form a symbiosis beyond the cyborg. These are not completely new concepts and visions, but rather a contemporary interpretation of an idea of the future. We are aware that right now it is more important than ever to think about the future with a focused view on the climate. 
The installation Convergence by OBJ.studio and un.studios foresees the convergence between the physical and virtual realms into a new conception of hyperreality where the recognition and awareness of an enhanced experience is possible. Based on generative design, the artwork portraits the transformation of the medium to exists as an immersive experience where soundscapes composed by un.studios strengthen the NEW DAWN of human perception.
What was the biggest challenge of this collaboration? What did you learn throughout this project?
I think this project has so many small and big learning side effects. I am just in the process of realizing and internalizing all of it. The biggest challenges were organization, motivation, foresight, dealing with my ego, critical faculties, and the most, patience. 
On the way to the completion of the project, of course, there were also misunderstandings, difficulties and problems, and it was precisely these situations that I learned the most about myself and my way of dealing with others. How do I correctly practice criticism, how do I withdraw and trust others, and how do I motivate without pressure?
NEW DAWN's biggest challenge was defining a direction without making the contributors feel restricted or patronized. I also had to sensitively figure out how to lead them without limiting the promised creative freedom, as they all worked on the project for no financial gain. NEW DAWN was built on thin ice from the start, and any key players who would have left the project could have made it fail. However, it didn't happen and the team got bigger and stronger, and definitely more interesting in terms of aesthetic and conceptual narrative possibilities.
Can you tell us more about your perception of collaboration and its importance to you?
Somehow almost everything in life is a form of collaboration isn't it?
Through collaboration you can realize extensive projects that you could never create as a single person and NEW DAWN is a very good example. A vision has been realized by a kind of swarm intelligence through a variety of skills and talents coming together. Collaboration always means that you compromise and find yourself in the middle, unless there is a strict hierarchy. That is why the collaboration framework is very important to avoid getting lost in discussions about details.
In good conditions, free collaboration can have a great learning effect on all participants if they are willing to compromise at certain levels. I have learned for myself that you can grow if you are willing to face yourself, and that can be very painful as negative feelings often arise in the process. In my opinion, these feelings are part of the process, and the conflict and the resulting exchange brings the necessary knowledge to the team and the project.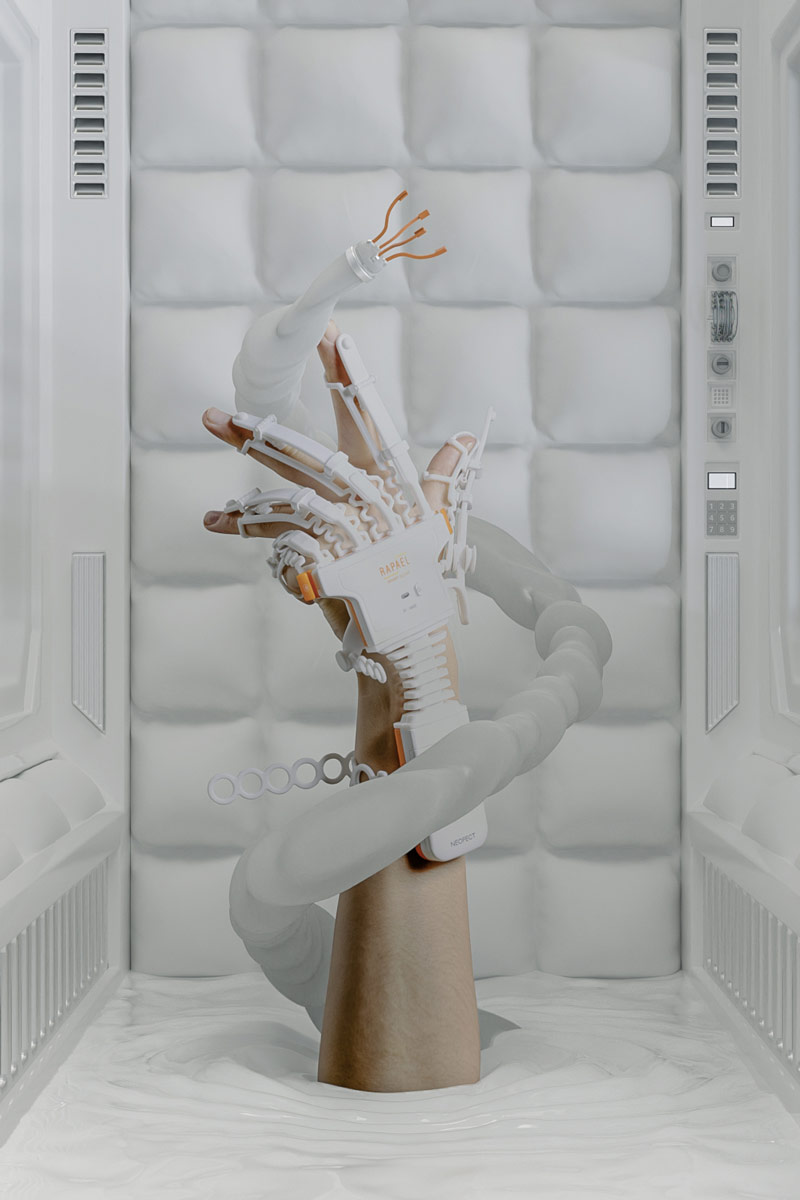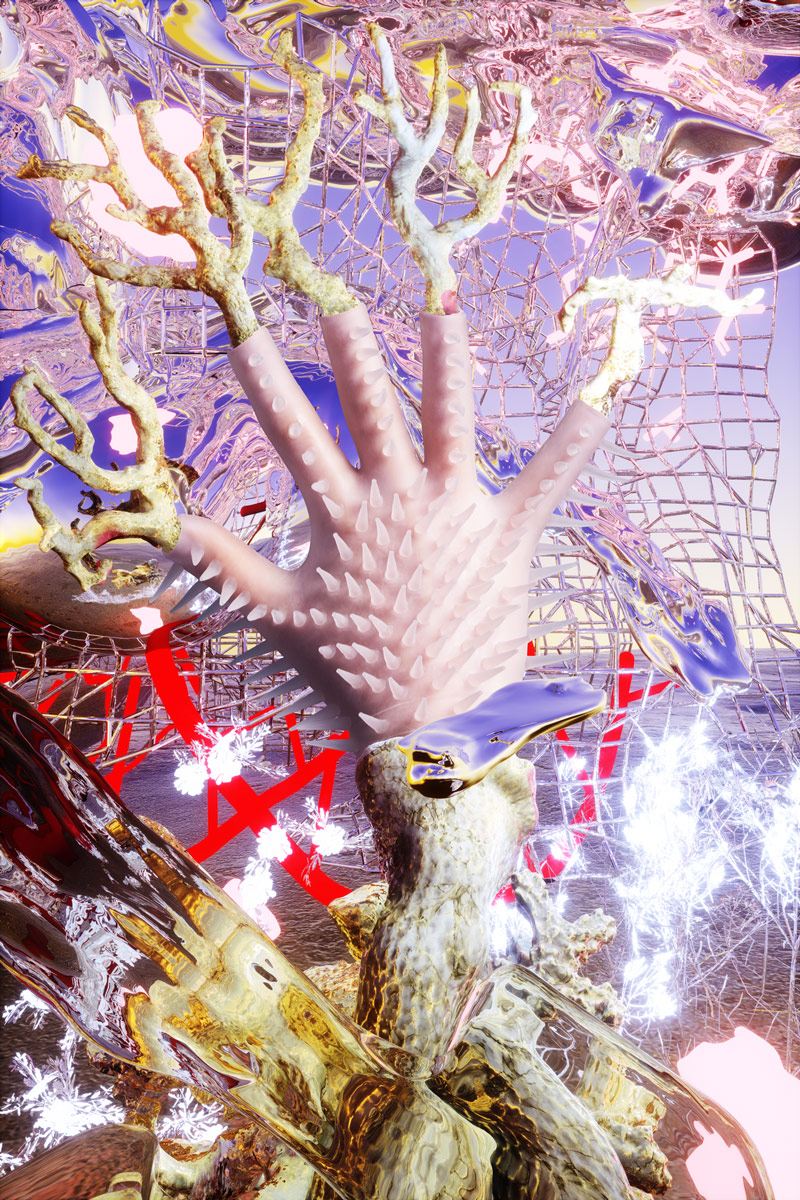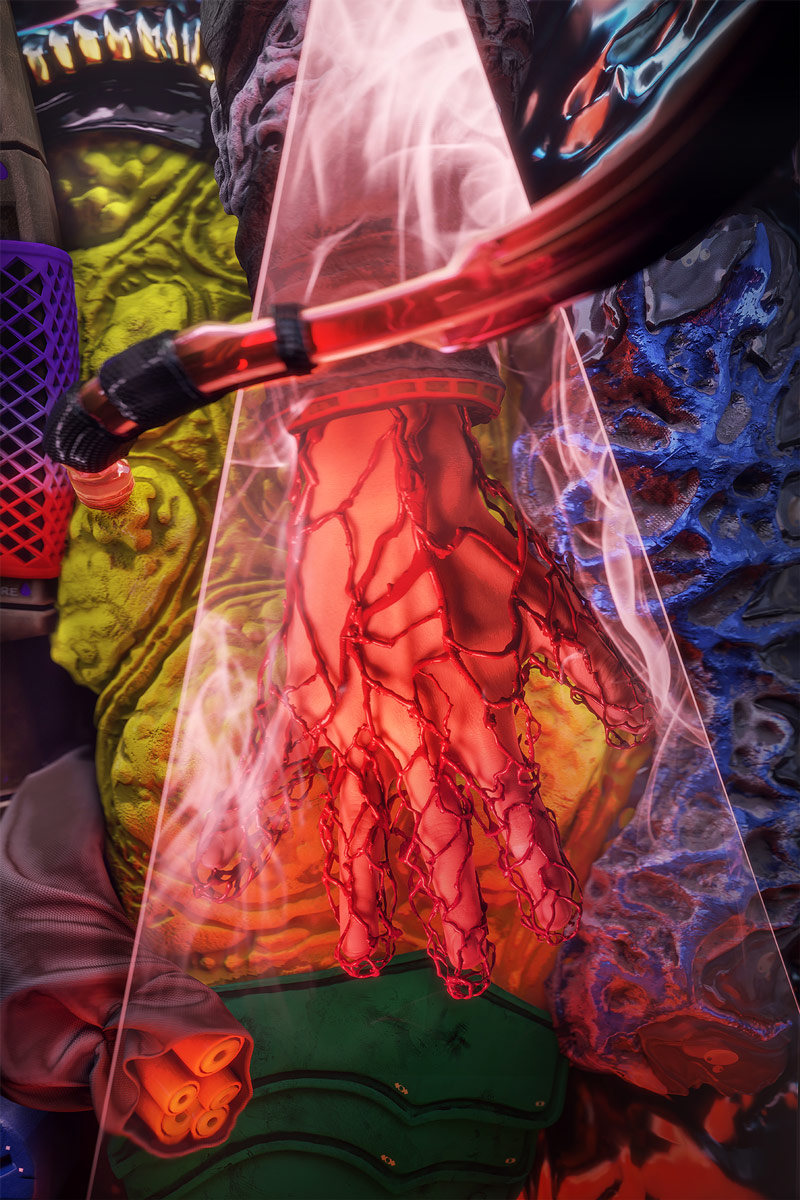 You initiated the project in November 2019, right before the rise of Covid-19 a few weeks later. Ironically, New Dawn touches upon several sensitive questions, that seem to be more present now than ever. In what ways did the pandemic influence the outcome of this project? Or did you keep it completely detached from the current situation?
It is very important to me to convey that NEW DAWN is not one of the many Covid-19 projects that were created in reaction to the pandemic. I started working on this project to form the work team since September 2019, and the concepts, as well as most of the participants, were already fixed in December. But of course, the pandemic had a strong influence on the further development of the project. Covid-19 was in relation to NEW DAWN engine and brake at the same time. Without this crisis, the participating artists and designers would not have had the time and capacity to handle a project of this size. It also gave us time to work on details, to have constant communication and feedback. 
Covid-19 was a new situation for all of us, worldwide, which generated many fears and problems, and we all had to find a way to adapt to unknown circumstances. Working together with the team, I was able to see in myself and in others that we were struggling emotionally and psychologically with the many effects of the pandemic. That is why I am especially proud and grateful to everyone for having achieved such a good result in this very difficult situation.
The pandemic and space and time restrictions had the greatest impact on the final presentation of the project. The online space was only created because we were not able to organize a real exhibition to present the artworks in a real space.  It is almost paradoxical that NEW DAWN is, among other things, about ways of touching, and this, in our current global situation, unfortunately, doesn't seem to make sense. In this context, touch takes on a new multi-layered meaning. In retrospect, the first vision of the basic theme was very forward-looking of course, the concept has grown with it and has reflected and questioned the new reality.
Will there be a second edition of NEW DAWN | Tools to Touch in Times Ahead?
Since a real exhibition with additional visual artists was planned at the beginning of the project, this side of NEW DAWN is still in development. We hope that as soon as circumstances are more favorable, we can create, plan and run an extended exhibition in a physical space. However, we need financial support for this, so we are open to cooperation with cultural institutions and sponsors.
In reuniting so many talented and contemporary artists and thinkers from around the globe, NEW DAWN | Tools to Touch in Times Ahead drew them into a collaborative discussion, leading to a new experience of a trans-disciplinary scenario, where art, design and technology meet. With the physical exhibition in planning, NEW DAWN is off to break new and exciting grounds, already leaving a lasting impression behind. 
Full List of Participants 
Acte ™, Sam Balfus, Sascha Bente, David Bizer, Adrian Bolog, Maria Boman, Sophia Brinkgerd, Johanna Burai, Kiwi Bravo, Laura Csocsán, Felipe Duque, Dinamo, Loki Dolor, Tobias Faisst, Franka Marlene Foth, Johanna Gauder, Laura Gerte, Dean Giffin, Guasch, Caroline Hauff, Vivien Hoffmann, Steffen Hotel, Ignant Production, Iven Jansen, Camille Jackson, Julia Kobel, Luka Lavrenci, Margot Lévêque, Peer Liening, Masse Studio, Maximilian Mauracher, Thomas Mayer, Benjamin Muzzin, Lie Ning, Samantha Nutt, OBJ.Studio, Ozelot Studios, David Padilla, Paola Pinna, Lukas Popp, Leeza Pritychenko, Kamilla Richter, Philipp Ries, Charlotte Rohde, Svatopluk Ručka, Christopher Saint Laurent, Marian Schlicker, Teresa Schönherr, Six N. Five, Mathe Steinforth, Hóngwei Táng, Yi-Wei Tien, Edu Torres, un.studios, Stefanie Vogl, Luisa Weissflog, Robert Wisniewski, Studio Wolfram, XK Studio, Alice Zani
General Project Credits / Online Exhibition
Initiator, Creative Director, Photographer: Tobias Faisst
Theory and Text: Felipe Duque
Exhibition Design & Coordination: Maximilian Mauracher
Curatorial and Strategic Project Management: Masse Studio
Graphic Design, Art Direction: Johanna Burai
Web Design: Studio 24/24 and Tobias Faisst
Retouching: Studio Wolfram
Hand Model: Luisa Weissflog
Graphic Design, 2D Animation: Steffen Hotel
Exhibition Architect Developer: Adrian Bolog
Coding: Hongwei Tang
Sound: Ozelot Studios
Video by acte ™
Video Direction, Production: acte ™
Creative Direction: Tobias Faisst
Director of Photography: Elias Bötticher
Choreographer: Franka Marlene Foth
Dancer 1: Camille Jackson
Dancer 2: Yi Wei Tien
Dancer 3: Peer Liening
Solo Dancer: Christopher Saint Laurent
Styling: Kamilla Richter & Marian Schlicker
Hair & Make Up: Maria Boman
Gaffa / Light Design: Robert Wisniewski
Edit, Color Grading: acte tm c/o Elias Bötticher
Opening Credits: Steffen Hotel
Sound Design: Ozelot Studios
Glove Design 1: Johanna Gauder
Glove Design 2: Loki Dolor
Glove Design 3: Caroline Hauff
Glove Design 4: David Bizer