3D artist and designer Gabriel Massan has curated his very first virtual exhibition this year, presenting international artists from different creative fields. He was invited by Refresco, an independent art gallery based in Rio de Janeiro, as an initiative to encourage the dialogue about digital art in a period of intense virtual traffic due to the pandemic. Titled Alteamento, the virtual exhibition consists of six individual worlds featuring the works of many talented artists, among them Steffen Bewer, Thays Chaves, Nickelly Garbaje, Tissue Hunter, Nico Lillo, Alexander Martsynyuk, Camila Roriz and Jingxin Wang. "When I came across the invitation to build a virtual exhibition and therefore have total control over its entire development process, I started to see this project as a problem. Not to be solved, but to be constituted as an exhibition space, taking into account all the specificities of this event and its context", Gabriel tells Collide24.
Being born and raised in Rio de Janeiro, Brazil, the video/3D artist and designer now lives and works in Berlin. His approach focuses on the research of the relationship between fictional existences in virtual environments. Since 2017, he has been presenting his work in galleries, institutions, art fairs and festivals, among them the Berlin Art Week, SP-Arte and Osseous Matter.
Alteamento tells the story of distance and isolation as a method that can be both: protecting and constrictive. "I looked at my own situation as a newcomer to Berlin. As an immigrant from a Latin American country, descendant of black and indigenous people, queer and artist. 3D artist. What being whoI was, a person in the process of immigrating during a pandemic, told me", Gabriel explains, "I went through a rediscovery. Deep and distressing. There were so many points to be discussed. And I was isolated. Days and days inside my room, living in a city that I didn't know and that didn't want to know me either. I decided to tell about this wall that separated me from the others, protected me and cornered me. And how it had been built or acquired by me, and how my own body was also a wall. It was built under the same needs. Alteamento is about that. The act, movement and action of rising through, in and around you. How many isolations were raised in these contexts. Several possibilities of existence between us and our spaces."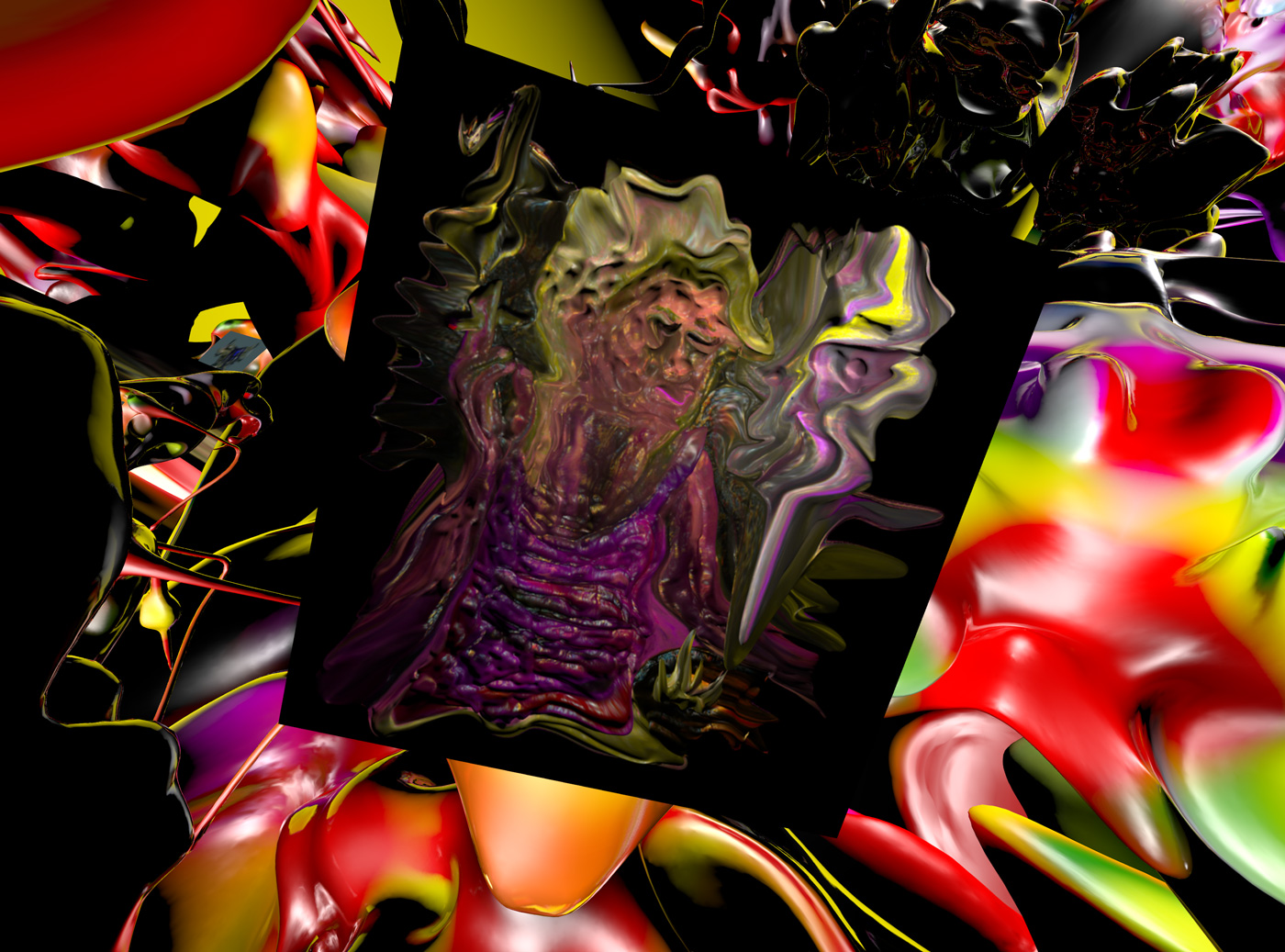 The universe of Alteamento consists of six different worlds, each presenting artworks by different artists. To choose artists involved "was an intense rediscovery of the artistic relations that I have been establishing since 2017", Gabriel concludes, "I invited most of them because they entered into a dialogue with me during that period." Each artwork is embedded into a futuristic environment formed by abstract shapes and figures, broadening the perspective on what sculpture and design can be in the digital realm.
With its bold and colorful language and extraordinary attention to details, Gabriel's design for the exhibition is full of dynamic energy and otherworldly creatures. "During the creation I was influenced by the layout of billboards in avenues and commercial centers. Also by the way in which amusement parks transform their locations into a habitat, where we are invited per hour to live and venture without pre established paths", Gabriel states, "I tried to interpret the meaning behind the exhibition title, working out the idea of spaces and the path between them. As a result I saw the connections between the artists and how they merge with the visual proposal." Besides being the curator, he took part in the exhibition as well, by contributing a collaboration with São Paulo based artist Ray Castelo.
Fully immersing himself into this project, Gabriel kept working on the exhibition over a seven-month-period. At the beginning, he started by making several drawings and texts, describing the ideas that would later manifest themselves as Alteamento. "After understanding what I was really looking for, I started researching what I should call my problem or my situation. I intensely searched for artists and works that translated the feeling I was going through.", Gabriel explains, talking us through his process, "After receiving confirmation of each participation, I began to draw, sculpt, paint and compose each world. Having all the stills done, as a team, we started to understand how to navigate through these worlds. I developed the interface and the design of the exhibition, redesigned several times in order to improve the user experience. And finally we prepared the release of the work."
Looking into the future, Gabriel is convinced that events, like festivals, concerts and exhibitions will be transferred more and more into the digital world – and maybe even replace real life events at some point. "Because of the pandemic, the market has been rethinking its logic and how it can be incorporated into the virtual world. I believe that we will now highlight the multiplicity of networks and their opportunities."
Apart from Alteamento, Gabriel's work is currently on display at the Vienna City Hall in Austria until early 2021. "Together with other artists, I present an experience in augmented reality aimed at children. This is the first time such a project has taken place in the institutional sphere in Europe", he tells us. Collaborating with other artists has always been an "absurdly important" part of his creative process and career so far. "Part of my greatest works are collaborations with artists I admire. When we go through our perspectives, we influence ourselves as artists, transporting our work to a new possibility of execution."