The last time we wrote about Panama Papers Office, it was the collaboration on Ada Sokół's Malleable Identity which formed the basis of our conversation. In the last six months, quite a lot has changed for the contemporary graphic design studio, founded by Ilan Begarin, Pierre Dufresne and Florent Martini. After his studies at the Gerrit Rietveld Academy, Etienne Clerc has joined the team this summer – and therefore the studio is currently looking for a new office space in Paris. "After two years of running the studio from our respective flats, it's a very stimulating and joyful time. Hopefully, we will soon deserve our designation (dot)Office", they tell Collide24. This time around, we catch up with the Paris based design studio for their recent work with artist Timur Si-Qin on his Solo-Show "Take Me, I Love You" at the contemporary art gallery von ammon co in Washinton D.C.
Timur Si-Qin is an artist of German and Mongolian-Chinese descent who grew up in Berlin, Beijing and in a Native American community in the American Southwest. Growing up in a multi-cultural environment helped inform the artist's unique sensitivity to the relationship between nature and culture. Now living in New York, Timur has become a leading figure in a Post-internet generation of artists who reference new developments in science and technology to challenge the separation between the human world and natural world. The full-scale show "Take Me, I Love You" is the first of its kind in the United States and features eleven new works by the artist, a combination of 3d printed sculptures, computer-generated landscapes and branded graphics from the artist's meta-project: New Peace. New Peace can be seen as a proposal for a new form of spirituality in the face of global pandemics, climate change, and biodiversity collapse, a new mysticism and mythology for the anthropocene.
"It was really an atypical and unprecedented assignment as well as an innovative work process. Design studios such as ours are mostly framing and gravitating around the works of the featured artists when commissioned to design the visual Identity of Art Centers and Museums", Pierre tells us, "Our input was meant to be fully integrated at the core of his art pieces. We immediately loved the idea that Timur was completely reconsidering the role of graphic design within his exhibition and the relationship of our know-how toward his Art and related objects." Under Timur's creative direction, they worked together to define, develop and enrich the visual grammar and graphic line of Edgelit, a collection of four installations presented at his Solo-Show. "To be honest, it was one of the most fascinating projects and work processes we had the occasion to be involved in since our beginnings as a studio", Pierre adds.
Being based in different countries with Timur in New York and PP Office in Paris, the studio had to find different ways of working together, especially since a few of their members were living abroad during that time. "Florent spent some time in Russia at the beginning of the year, Etienne was still living and studying in Amsterdam until July, I was working from Paris with Ilan", Pierre tells us, "Add quarantines, curfews, border closures, social distancing to that… It was a joyful mess to organize our meetings IRL and online!"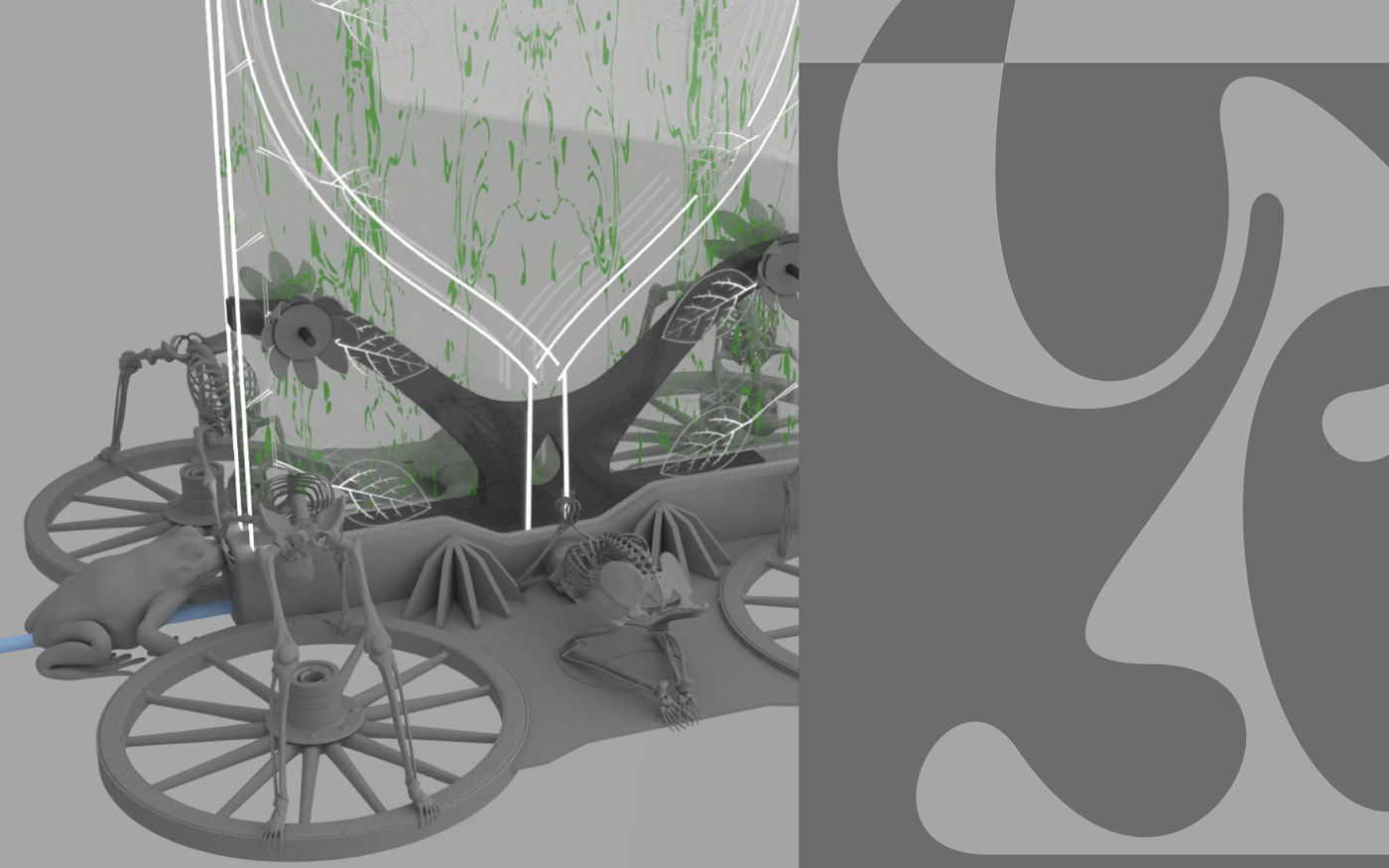 The four installations are based on the concept of the meta-project New Peace, an artistic campaign to promote a new form of spirituality for the 21st century. It consists of four principles which can be seen as possible concepts for establishing a contemporary spirituality today: The Undivided Ground – Faith In Pattern – Pray To Scale – Purpose from Difference. Stemming from a rethinking of the anthropocene, New Peace rejects the old dualisms of nature versus culture, spirit versus matter or mind versus body, and communicates a non dualistic and secular conception of spirituality adapted for the future. It offers us new methods to understanding one's place in the vastness of time and space and a toolkit for building new myths and meanings in a world undergoing profound changes.
"Given the current pandemic hitting all countries across the planet for nearly eight months, 'Take Me, I Love You' echoes particularly to the emergencies that humanity faces with climate change, led by the excesses of capitalist mindset and related neoliberal economic policies spread around the globe the last century. As we all know, their profound impacts on the biosphere are leading us to a no return point. New Peace is a way for Timur to take action, by inviting people to rethink the way we inhabit Planet Earth", Pierre concludes, referring to a quote from the exhibition's press release: "While nature has been a selfless mother to humanity and will continue to give of herself, this declaration must be reciprocated by humankind."
Before delving right into the creative process, the studio put a lot of time and effort into research. "We did a lot of reading, examining his previous exhibitions and art works, looked for definitions, watched all his lectures, in order to set the framework for our collaboration", Florent explains, stating that their process consisted of 70% research, "At first, we had so many questions. It was not about overthinking, but ensuring our full understanding of his artistic project. We had to grasp his needs immediately, using the same vocabulary. Timur is a great mind, a very informed person – so that is also the nature of his practice. This process led to constructive feedback from both sides. It made the whole collaboration and the communication around it a lot easier."
The first part of the creative process was to develop a typeface that would fit the concept of Timur's meta-project. "We were interested in the idea that the typeface would become the exclusive property of the artist — deployed as a toolkit for his current and future exhibitions and publication projects", Etienne explains. Based on Timur's interest for nature's signs and patterns, PP Office came up with the organic forms and shapes of the letters. "We spent a lot of time taking pictures and documenting ourselves during our journey across the countryside during a year. Florent comes from Corsica and Pierre spends a lot of time in French Brittany. These regions have unique ecosystems and are regulated by nature, more precisely the sea", he talks us through the studio's creative process. By observing the natural particularities of each region and reflecting upon themselves, the studio aimed at getting a better understanding of Timur's artistic approach.
"Ultimately, we took a more profound look into the phenomenon of interlaced trees, as we noticed it was the most recurrent theme that we photographed and dropped in our research database", Etienne adds, "These wild and organic 'ligatures' between two trees living in the same area became our main subject during the design stage of the typeface. In a narrower sense, the typeface attempts to wipe out all gender perspectives, it was one of the main concerns expressed by Timur during our first exchanges."
As creatives themselves, the exhibition raises themes that they all care about – sustainability and environmental protection. "We are all concerned with these questions, obviously. We try as much as we can to implement it in our work by defining our values as an independent design studio", Etienne states, "This includes refusing job proposals when the client does not share our ethical values. Our meeting with Timur brought us to realize that we want contribute to these kinds of projects and work with collaborators dealing with the challenges of the future."