"Biodiversità was born out of personal need, a need to share a discourse that has been going on in my head for years", says Pietro Michi, the founder of the collaborative music label. Biodiversità Records serves as an independent platform with a strong focus on sound research, experimentation and biomusic. The work of the label is often based upon nature sounds, like animal or plant noises, building us closer to the natural world with its ambient soundscapes. "Biodiversità gave me the possibility to share and cooperate with many artists", Pietro tells C24 about the collaborative ethos of the label, "The main themes are the beauty, diversity and digitalization of nature. These are all subjects that I came across during my studies and I combined them with my love for sci-fi, especially cyberpunk and solar-punk later on." In the three years of its existence, Biodiversità has released several collaborative formats, like Allegro, 2:2, 13 Soundscapes and many more, building up a network of like-minded artists and creators.
The collaborative formats of Biodiversità range from featuring albums, splits and compilations to curated radio shows with various artists. Each release is based on its own collaborative concept, leaving room for experimentation and interpretation. "Each artist can express themselves as they want. I like to be part of each production, but only to the necessary extent. Almost every artist that I worked with understood the ethos of Biodiversità quite autonomously", Pietro explains, "Some people think that collaborations can limit you in your own style, but I think they can enrich your projects a lot", Pietro states, "Obviously one of the main benefits of cooperation is sharing competence. Even a specific label as Biodiversità works as a container for different media, ranging from graphics, to motion design and 3D art. This approach is at the core of my practice and person."
Before founding Biodiversità, Pietro studied agronomy for years and is currently doing his master in biotechnologies for environmental management. The Florence based artist has always been interested in the relation between biology, nature and technology since his childhood. He went through several musical phases, like punk, metalhead and goth, before finding his way to ambient and noise music. In 2012, he started to produce his own music under the aliases FossaDelRumore and P I T, always open for new music genres and influences. "I have also been in the dub and sound system scene for years, but did clubbing and everything else that could interest me at the same time. These heterogeneous taste in music, my love for ever-changing sounds and my passion for nature brought me to Biodiversità Records", he states, "The label was born during a hard year for me and it was also meant to be a personal statement and a new beginning."
Besides the up-coming releases on Biodiversità, Pietro is currently working on a bundle of self-initiated projects and collaborations. Among them are a harsh noise wall split album inspired by water and environmentalism with artist Wall Disney (aka Panacef Mishima), a dark ambient and rhythmic bass vinyl for the Berlin based label Voidance in collaboration with Nekyia and another split album with Emanuele Fais for Ghost City Collective, a work about the metamorphosis of a man into a plant. "Even outside of Biodiversità, collaboration has always meant a lot to me. I always loved sharing ideas and mindsets with other people, especially about art, nature, politics and society. For me, each collaboration starts with a conversation, with sharing our ideas", Pietro tells us, "Since the end of summer, I've had a few online meetings with people from other places of Italy, but also from France, America and Korea. I hope that all these projects are going to happen one day."
Next to Biodiversità, Pietro is part of A11, a collective of musicians from Florence and nearby, and he joined the G.U.N. community, initiated by the collaborative and open-source music label Club Late Music. "I've been impressed by the aesthetic of the label and the artworks created by Grig. Then, I found the Whitepaper on their website where they explain their concept of an open-source label and I really loved it", Pietro tells us. Last month, he has released his first collaboration with them for their anniversary compilation TINNITVS by contributing a rave/funk/cyberpunk track with VINÌ.
The projects Allegro and Isolato mark the early beginnings of the Biodiversità's collaborative approach, resulting from a very experimental production process. "The two EPs were created around the time I started producing my own music. I have released them without a proper mix and master, so they are really raw", Pietro explains. Each artist involved in these projects composed their own track, based on the same audio-clip that Pietro sent them beforehand. "I've recorded a short drone clip, using just one or two instruments, and then I've shared that through the internet, asking for a remix. Each artist was able to do with the clip whatever they wanted. They could use it as an atmosphere, add some sounds, remix it – or even use just one second of the track and then start from scratch. They just had to stick to the atmosphere that was implied by the title."
Every month, Pietro curates Biosphere, a show hosted by Fango Radio. The show focuses on the concept of biospheres in digital space and questions the relationship between nature and technology in respect of an ecologic sound evolution. "These biospheres are biotic planets born and living on the internet. Every year, I work with my mate Matteo Mugnai on creating a new sphere for the season that would inspire a new biome and new ideas", Pietro explains. He then invites a couple of artists each month, to record a mix describing a specific or non-specific place of this new biosphere. "At the end of the season when we have around 5 to 10 mixes, showing a complete overview of the biosphere. Then, we can go on to the next one. This is one of the Biodiversità projects where every artist joined the inquiry with great interest and enthusiasm." In the future, Pietro and Matteo are going to work on an augmented reality of the Biospheres in collaboration with Francesco Marra, making it possible to visit the unique, digital planets.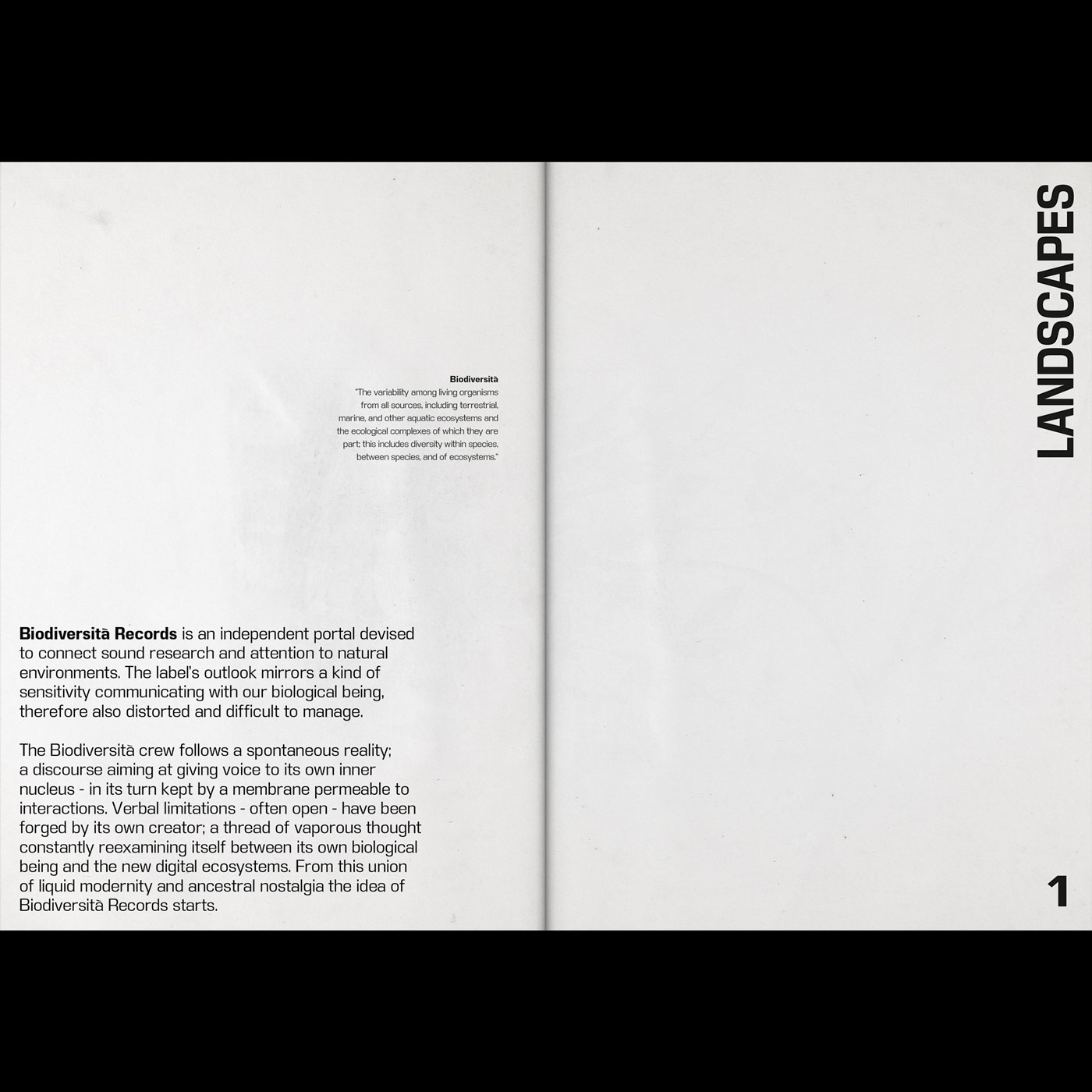 With 2021 just around the corner, Biodiversità will soon release their next collaboration on USB, a split between User from PT and Katatonic Silentio. "They have known each other for many years and share many similarities in their interest and methods, like granular synthesis and low frequencies. I met them around the time I started the label and felt connected to them immediately", Pietro tells us, "Now, they teamed up for this new EP, a hybrid of granular distortion from UFPT and a heavy sound design from Katatonic Silentio." The graphics of the up-coming EP are designed by Jacopo Buono from the PHASE collective, based on synthetic tissues and biotech atmospheres.
Next to the music, design plays an essential role in the world of Biodiversità, as seen in the album covers, artworks and publications. The visuals are often created by one of the collaborators of the Biodiversità community or by the audio artist himself, but sometimes Pietro also jumps in as the designer. "The aesthetic of the label is really important to me. The design M U S T fit the audio", he states, "I also designed a book in collaboration with Matteo Mugnai and Massimiliano Fortunati which serves as a documentation of the first two years of Biodiversità, music-wise and design-wise. But as I said before: The label is ever-changing so we will see how the aesthetic will evolve with every up-coming project."