We first spoke to Etienne and Hugo from Glass just half a year ago now, where we discussed the release of their album Anxiety Prime on Comic Sans Records—a physical exploration of socio-political violence and the ambiguous nature of our fragmented personality in modern society. Now, we catch up with the electronic music duo for their collaboration with film director Léo Gack on the music video for one of the songs from the album, Online Fantasy. The striking video has been filmed in one camera setting throughout the entire piece, making it feel like looking through the lens of a surveillance camera, watching the suspicious events at an inconspicuous house in a suburban neighborhood. It's certainly not the only collaboration in Glass' repertoire, as they have recently celebrated the release of the music video for Skin Transfer, directed and filmed by photo- and videographer Nina Orliange, alias DJ Carin Kelly. They have released music via various electronic music labels, such as OOH-sounds, Santé Records, SFX, and Loose Lips, and are known for their rich and atmospheric sound collages.
Shortly after hearing Online Fantasy for the first time, Léo contacted the duo to create a music video. "From the start, Online Fantasy struck me as a particularly cinematic track. There are a couple of unidentified loud low-frequency sounds in the song," he tells us, "which I thought had immense suggestive potential. It's the kind of sounds that could accompany a jump scare shot in a horror film." The track is a rich and contrasted soundscape, oscillating between organic and electronic sounds. "It invokes intense emotions that are hard to describe but are wound into contemporary sensations," Glass explain.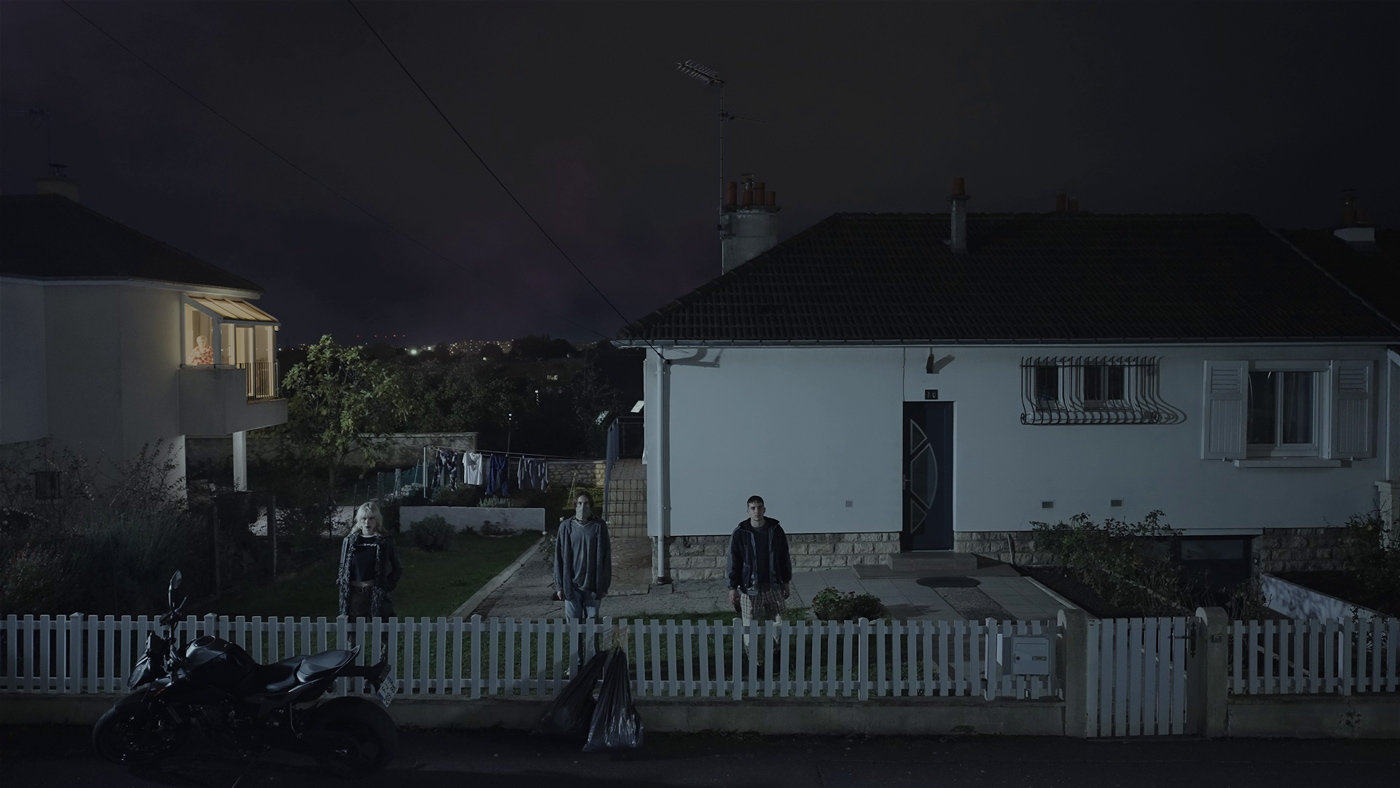 The three artists, who have been friends since high school, were already collaborating on yet unreleased projects before, so it's no surprise that they felt so natural working together. "One thing very crucial for us when collaborating is the constant exchange that makes you grow both personally and artistically," they tell us. Léo, who is now living in Paris, has studied political sciences and journalism, which led him to work in documentary film production for a couple of years and later on in fiction, as an assistant to Wes Andersson. Working in the industry for several years, he points out the collaborative nature of film-making: "It's a form of art that relies on the combination of so many fields that one person alone cannot claim to be responsible for them all, obviously. Even the simplest of projects will involve a lot of different skills and talents along the line. But also because, for the magic to happen, it takes so many people, favors, resources, and help that even with the best team in the world, you'll always need that extra hand from your friends to achieve your vision."
The idea of the music video was to create a neutral, almost "un-cinematic" setting. "The camera doesn't follow the action, so only part of the information is available to the viewer: most things happen behind curtains, closed doors, walls… That way, we let the evocative nature of the music carry the meaning of the scene," Léo explains. Due to this special camera setting, the viewers are left with a sense of uneasiness about having witnessed something they're not supposed to see. "First, we wanted to trigger some kind of curiosity or even a sense of voyeurism in the viewers' mind. We wanted them to crave to understand what was at play behind these walls", he adds. Then, at some point in the film, the characters start noticing the camera and all their looks converge towards it. "From this moment on, the viewers become aware of their 'voyeur' position and may start questioning the reason for their presence in the scene." Overwhelmed by this sudden uneasiness, the viewers are torn between their desire to come closer and the necessity to leave this uncomfortable situation. "Also, a fun fact: while we were shooting the video, a neighbor was actually peeking through his window to look at the scene!" 
The music video was filmed at the house of Léo"s grandmother in their hometown Caen in Normandy. "The framing we chose," Léo explains, "is actually inspired by a Google Street View image of the house. They use very wide lenses but with limited distortion, which we thought was cool because it doesn"t give away the 'surveillance camera' trick as easily as a high-hanging fish eye lens would have. There are garbage bags hanging on the fence in this Street View photo, we liked them a lot and decided to reproduce them in the video. This is why the main character takes out the trash at a certain point." The CGI in the video has been realized by 530°, a multidisciplinary creative agency specialized in image-making.
After performing Anxiety Prime at different festivals, including Positive Education Festival in Saint Etienne, Glass are now working on their next release. Apart from that, Comic Sans Records plan a remix series of their album Anxiety Prime, featuring contributions by KMRU, ZULI, More Eaze, Aho Ssan, Apollo Noir, Christian Coiffure, Low Khey, Zero Crossing Point, CNDSD, and more. Stay tuned!