With Berlin having emerged to what is coined the techno capital of the world, many local talents have become globally touring artists. Two of the most famous among them are undoubtedly the producer and DJ duo FJAAK consisting of Aaron Röbig and Felix Wagner. Despite touring around the globe, the duo has succeeded in maintaining a DYI approach and creating a highly acclaimed musical output combined with an often ironic appearance on social media and in their gigs. Amidst busy tour schedules, airport transit areas, and hotel rooms, Felix has now returned to what he started his producer career with: crafting rap beats.
His resulting solo debut LP as DJ Piper "A Dream In A Dream" breathes a raw, untamable creative energy that is groovy and pumping, nostalgic and futuristic. You can clearly hear what influenced Felix in his teenage years: Rap from the 90s and early 2000s. FJAAK have found their signature house and techno sound that seems to capture the energy of early 1990s warehouse raves blended with influences from contemporary club culture. With this in mind, DJ Piper's solo album does not come by surprise. With "A Dream In A Dream" he positions himself at another, yet earlier point on the hardcore continuum, where a reliance on syncopated breakbeats forms the connecting element. The album is laden with nods to hip-hop's golden era and places that were formative for the genre. Tracks like "Long Havel Beach" and "FRA-CHI" are a tongue-in-cheek reference to both DJ Piper's origins and to his pop-cultural influences.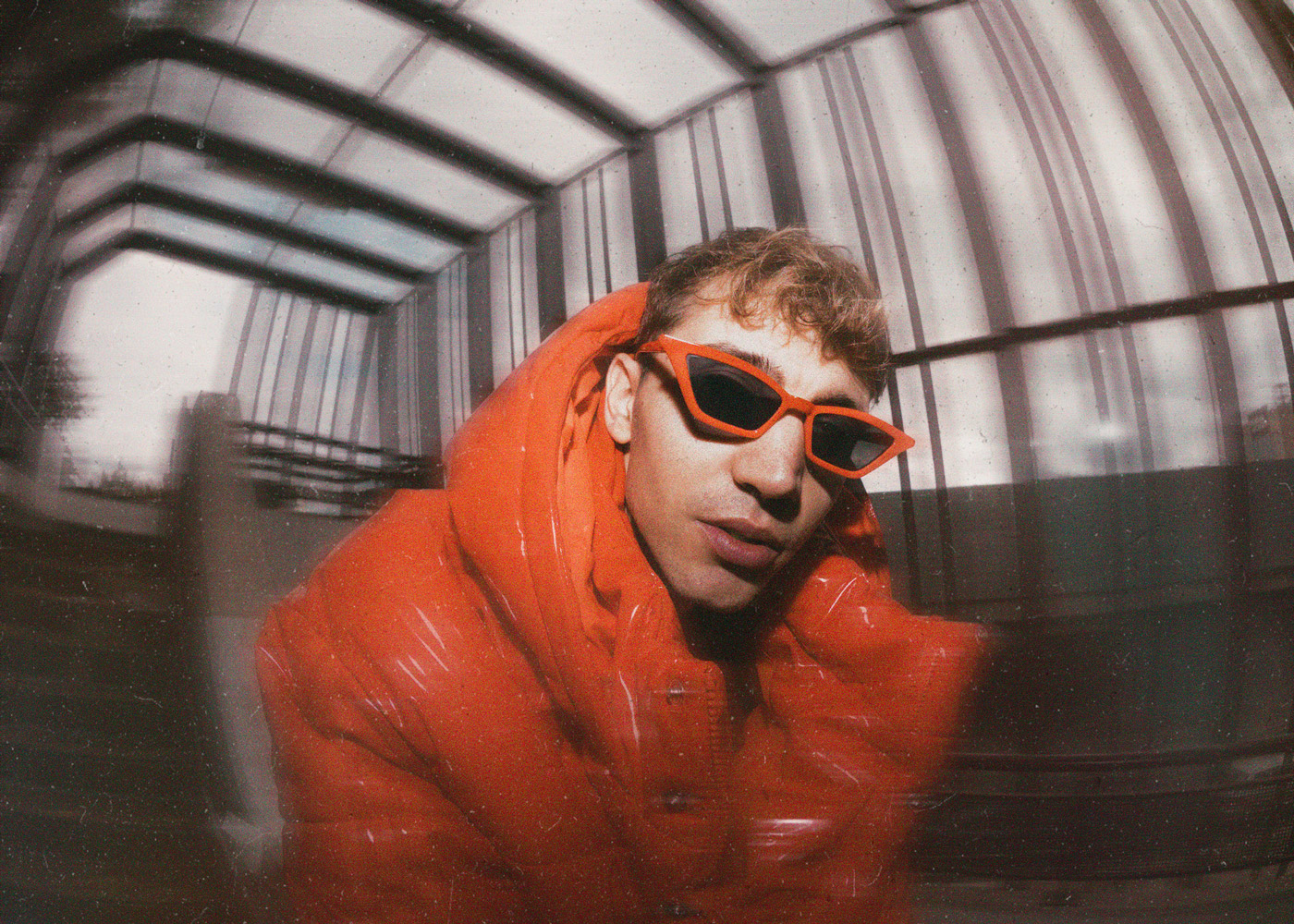 "A Dream In A Dream" was released on Kommerz Records, a platform for instrumental hip-hop, house, jazz, and beyond founded by brothers Lukas and Jonathan Nixdorff in 2020. Lukas and Jonathan are deeply rooted in hip-hop culture but are also organizing techno and house parties with the Paper Berlin crew. Blurring the lines between the genres and sharing a passion for hip hop, sample culture, and club music, Kommerz Records seems like the most natural fit for DJ Piper's debut release.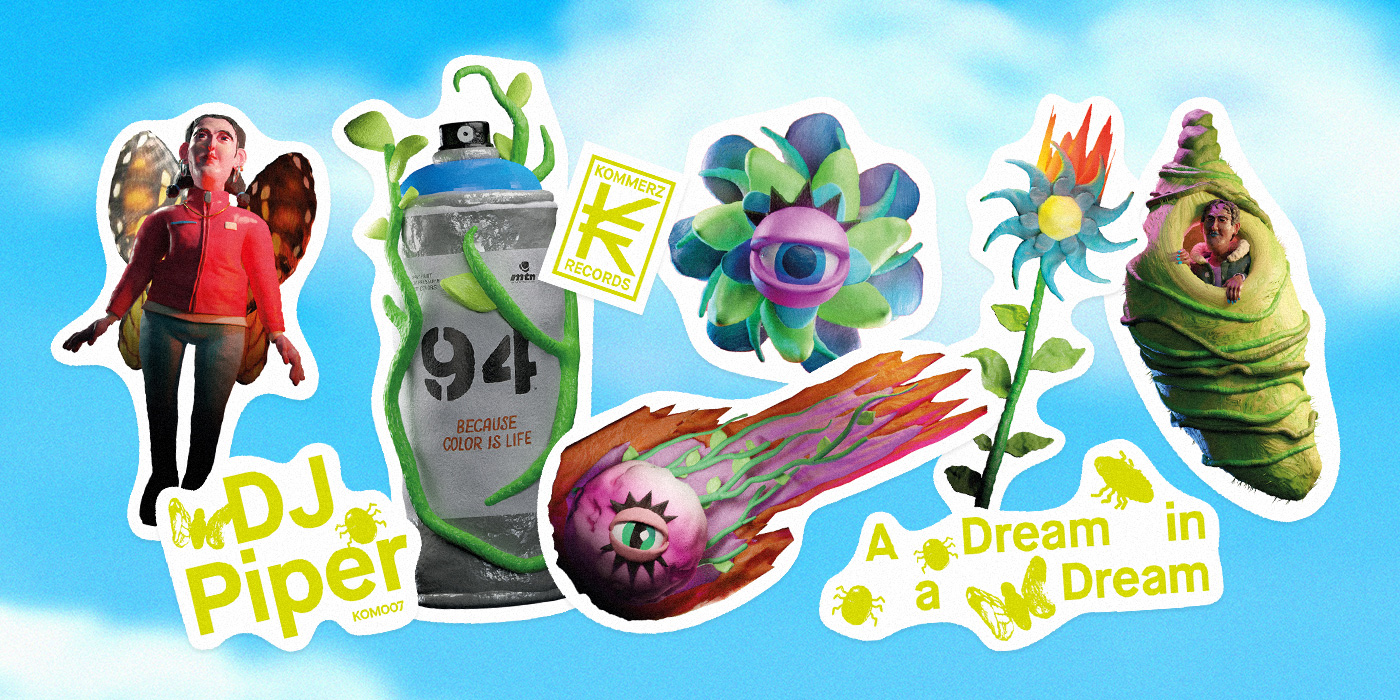 To visualize "A Dream In A Dream," Kommerz Records and DJ Piper joined forces with his childhood friend Raman Djafari. "I remember exactly the first time," Raman tells C24, "when I listened to an early version of the album. On a stormy and rainy night in Hamburg, I was on my way home from the studio. It felt so magical and eerie, yet cool and laid-back. The feeling created by the friction between the music and my surroundings stayed with me throughout the process." The Berlin-based illustrator and filmmaker made the album art for "A Dream in A Dream," as well as five artworks and music videos for the singles "FRA-CHI," "Kush Clouds," "Long Havel Beach," "RIP TXL," and "You Got Me." Raman's supernatural aesthetics bring life to DJ Piper's somewhat psychedelic, somewhat nostalgic fantasy, locating the album in an otherworldly version of Berlin-Spandau, the hometown of both artists.
In close collaboration, designer and art director Dominik Keller created the graphic design of the record sleeve and labels, as well as the merchandise, including a sticker set, shirts, rolling papers, and the poster. "Knowing their work for a long time, it was an honor to collaborate with Raman. Their visuals for the album immediately resonated with me. Throughout the creative process, we have always been on the same page. The close friendship between DJ Piper and Raman was also beautiful to witness. I'm very grateful for this special and close collaboration", Dominik tells us. 
Dedicated to DJ Piper and Raman's teenage years, the visual world around the album cherishes their memories of growing up in Berlin-Spandau and the outskirts of West Berlin. "I wanted to capture how vast and magical everything felt, how endlessly important. The world seemed like a mystical realm to explore back then," Raman explains the idea behind the visuals and music video. Touched with a hint of surrealism, the album cover depicts a still from the music video for "Long Havel Beach," showing DJ Piper's avatar relaxing in a lush meadow with bugs and butterflies crawling all over his body, almost absorbing into nature. "Partying at Gleisdreick, our shared love for graffiti, the empty fields of Gatow and Kladow, the magical view over Rathaus Spandau from the roof-top of the mall right across the street: Our friendship has been central to the narrative behind these visuals," Raman tells us. 
Drawn to visual expression from a young age, Raman's creative talents encompass almost every form of image-making. "It has always been my primary form of expression, a way to make sense of the world," they remember. Through anime, graffiti, and even learning traditional painting in high school, they found their way to illustration and film-making. During their studies at HAW Hamburg, they created their first music video for the track "Snow" by FJAAK. Their background in illustration saw them easily turn their love for image-making and world-building into creating animation, film, and music videos. Ever since that experience, Raman has been fascinated by the medium. To date, their work has gained numerous awards, including the Annecy Crystal Award for Best Commissioned Film, the Animattikon Best Animated Music Video, and Best Video at La Guarimba Film Festival. In 2021, they created an impressive music video for "Cold Heart" by no one other than Elton John and Dua Lipa. 
The butterflies are a reoccurring figure in the design of the album. Inspired by Raman's visuals and animations, Dominik picked up on the symbol representing lightness, freedom, and new beginnings. The bright yellow—inspired by the color of the sweater worn by DJ Piper's avatar in the music video—radiates the same warmth and positivity, representing the dreamy, nostalgic atmosphere of the music. "I loved working with Dominik. He is an amazing collaborator. He has an incredibly keen eye for typography and had so many great ideas for expanding this project's visual language through graphic design. I felt that his creative input strongly enhanced my work," Raman tells us about their collaboration. Dominik's love for conceptual details and twists is also visible in his typographical choices on the sleeve. The gaps between the words leave space for imagination, "for the dreams in the dreams," as he explains. The use of typography on the cover and merchandise is subtle and delicate, leaving the limelight on Raman's visuals. 
Watching his father at work when visiting his grandfather's printmaking company was Dominik's first introduction to print. "Back then, I found myself interested in the printing technology and the variety of paper and its haptic, and curious about who was behind the design of these publications. Even as a child, I wanted to express myself visually and always played with different tools," he remembers. While doing an internship at a design agency during his school years, he became fascinated by the creative freedom within graphic design. But before Dominik answered his calling as a designer, he took an apprenticeship in mechatronics engineering for offset printing presses. After the second training in media design, he eventually applied to study communication design at the University of Applied Sciences Darmstadt. After years of honing his craft, Dominik launched his studio for graphic design and art direction in Offenbach with Kommerz Records and MELT Festival among his clients. 2023 looks like it will be a similarly productive year for the designer, as he decided to move to Berlin and freelance full-time. 
2023 will surely be another busy year for DJ Piper as well. With a full FJAAK touring schedule for the upcoming year, time will be spent in airport transit areas and hotel rooms. Fans of his hypernostalgic Spandau rap can only hope that these will be the ideal conditions for more musical output of DJ Piper in the future.