Born out of a knee-jerk reaction to the pandemic, Output Field is a new 501(c)3 non-profit, calling for the redistribution of clout: a placeless coalition providing a community for experimental artists, curators, and venues. During the lockdown, its founder, Viv Qiu, began hosting transdisciplinary live streams, bringing together befriended artists across disciplines and time zones. "We had tattooers tattooing themselves with live-coded music, sculptors molding clay to live bands, and assemblage-video pieces as fundraisers," Viv remembers. " I kept hearing from the artists about how fulfilling it was to meet others in and out of their disciplines—which was a much-needed boost of community during isolation." Encouraged by the good feedback, Viv teamed up with Brendan Lee to build a website for the project—and it just snowballed from there. 
Co-parented by Chinese immigrants and the internet, Viv defines herself as a generalist. The Bay Area-based artist has always been a zealot for the experimental, the speculative, and the absurd, usually working at both micro and macro scales. Her work oscillates between object and theory, aesthetic and systemic. With ties to industrial design, research, curation, and creative direction, she made a home in concept as her core medium. As the founder of Output Field, she dedicates all parts of her practice to nourishing the underground and the redistributing clout."I was interested in questions like: how could we nourish connectivity, mutual respect, and collaboration on a larger scale? How can we offer community to those who cannot access it, irrespective of the pandemic?" Viv explains. "And how can we do this in a way that subverts current hegemonic order and gatekeeping in the arts? How can we be more inclusive and less autocratic than the current ways artists find each other?" 
Now, as a 501(c)3 nonprofit, Output Field is trying to answer some of those questions by building an organically curated database of underrepresented voices in the arts. "We think this an invaluable resource for institutions needing to break patterns of exclusion and gatekeeping in their industry", she states. "Behind this database, we are building ways to experiment with new media, visual art, sound art, and performance. Output Field is nourishing ways to link, conspire, collaborate, share resources and support each other. We'd like to offer creatives access to a community, regardless of their external conditions. Mutual support is as important as opportunity; we're here to provide both."
From June 16 to June 18, Output Field reveals Skin Garden, a six-month-long virtual exhibition about bodies, featuring over 30 artists. It shows a collection of 3-dimensional musings in flesh presented in three rooms: 'Walk-ins Welcome', 'Bodies Unhinge', and 'Reconsider Flesh'. From tomorrow on, the exhibition will open one room a day in New Art City, a virtual gallery space."I think we have such a dialectical perception towards bodies: they're the site of some of the most existential conflicts we have in our culture; we feel strongly about them, and yet, we take them for granted," Viv concludes. "Bodies are subject to many assumptions, despite our awareness that they occupy a huge spectrum. New Art City provides the perfect grounds for shedding light on the sheer size of that spectrum. There's a lot to be said about bodies—and as a collective spanning cultures and identities, we thought bodies were a good topic to showcase the mercurial nature of our canon."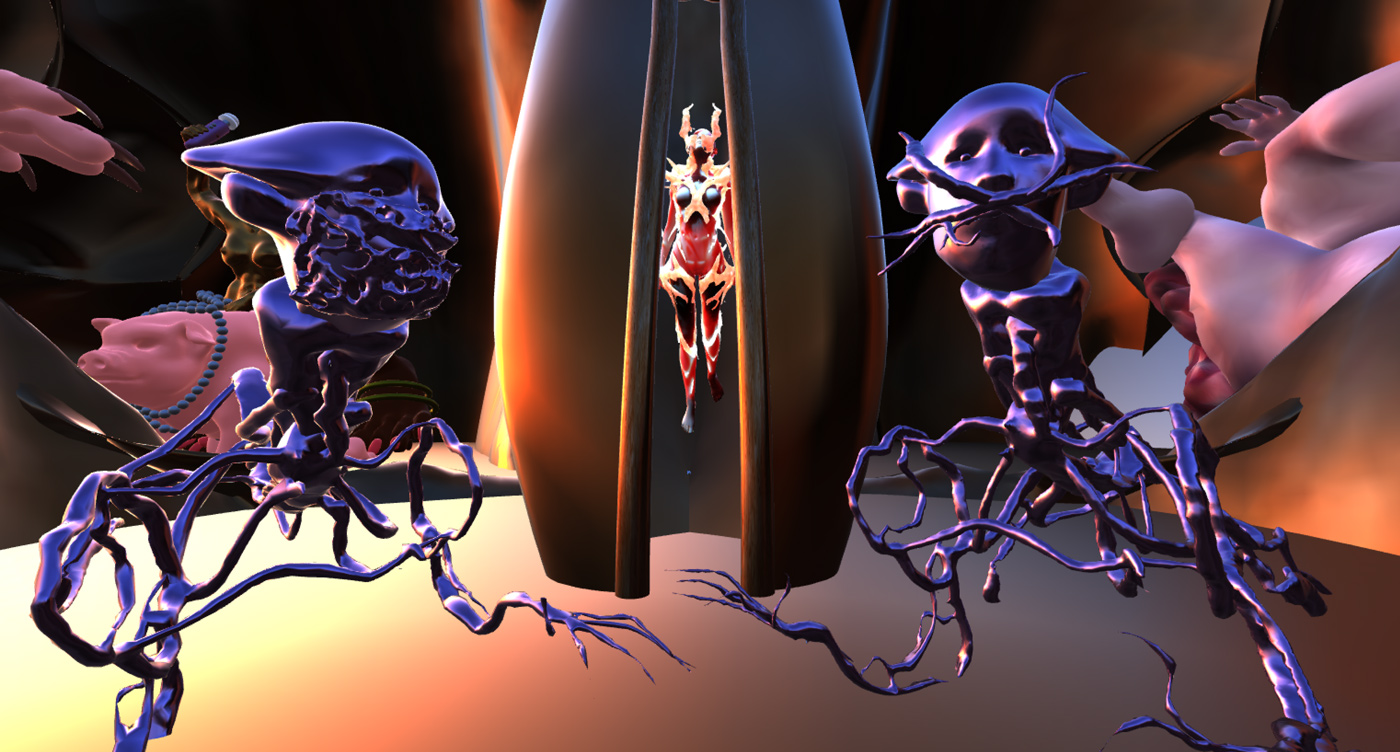 Core to Output Field's mission is the redistribution of clout—and Skin Garden is their first exercise in that. The exhibition is positioned against the current landscape of CG art, and orthodox notions of bodies. "With an emphasis on femme, and queer artists, our focus was on showcasing the bodies overlooked in new media arts, which has become the modern playground for patriarchy and heteronormativity," Viv states. "The whole show contains bodies and voices that aren't represented in mainstream CG art sphere, which sources its heritage from RPGs and erotica. The male gaze is strong in this space. We want to break that. Consistent with all of our future output, Skin Garden is a curatorial corrective."
The exhibition is divided into three virtual rooms, which present audiovisual reflections on bodies as physical vessels, as they relate to trauma, language, queerness, tradition, and multiplicity. Every room in the exhibition aims to break conceptions of all things bodily. "As an organization, we are carving out a space for this work; work that challenges the standard," Viv explains. "We think these are the true benchmarks. We take space to make space for artists who make critical, speculative, and collaborative work." The opening of the exhibition will be celebrated with a housewarming party in 'The Lobby', which forms the living room for the next three days and gives access to all of the three exhibition rooms. 'The Lobby' was built by Kolkata-based artist Kushagra with sound artist Tooba Greer Williams from New York.
The first room, 'Walk-ins Welcome' is a showcase of tattooers who embrace the shift towards digital image-making in their practice: Hyodomachine, Pang, Lv Dian, and Heavenly Beauty Tattoo. In a collaboration between Alex Shilt, their tattoo designs were transposed into fleshy-inked sculptures. The whole room lives inside a tattooed skeletal cavern by Bambs.
The second room, 'Bodies Unhinge' is an articulation of queer affect, through breath, movement, and voice. The two artists IOR50 and Betty Apple explore the ways unruly aesthetic experiences disrupt the borders of flesh and shake loose the psychic debris left by trauma. Here, the queer dynamics of raving offer the club as a site to sound out the affective afterlife of psychic injury. The room was curated by Viv and Emily Murphy, better known as Venus in Foil, a researcher/theorist who wrote the essay that inspired this room.
And last but not least, the third room, 'Reconsider Flesh' is a breathing sculpture garden nestled inside walls built by Salomé Chatriot. Sourcing the multiplicity of flesh, this body of work carves out space for just some of the bodies excluded when multitudes are reduced to a monolithic standard. These 3-dimensional musings are presented with Bella Baguena's distorted readings of a polemic by Gordon Hall about the language we use to describe bodies. The room was curated by Viv and Salomé, who built the walls of the space and helped place the artworks.
With each opening, Output Field is hosting an event via Zoom, starting with the opening party on June 16, a panel discussion and Q&A with IOR50, Betty Apple, Viv Qiu, and Venus in Foil on the day after, and broadcast of literature and theory that inspired the concept behind 'Reconsider Flesh' on the third day, including words from Gordon Hall, Gilles Deleuze, and Bob Flanagan.
For its debut showcase, Output Field is raising funds for the artists featured in Skin Garden. By buying one of the pay-what-you-can tickets or donating directly via the platform, the audience can support them and their future output. "We managed to raise the bare minimum of funds to put this show together, it's nowhere near enough what the artists deserve for this huge exhibition," Viv tells us. "We are fundraising $5,000 for the transdisciplinary body of 30 artists who made this show possible. All additional funds will go towards our future projects, and our mission to redistribute clout. Your donations nourish the underground."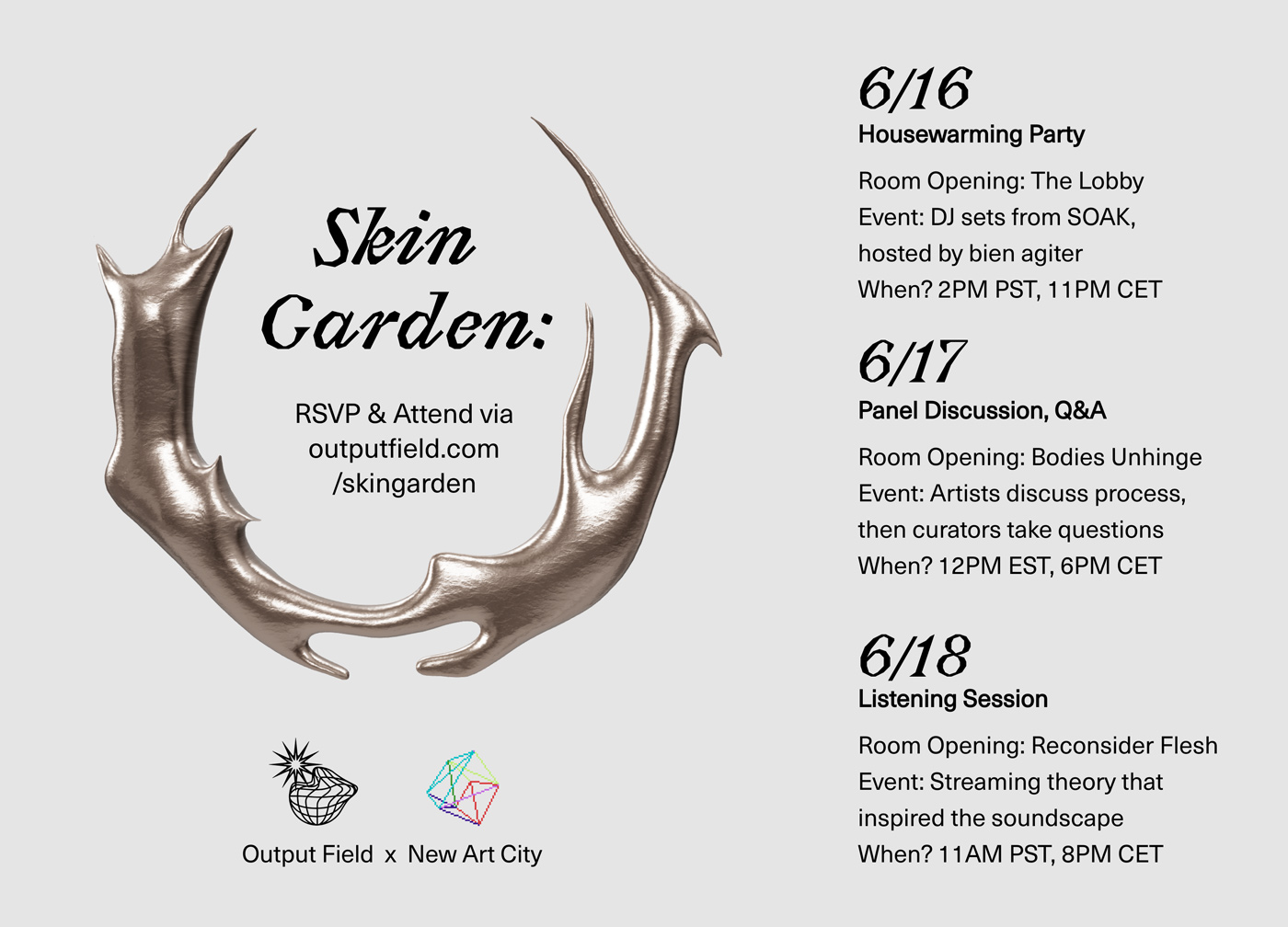 With their pluralistic approach, Output Field is currently amassing a referral-based network of artists, curators, and venues, currently collecting names on their website. "Our database's invitation-based format continues to manifest links to people and spaces outside our field of vision," Viv explains. With different time zones and different mediums colliding together, this wholly remote collaboration formed very organically, putting a special emphasis on collaboration. "A friend of mine in Berlin, Flemming—cofounder of Lodret Vandret—and I were discussing our values in regards to collaborations," she remembers. "He named mutual respect as one of them—'being generous and curious'—and what he said always stuck with me. Since then I've grown a real appreciation for that generous and curious spirit. That spirit is the lifeblood of artist community, and was crucial to making Skin Garden come to fruition."