The story of the Australia-based collective Arc-12 began when two of its founders, Augustine Flett and Br.6ndon, published their very first book, titled Jesus Wept. The book is a 40-page graphic bible, chronicling the history and sequential birth of the Arc-12 universe. "We created this book as a testament to ourselves as emerging multidisciplinary designers, our first official artwork to be shared with the world," the duo explains. Based on the book concept, they started to work on apparel and accessories with fashion designer Rafid Bhuiyan—a collaboration that led to the official foundation of the collective. "On one night, in a local embroidery studio, Arc-12 was created," the trio remembers, "a dedication of time, energy, and friendship to a common goal in creating inclusive experimental fashion and design. We wholeheartedly believed we could make a positive impact on the people and spaces around us. This is still our main priority."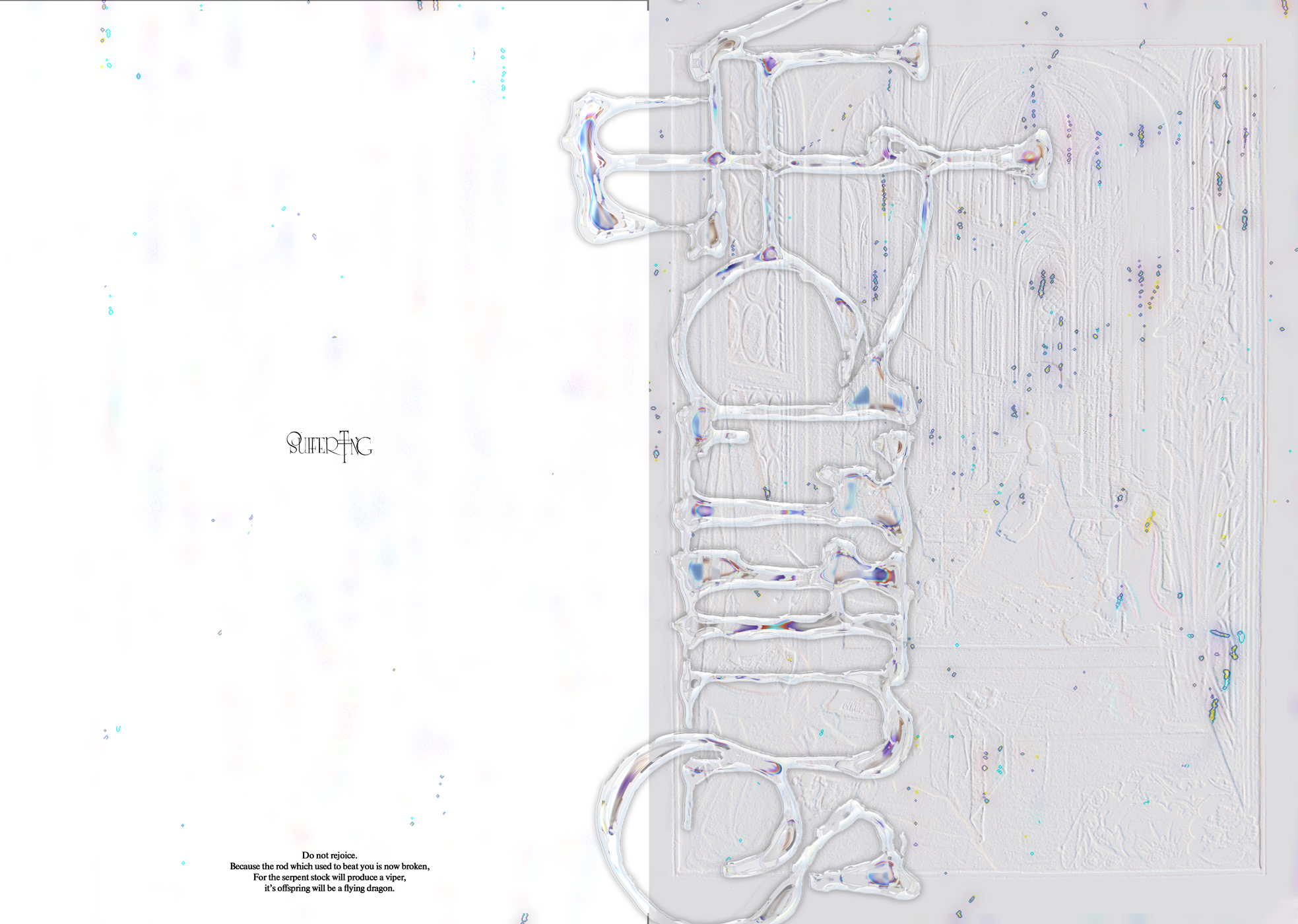 Augustine is a multidisciplinary artist and designer, with a foundational background in photography and a degree in design. He now works as a full-stack designer, communicating across a broad variety of mediums, while maintaining his focus on 3D and textile design. As a designer, Br.6ndon is just as multi-faceted. In his work, he attempts to reinterpret real experiences by combining different design mediums and world-building. Although his foundational fascination stems from trying to understand his reality through his work, integrating occult and medieval philosophy is also a constant fête to learn about the world as a whole. Sharing a similar vision, Rafid interprets the world through various mediums. As a fashion designer, he creates garments that are maximalist but refined through a contemporary lens. 
The interest in the crossover of different disciplines comes through in all of the collective's work. Despite coming from different design backgrounds, the three designers share a similar taste for aesthetics, futurism, and experimentation. "By collaborating with different disciplines and people, there is an invaluable exchange of unique beliefs, codes, ideas, and learning experiences. Nothing in this world exists within a vacuum; there is cause and effect", Rafid states. "The multiplication of disciplines allows the creation of innovative art which exceeds the expectations and boundaries of what an individual had envisioned. Different mindsets from different disciplines allow the reconstruction and contextualization of ideas."
The paths of the three artists crossed at university where they shared mutual interests and a similar view on design. "We all developed a distaste for the bland and rigid guidelines of contemporary systemized design. We wanted to move past the centralized feelings within inner circles, while also filling the void we felt existed in the arts here", they explain. "We just felt so desensitized to the design world around us and realized the only way to overcome this was to build from the ground up. This inspired Jesus Wept, which further inspired the Arc-12 Universe. A comprehensive look into the world we can build with total autonomy over curation and creation."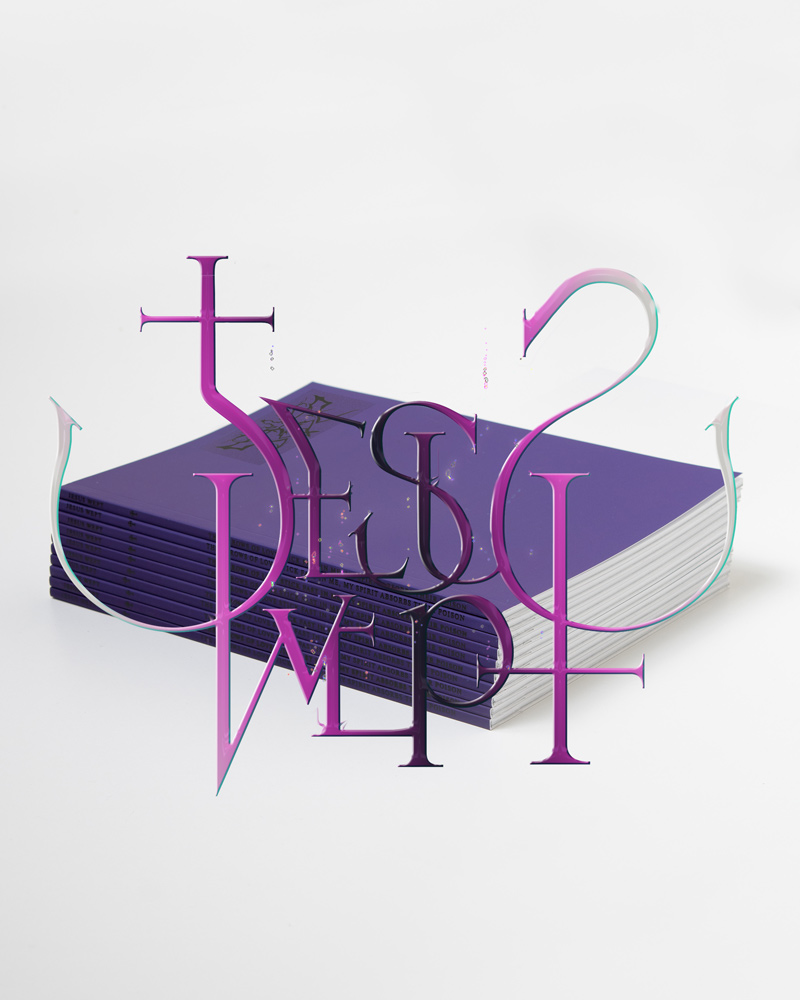 As the title of the book already suggests, the book draws on scriptures from the catholic bibles, both visually and symbolically. It tells a heroic tale of cosmic suffering and apocalyptic neo-Christian dystopias. "We see ourselves in this story, and it is very much a personal reflection on how we view the world around us. As the book progressed, we quickly saw our style develop into a balanced and grand interpretation of our original themes. This was ironic to us as the book's main themes started off incredibly dystopian but quickly became inherently about the notion of transcendence and the recognition of the conscious," the designers explain. 

These ideas get really special within the book's formatting by using embossed symbols and words. "We used a number of experimental printing techniques to pull this off. This was done by layering multiple passes of true black ink on specific parts of graphics and type, flooding pages with clear ink passes to create certain effects", they tell us. The cover alone is a design feat within itself, combining a specific amount of Cyan with special neon-pink ink, before covering it with clear gloss floods and layers of 100% black ink to emboss the Jester Symbol. "When angling the book under different lighting conditions, sets of braille appear. These are actually the specific ID of the printer that was used."

Their extraordinary attention to detail permeates all aspects of the book. "Every tiny detail was considered, from micro to macro. You'll find as the narrative begins the reader starts on a slightly heavy matte paper, a tribute to scripture and old print practices. As you progress through the book, not only does the tone change but so do the prints, as the visuals reach climax, the paper shifts into a thicker glossier texture. Finishing off with a final set of fold-out pages, coated in layers of hyper clear gloss", the designers explain. The quite experimental printing of the book was realized by the local printer Darkstar Digital. "We really need to give a massive shoutout to the amount of effort both Christian Davis and Richard Crampton put into helping us with this project. They worked with us on an ungodly amount of test prints and the sheer attention to detail that was put into the construction of this book was incredible." The book is limited to 100 original copies—with no re-stock in planning yet. 
Asked about their collaborative process when designing the book, Augustine and Br.6ndon describe it as "heaven and hell, both opposing but can't exist without the other." As a result, the book has become a really beautiful blend of juxtaposing styles, combining Augustine's surgically curated, highly pastel, and light aesthetic with Br.6ndon's nightmarish scenes of magic and occult narrative. "Although all my work stems from my own life experiences, working with Augustine pushed me to emphasize every element of my body of work. I began to really consider the rationales behind the visuals I was making, and why I was motivated to create them", Br.6ndon states, and Augustine adds: "Collaboration comes with the responsibility and accountability of having another human being trusting in you to build something great. This was a huge factor as mental health can become incredibly overwhelming and isolating, which often has a big impact on consistent creative output."
Looking into the future, Arc-12 continues to establish its roots within Australia, before venturing into the greater global scene. Next to the foundation of Br.6ndon's design and fashion platform Break & Enter and the launch of Rafid's personal brand 24HRSINBERLIN, the collective has organized their very first 12-hour rave with four pop-ups, partnering collectives such as Second Skin and Burnia. "The overall collective shares the same vision of expanding a multidisciplinary application of aesthetic into a global audience. We still have firm opinions on revitalizing Sydney's underground scene and moving into multiple capacities of Hardcore and electronic music. Notably, the next venture involves hybridizing with the hardcore scene with Sydney hardcore band 'Speed' and expanding our next pop-up/ event into Naarm/ Melbourne," they tell us about their upcoming projects. "This collective was started from ground 0, and we are only just picking up speed. 5 years to us looks like a global renaissance, platforming each other as successful independent artists while continuing to work under one united umbrella."