Named after the most reactive rare-earth element, the Paris based art direction and photography studio Europium came to be quite spontaneously this year. Despite the fact that it's a fairly new studio, its two founders, Julia Andréone and Ghazaal Vojdani, already have a wealth of experience, working for exciting clients like Collectif GAMUT, Éditons Béton-Roman, Institut Français de la Mode and many more. The duo met during their studies in graphic design at Central Saint Martins in London and parted ways afterwards to further explore their independent practices as well as teaching in New York and Paris. The initial idea of starting Europium came out of a conversation with the French artist and mutual friend Marguerite Humeau. "We have both collaborated with Marguerite separately, and have had many conversations about our practices, therefore we all know each other's work very well", Ghazaal tells C24, "Ever since Central Saint Martins, Julia and I have always been following each other's work from afar. It was definitely a very spontaneous move which suddenly made a lot of sense to us both."
While Julia comes more from a photographic background, Ghazaal leans towards graphic design. It is their strong interest in the relation between those different disciplines which also inspired the name of the studio. "It came out of the concept of two things meeting, a contact point or confluence, and a reaction as a result of this contact", Ghazaal explains, "We are both fascinated by minerals, earth elements, and material in general. So I started researching R.E.E (rare earth elements) and R.E.M (rare earth metals) when I was traveling in the mountains of Hierve el Agua in Oaxaca, Mexico." Finally, she came across Europium, the most reactive rare-earth element with the symbol Eu, found in France – where the studio is based – and consecutively named after the continent of Europe – where the duo initially met. "Europium readily oxidizes in air and water and caused a revolution in the color TV industry resulting in a much brighter image. The color red on TV screens used to be very weak, therefore other colors had to be muted to maintain color balance. Europium has continued to be in use in CRT TV screens for the display of images. Given our strong interest in image and our back story, we landed on Europium."
Having quite a lot of experience in their individual practices, Julia and Ghazaal work quite independently when taking on new projects. "We believe that it's important to continue to develop our own practices and international networks in parallel to Europium", they state. The differences in their skillsets and personalities is also apparent in their teaching practice. The duo teaches Visual Direction and Image-Making to MA Fashion students at the Institut Français de la Mode in Paris and works with their students on producing printed publication and photoshoots of their final pieces during the two years of their studies. "When someone brings an idea to the table we can both see it straight away. We operate quite instinctively and are generally in agreement with one another, for example when we are in the process of editing together after a photoshoot we both know which image is 'the one' so our dynamic works very well", Julia and Ghazaal tell us.
Since 2018, the duo shares a studio space with GAMUT, a Paris based fashion collective. With Julia being an official member of the collective, the duo took over the creation and management of their identity and online presence through image, art direction and design and therefore laid the foundation for Europium. "GAMUT operates on a horizontal model, challenging the norms within the field of fashion, which means that we all have the right to propose projects, concepts, and content", they explain, "This is reflected within the identity, as the concept of collage is central to every outcome. For example the homepage of their website is an infinite collage generator from the work and the life of the collective. The result of our collaboration is an experimental approach in both fashion and art direction, which expands its platform to music, dance, performance, education and much more."
About a year ago, the studio got contacted by the new publishing house Éditions Béton-Roman and were commissioned with the design of their identity and website. Additionally, Europium designed twelve book covers for the first series of the publishing house, titled Le Cycle de l'Obscurité Blanche. "We have been producing custom images and cover designs for the first 12 books tailored to the ethos of each story and author. This allows for a more eclectic approach and series", Julia and Ghazaal explain. For 2021, more books are in the making, as well as the release of the new website.
It's their extraordinary attention to detail and their precise, conceptual approach, which is visible across all of Europium's past and present projects. For Razzle Dazzle Architects, they recently designed a beautiful and thought-out new year's card. "We were interested in creating a structure for an invitation which can be used year after year, telling stories about a project from that year through up to three images", Julia and Ghazaal tells, "For that we decided to set up a grid of dots which was screen printed on thick architectural maquette board, and produce images that were printed as stickers with different materials (including a transparent one) that could be placed differently on the grid each time."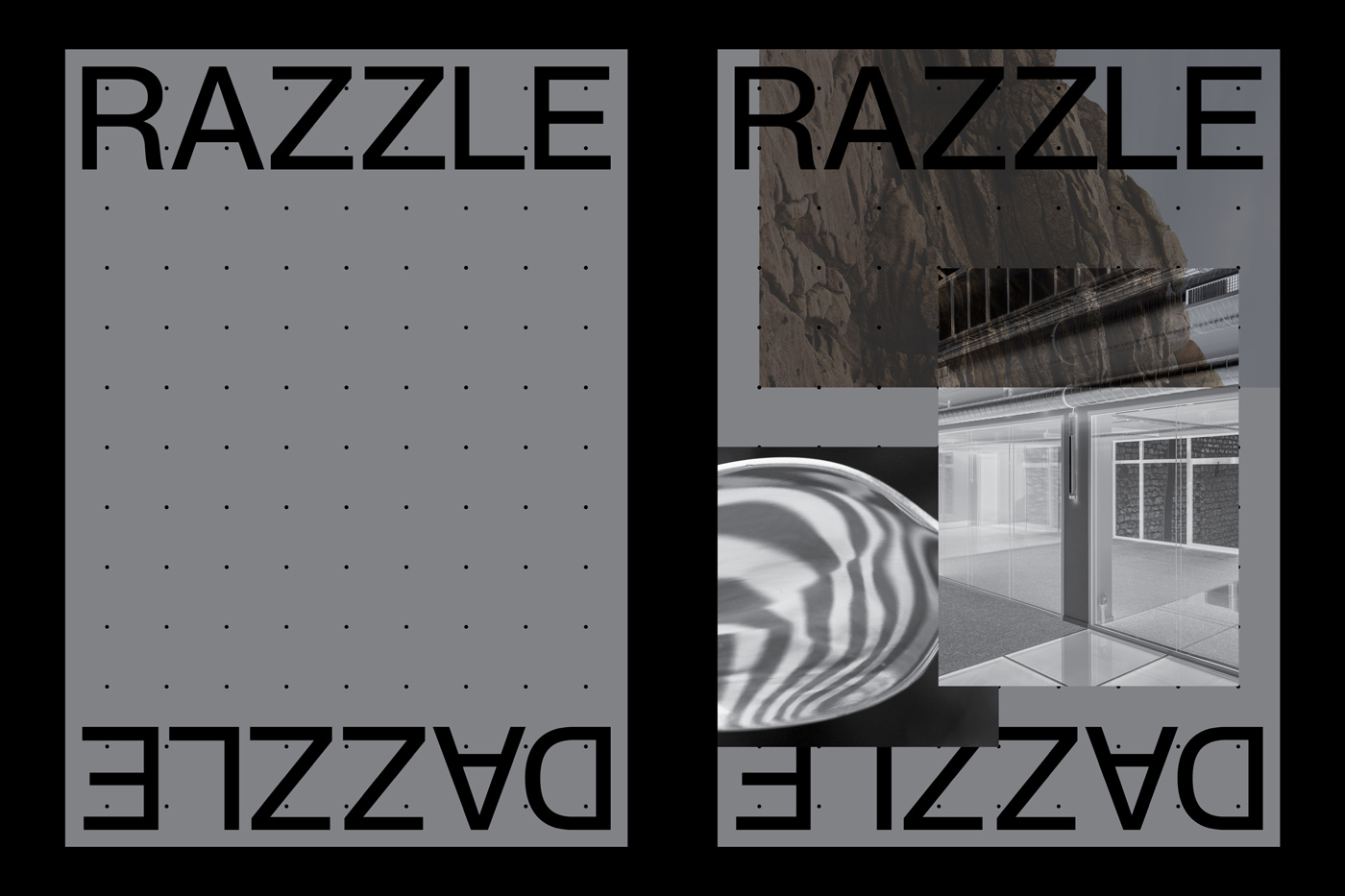 When it comes to approaching a new project, Julia and Ghazaal usually start with an in-depth conversation in order to pinpoint the narrative they would like to visualize, followed by an intensive research phase before the actual creating. "We are both interested in the narrative and story telling of our projects which without a doubt comes from our strong passion for fiction, cinema and cinematic images, as we both idealize film as the greatest medium", they tell us, "For this reason, the initial concept, narrative, and art direction of any project, or photographic series we produce is researched and discussed between the two of us."
Due to their focus on two different disciplines – photography and graphic design – the studio has the rare and unique ability to propose and create their own images, and not to rely on the content delivered by the client. "The fact that every part is coming from us, makes the project more concrete, and therefore a much truer collaboration overall. Since we each have our separate skills, we are truly complementary to one another and what we bring to our shared practice. We see this as a real strength, being connected and parallel in what we produce at the same time", the duo state, "Our practice is a collaboration between two fields so we can say it's really embedded in our way of working. We both enjoy collaborating and discovering the work of other creatives and expanding our own knowledge and network within the sector, whilst building narratives, fictions, and visualizing ideas through photography, image-making, editing, and art direction."
As for everyone else, this has not been an easy year for Julia and Ghazaal, especially while launching a new studio. "It means the process of everything is much slower. We are much less able to attend social events, meet new contacts, set up meetings, and it is even difficult to foresee a clear future for the studio. However the situation has not held us back from producing and making", they tell us referring to the bundle of self-initiated project they have started this year, "It is an aspect of our practice that is very important to us and that has been a real source of comfort and pro-activity. It's a dynamic that we both need and luckily we are able to continue to research and produce in these uncertain times, hoping the future will hold easier days for everyone."
Looking into the future, the duo would like to further expand and build their network "with clients who respect and trust our work, time and sensibilities, allowing for real conversations and collaborations to happen which will natural lead to ongoing partnerships."