The message which the Tel Aviv based platform and party series PAG spreads is one that needs to be heard worldwide: Creating a safe space accessible to all kinds of people and forming a strong community can only bring us forwards. Describing themselves as "an acclaimed and admired movement of mind altering techno, fashion, multimedia expression and forward thinking club culture", PAG aims at becoming an open platform to creatives everywhere, supporting the deconstruction of binaries and fighting the heterosexual matrix. The party series was first established in 2003 by Roy Raz and Eitan Tal – and has recently celebrated its 17th birthday this year. Since then, the collective has organized events, podcasts and performances in Israel, as well as other countries in Europe, hosting various artists around the world. By founding a new record label this year and releasing their first EP, titled Drama Queer, the collective intends to work with international artists to spread their message to the rest of the world.
"PAG's new record label deals with gathering artists from near and far which strongly represent our aesthetics. The connection between PAG and the artists aims at pushing the community forward, either by curating and initiating artistic collaborations or by providing a look into our local scene", Liel Bomberg and Karin Kimel tell Collide24. The two designers have collaborated on many artworks and projects for the platform, with Liel joining the collective as a permanent member in 2015 and taking over the Art Direction. After meeting through a mutual friend, "creating together was just a matter of time", the duo states, "The first time we worked together was for PAG's new evolution – when the party switched venues and became a larger production. The connection between us was immediate, the workflow was really harmonic yet full of great discussions. We come from different environments so working together enriched both of our individual worlds. We both felt we had a specific aesthetic conversation that exists just between us."
Growing up in a rural town in Israel, Karin's childhood has always been shaped by two opposite worlds: While she was deeply inspired by the nature surrounding her, her interest for computers, softwares and the internet grew constantly. "I feel like these two worlds influenced me greatly and nowadays they collide through my work. I find this collision to be inspiring in the aesthetic sense, but also in a philosophical and conceptual sense", she explains. Before she got more and more into experimental and digital art, she began with learning the traditional techniques of painting and sculpting. Stating that these techniques are still present in her digital work today in one way or another, she developed her personal artistic style during her studies in Tel Aviv.
Long before joining PAG in 2015, Liel has always seen himself as "some sort of ambassador of queer/odd culture within mainstream spaces", a call he answers to the present day. "As a child, I was an extrovert naturally and was kind of an oddball, yet I never saw it as a disadvantage, on the contrary, I used it to my advantage", he remembers, "I was the first kid to come out of the closet in my high-school, and was always invested in pursuing my current obsessions – from uploading videos of me lip syncing to an early version of youtube, to designing and building fan websites for TV characters I adored." After serving as a military photographer, he decided to pursue his true passion and started his studies in visual communication. A few years ago, he founded his own design studio, 50x70cm, working for international commercial clients, as well as the cultural sector. "Across all mediums I'm involved with, I always found myself drawn to unconventional characters. Characters with some part of their identity that made it hard for society to understand, and perhaps they also didn't want to be understood. I identified with the challenge that exists in their existence, as challenging the constructs of design is a main force of motivation in my practice."
Both coming from different visual backgrounds, working together for PAG has been an "incredible opportunity blur boundaries between a raving experience and an artistic observation experience", they say, "We feel like people's openness to meaningful visual content doesn't have to be restricted to a specific defined space, so in a way we're inspired by the notion that challenging a viewer's eye can happen within a raving context as well." Instead of seeing it as just a regular "night out", they perceive clubbing as a deeper and more abstract experience. "Sometimes there's something really surreal about how the night flows, the way things seem and behave within this space. With this in mind, we see the clubbing space as a 'black cube'. This stems from the term 'white cube' – such as a gallery or a museum – where we usually inhale artistic content through the relatively conservative structure. In contrast, the black cube that is the club allows a sort of freedom", the duo explains, "Through inclusive artistic content in this space, we hope to interact with our guests in a way. This is something we find fundamental to take in mind regarding expanding these moments and feelings we witness together, hopefully even inspiring others to think of this space as more than just a venue they visited."
Following this philosophy, the duo usually starts by sharing references and inspirations with each other, until their discussion leads to a new idea. "Our collaborative visuality emerges from discovering beautiful things through working together", the Karin and Liel explain, "With each new project our mutual style develops and takes new forms, yet we really try to keep a certain consistency. The most important aspect of this collaboration is focusing on the conversation and evolving together. Both sides serve as a 'window' to each other, creating this opportunity to understand and work with tools, ideas or techniques that are available exclusively through this collaborative process."
Collaboration has always been an important part of Liel's practice – and his life in general. "My professional and personal life are mixed together, as I work with my best friends and find communities around me, from nightlife encounters to people at my gym", he explains, "Maybe more so than anything, life in Tel Aviv enables and encourages the concept of community: You are never alone in Tel Aviv. Since joining PAG in 2015, I set my intentions in extending PAG from a party to a community that centralizes queer culture and stands at the forefront of Tel Aviv nightlife."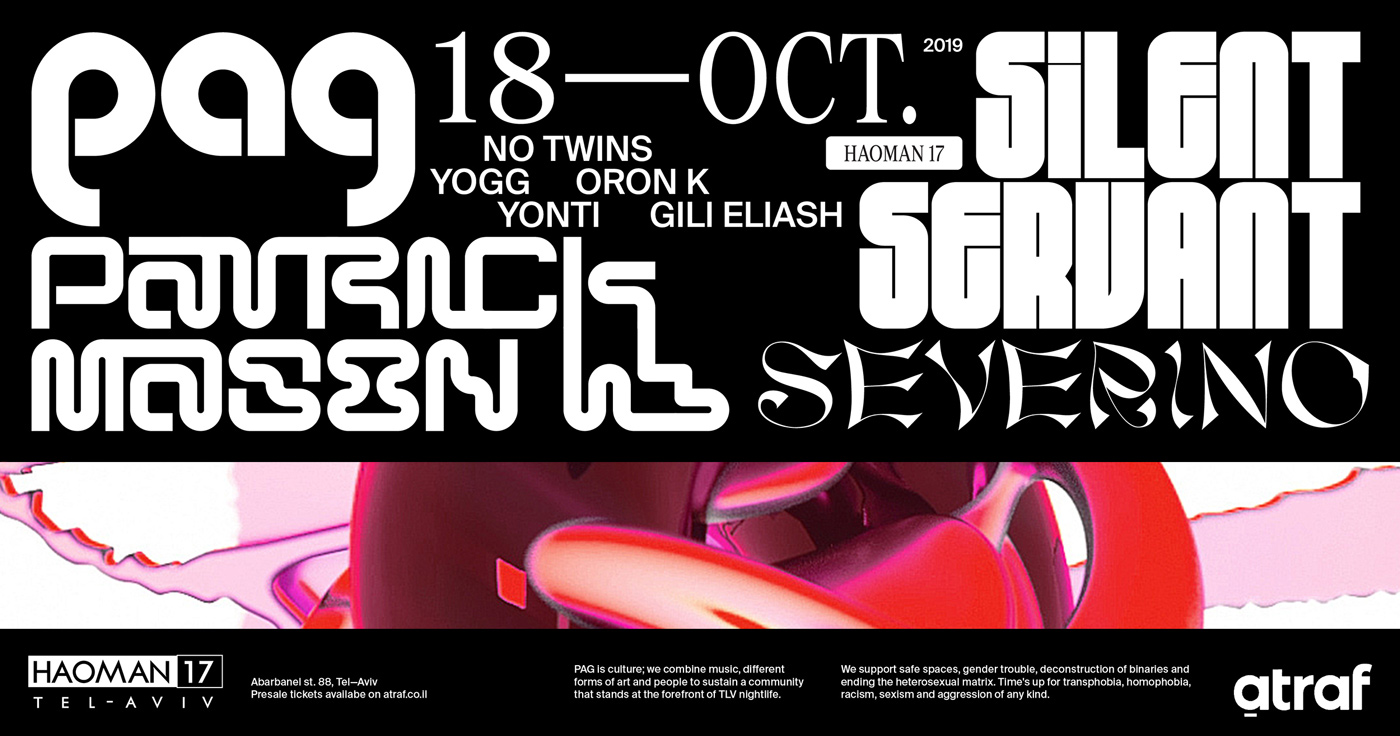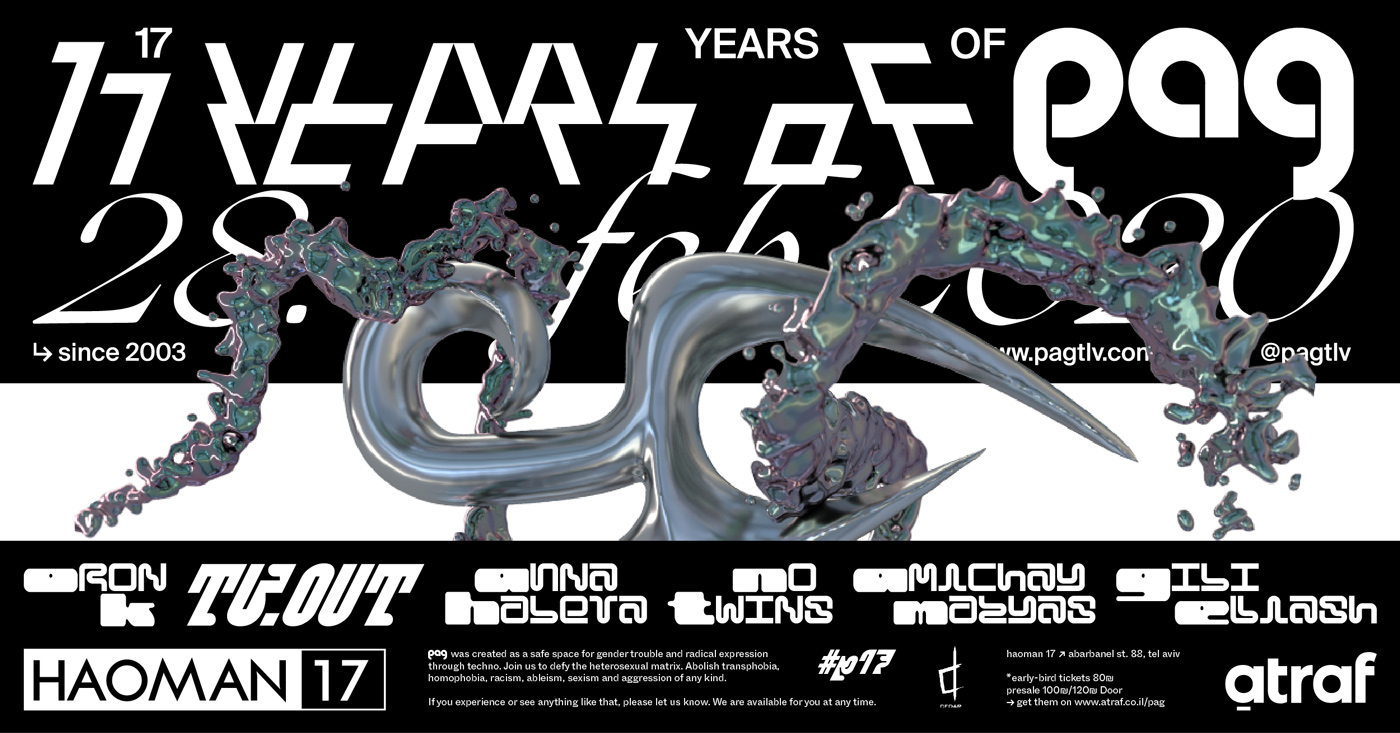 While Karin has never felt as being part of a specific community before, getting more involved into collaborative projects got her a better understanding of what being in a community means to her. "To me the idea of community feels a bit abstract, but the essential trait of it would be an honest passion towards something, that unites whoever is involved. This passion could stem from doing something together, but also from appreciation for something that already exists and inspires a group of people. In that sense, what community means to me is unity that emerges from true devotion to something."
Seeing it as their responsibility as queer artists and designers (and simply as human beings) to use their platforms to uplift and empower marginalized voices, PAG offers them a space to take action. "The last few months reminded us that political values are inherent and inseparable in any queer activity whatsoever – starting with its very existence", Karin and Liel state, "We need to build and sustain environments within our field that promote opportunities for our sisters and brothers from the LGBTQIA+ community. But most importantly, us creatives carry a responsibility to use our critical thinking towards the world to constantly challenge and work to abolish oppressive systems, within ourselves and the world around us. We hope that through this platform we'd be able to educate and act."