"Waacking and myself mutually discovered each other when I was 15, I still remember thinking to myself 'this is it, this is what I want to do!', MaggZ tells C24. The Melbourne based multidisciplinary artist specializes in this certain freestyle dance, originated in 1970s Los Angeles from the LGBTQ community, characterized by the use of rhythmic gestural arm movements. "I'm grateful for the culture and community that waacking generates, and most importantly different ways to honor my beings as my movement is me, and I am my movement." Traversing amongst dance battles, live performances, installations and interdisciplinary collaborations with other artists, MaggZ aspires to explore the possibilities of art and creativity whilst to honor the unique being of self and others.
Always pushing the boundaries between different disciplines, her work explores the intertwinement between performance and multimedia art. "As well as being part of the street dance community, a few years ago I started collaborating with artists from different genres in performances, installations projects and more, which opened up a whole new world of multidisciplinary and multimedia art for me", she remembers.
And indeed, MaggZ has worked on a bundle of exciting collaborations in the past, working with international creatives such as Aquabubz, Tilda Clarke, Joli.vision, Elle Shimada and Wackie Ju. "As much as each project has its unique value to me, I think in general what drives me to explore and constantly to challenge and to contest the reality we are living in, is aliveness – by creating, even more so creating in discomfort makes me feel so alive, and that's the state I live for." Among her recent collaborations is an experimental series of artworks together with digital artist Human Imitation.
The collaborative series between MaggZ and Human Imitation looks not only pretty impressive, it also raises awareness of a very sensitive and important subject: the de-sexualization of nudity. The duo met on Instagram – or "the virtual realm full of possibilities" as MaggZ describes it. "I remember I reached out to them first as we've been following each other for a while and I've always been in awe of what they create", she tells us.
The result of this collaboration challenges the automatic assumptions of nudity whilst normalizing the body as means of sexual expressions, but not necessarily sexual invitations as a consequence. In times of often overly sexualized bodies especially in the mainstream media industry, it aims at reframing people's mindsets and attitudes about nakedness. "With stereotypically perceived sexual connotation of nudity, my body poses are to aspire de-sexualization of nudity as well as to move forward and to appreciate the complexity and delicacy of nude body forms", MaggZ explains. By placing her body and its different poses in a digitally constructed, sci-fi environment and alienating it by adding futuristic objects and textures, the duo addressed the inherent double-standard in our society when it comes to nudity.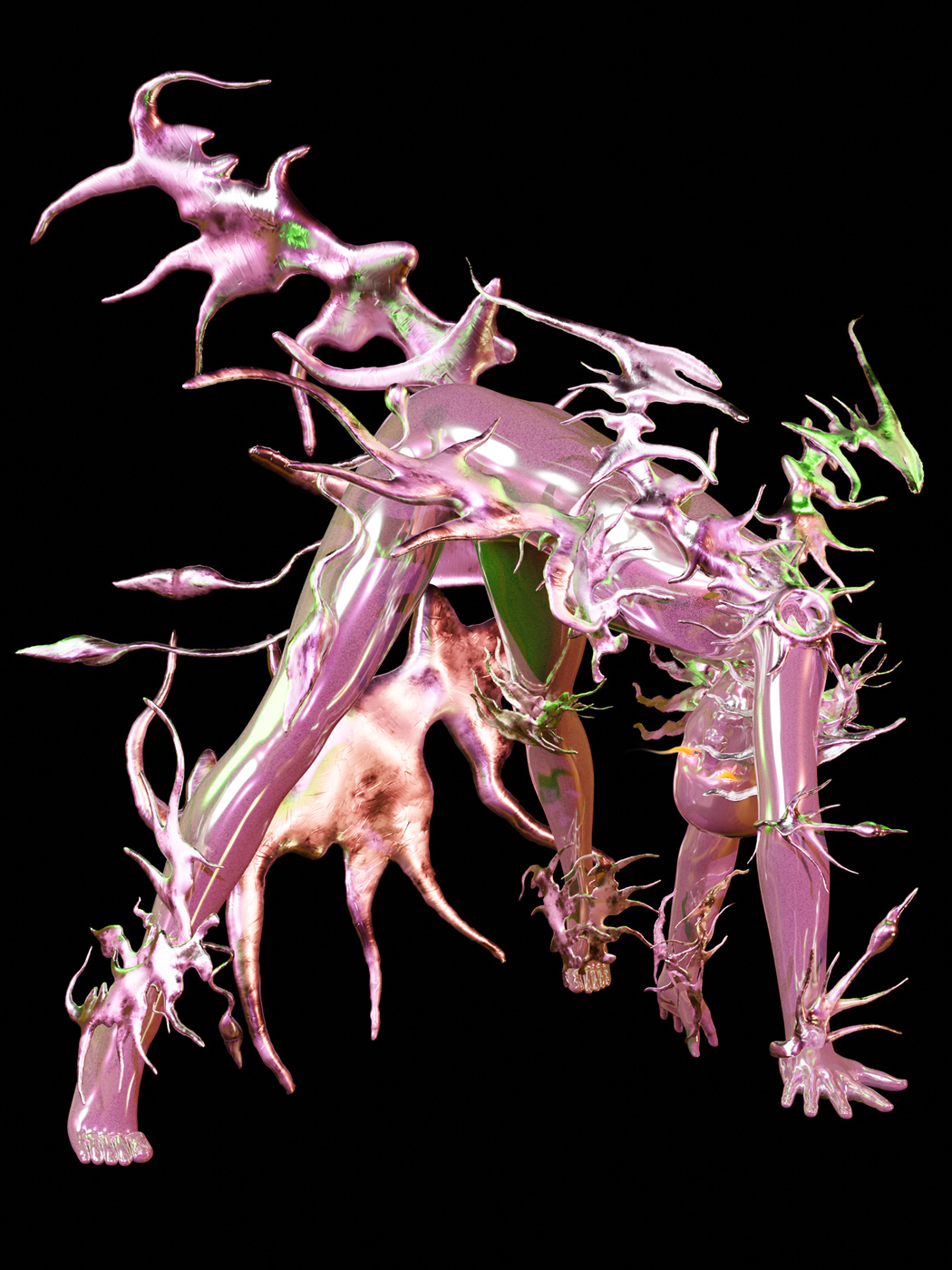 Just like her versatile, creative output, MaggZ's working process constantly evolves with her. More intuitive than conceptual, her practice adapts to the needs of every project, leaving room for experimentation and creative freedom. "In general, there are two stages at the moment: stagnation and elevation", she states, "Physically, mentally, emotionally and spiritually been vibrating on the same frequencies, the stagnation phase itself could be quite frustrating and painful sometimes, but also brings me excitement as I know once I've moved past this I shall elevate into a higher realm as an artist and an individual."
It's the beauty of individuality which is a reoccurring theme in MaggZ's work, influencing not only her self-initiated projects, but also her collaborations with other creatives. "Being able to be present and to share and honor my beings with other creatives is truly magical and an otherworldly experience, that I feel language is not sufficient to express", she states, "It highlights the exact point of creating and collaborating in forwarding different forms of expressions other than human languages."