After meeting during their master studies in a temporary department called Radical Cut-up at the Sandberg Instituut in 2017, the two friends and artists Javier Rodriguez und Lou Buche soon began working together and finally founded their collective "Robuche". Even if their work is sometimes rooted in the design field as a result of their education, they see themselves as painters first and also started their first collaboration in this discipline. As "Robuche", they are constantly challenging the borders of art and design, their practice spanning painting, graphic design, sculpture and more. Sharing their studio in Amsterdam with very good friends, collaboration and constantly being in conversation with other creatives is an important part of their overall practice. In the last months, Javier and Lou have worked on a big solo art show in Madrid. "The space we used was an abandoned storage space that we emptied and cleaned for the occasion. We teamed up with FUTURO, an architecture and design studio from Madrid", they explain to us. Besides from that, they will soon release a comic book printed with a riso-printer which was created during their residency in Lisbon.
"At the moment, a big part of our work is driven towards some kind of new surrealism, as our latest paintings became somehow way more figurative than before", the duo tells us, "We like to explore an imagery towards impossible landscapes and mysterious figures. Our aesthetic could be the cumulous of the fragmented images that we constantly consume, now burned in our memories." And as a matter of fact, current works, like "The backyard Of Terrestrial Glees" or "Circular Breathing", truly seem to take up some former surrealistic elements and bring them back to life again.
How would you describe the aesthetic of your work in general?
At the moment we might think a big part of our work is driven towards some kind of new Surrealism, as our latest paintings became somehow way more figurative than before. We like to explore an imagery towards impossible landscapes and mysterious figures. Our aesthetic could be the cumulous of the fragmented images that we constantly consume, now burned in our memories.
Would you describe your work as emotional or technical?
For emotional reasons, it is technically impossible to answer this question.
Can you tell us about your creative process?
To have quite a realistic idea of our creative process, picture yourself getting ready to share a tasteful dinner with a friend, with delightful food, drinks and music.
What is important to you during a collaboration in general?
Trust and respect. One love.
What was the biggest challenge during your collaborations so far?
Probably facing very cold and soft fries at a very not welcoming McDonalds next to the highway between Amsterdam Noord and Zuid, after a particularly painful day during the preparation of our first solo show last year…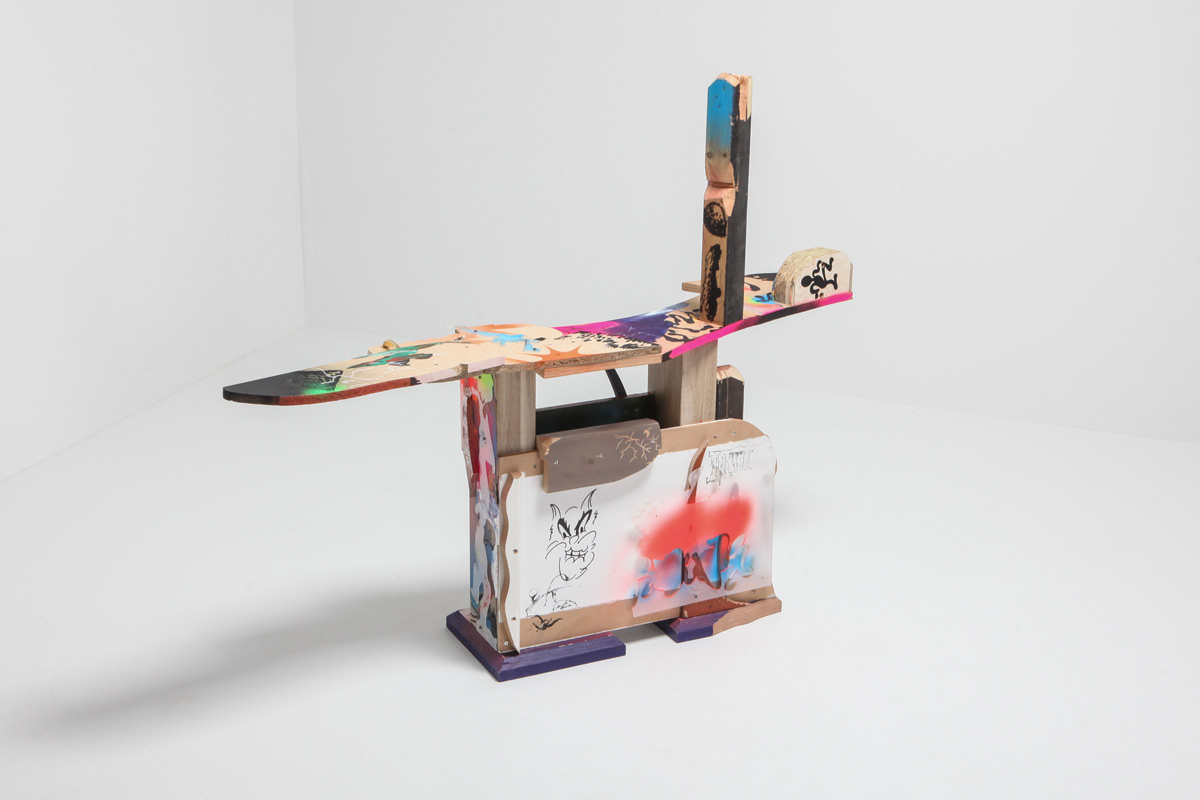 Last December, Javier and Lou participated in the group show "faux amis" in Claptrap, a creative space in Antwerp, where they showed one of their first series of painting. Having mostly used energetic and strong colors in the past, the duo decided to only use black and white this time. "These five formats have been made in a weird space that we used temporarily when we were students. A place where nothing was really clicking, and the energy was pretty low. Our little black and white challenge turned out to be a good fit somehow", the two artists tell us about the process behind the artworks.
Sculptures, like "Atlas" and "Appelezcheval", show their fascination for unusual, abstract forms and mysterious figures. Compared to the creation of a painting or a design work, the process of making sculptures leaves much more room for spontaneity and is not ruled by rationality or logic decisions, such as splitting up the tasks based on skills. Their table-like sculpture "Atlas" was created during their residency in Lisbon. "Atlas" is not only the anatomical term for the first cervical vertebra of the spine in anatomy, it is also the name of a figure in Greek mythology, condemned to hold up the celestial heavens for eternity. Just as Atlas connects heaven and earth and holds the globe, the vertebra connects spine and neck. "Everything is connected", the duo says – and with this fundamental principle in mind, they also managed to connect the sculpture with one of their former works, by engraving one of the elements from their painting "It's arriving", their visual interpretation of a superstructure.
The second sculpture, "Appelezcheval", was created in collaboration with artist Alexis Bondoux during a residency at Fanfare – a studio and non-profit platform for graphic design, visual arts and creative pursuits based in Amsterdam. "We turned this space into our studio for the weekend, which gave us the idea to invite people such as Alexis to see what would happen when recreating the same conditions than our regular creative space, but somewhere else", the duo tells us.
What or who were your early passions and influences?
I think we were both fascinated by aesthetics from comic books oscillating between Neo-Tokyo landscapes and Moebians Mountains. The japanese manga serie "Dragon ball Z" had also a huge impact on us. We were born from the fusion, like Vegeto was. You will also find us jumping pixels platforms in 2D graphic backgrounds and walking on the Miyazaki's wonderful castles … What an experience it would be to find ourselves in the delicious Garden of Earthly Delights from Hieronymus Bosch …
Your practice spans graphic design, painting, sculpture and more. What drives you to working across mediums like this?
Everything is connected and works within each other. You could compare it with the three field system in agriculture. This is a practice of land cultivation under which the common land is divided into three parts of which one or two in rotation lie fallow in each year and the rest are cultivated. As for our dear vegetables, we also need diversity in what is feeding us. And we believe that each of our experimentations and its medium are feeding the next ones. Important to say that we believe that resting is a medium as important than the other ones mentioned; as planet earth, we always need some rest to give birth in peace.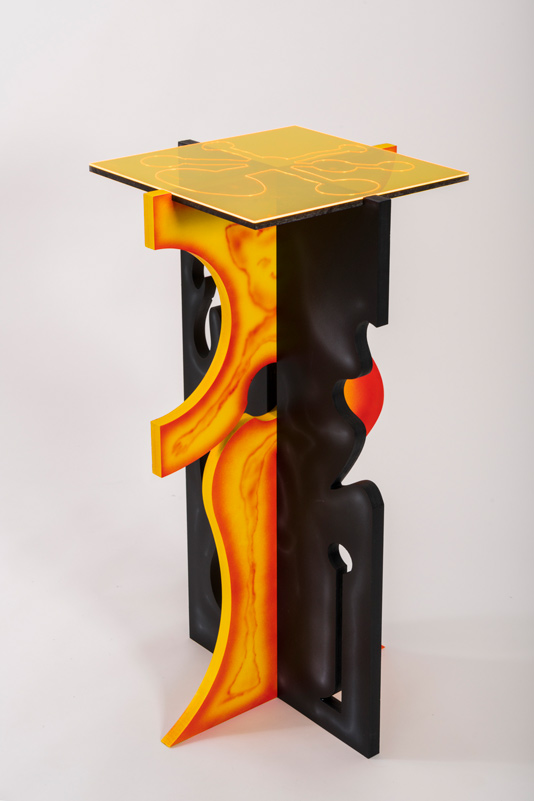 Collaboration being always the base practice of their work, they strive to erase the individuality of each of them as an artist and to become an entity. "Our work is constantly fueled by our collaboration. It's an essential element in our practice, fully based on trust. This trust in each other's decisions is indispensable for us in order to evolve", the duo tells us, "One might think that it makes us evolve in the dark without proper directions. That might be true. Although we do communicate with each others about plenty of things, a big part of our collaborative practice doesn't work with words. It often allows us to get absorbed in a creative flow, where the language becomes visual, giving more space for spontaneity and freedom. This is where the fusion happens, the responsibility becomes one and the feeling of mistake or fear disappears. Instead, the performance can grow as a cooperative game."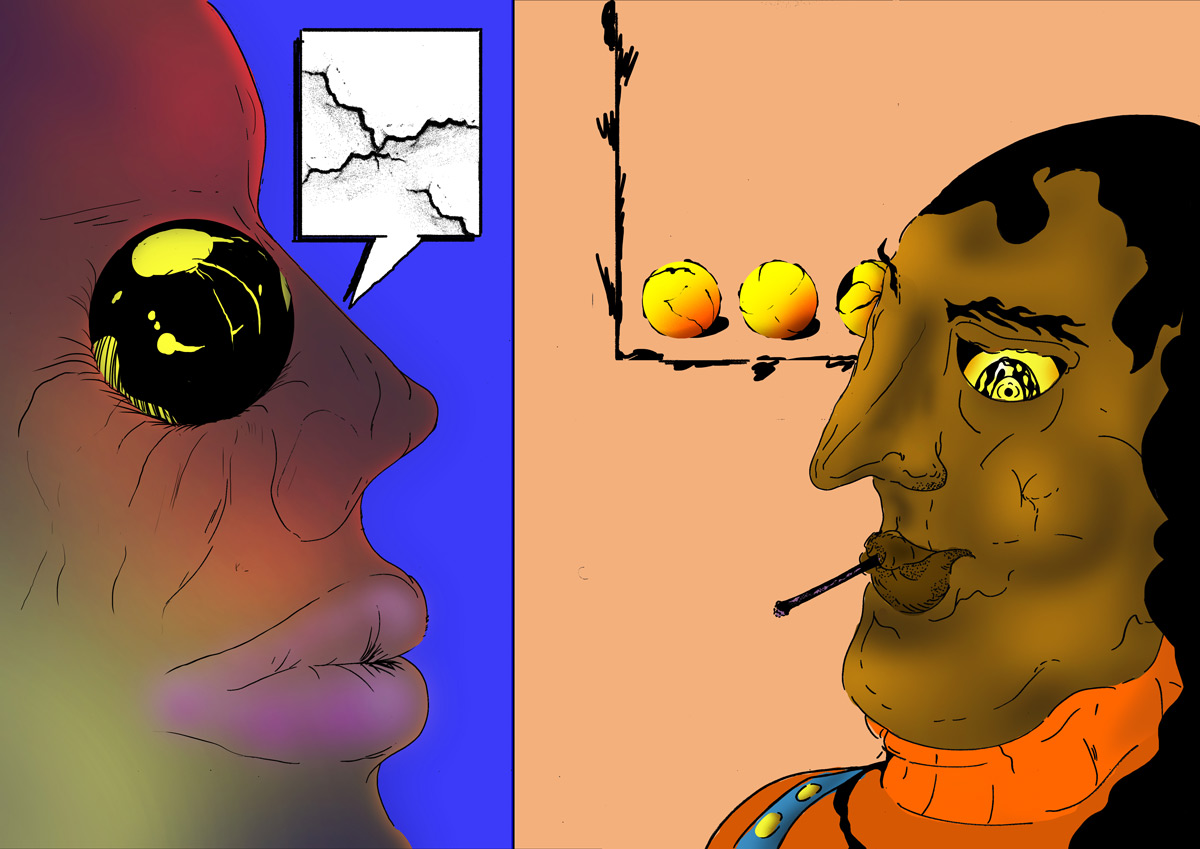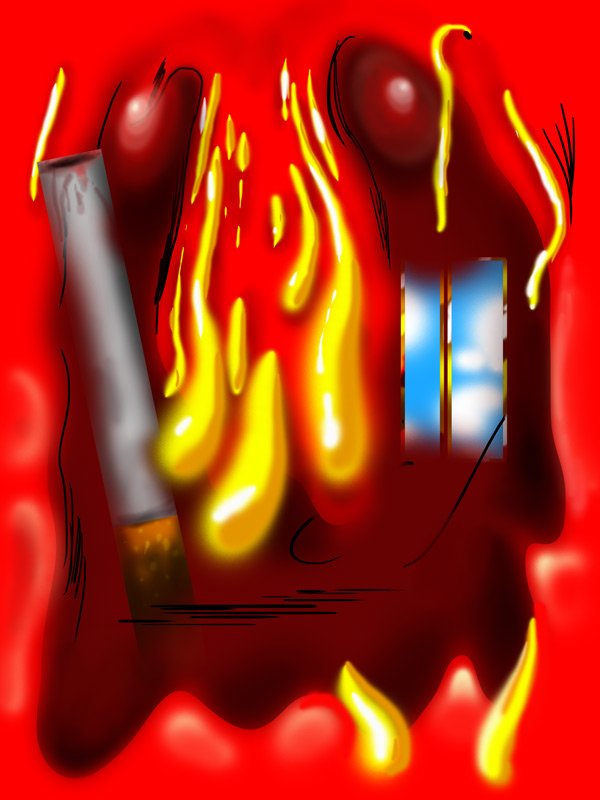 What visual references do you draw upon in your work?
Gotlib decides to show Saeio what's under his coat, while Kévin Bray is watching. Virginie Gauthier is the witness of that strange action and whispers to Katharina Grosse: "They remind me of the Simpsons". Mathias Schweizer and Jean Marc Ballée are behind her, also feeling disturbed, discussing about Yves Tanguy and his weird landscapes. Not far, Beatriz Conefrey is singing some Fela Kuti thune and it reminds Guido and Hannes from SulSolSal the African and Cumbia rhythms…Kerstin Bratsch tries to recognize someone in this crowd. She sees George Matthieu doing a wrestle fight with Paula Rego and wonders who's going to win the game. The referee, incarnated by Michael Jordan, seems as perplex as her. Sister Nancy and Delia Derbyshire don't care about what's happening on the ring, they prefer to help out Agnes Varda who wants to film the whole scene but doesn't really know where to aim. Rudy Guedj and Guillaume Roux are trying to understand what's happening, but seem to be under the influence of a dry plant which makes them speechless. Somehow, in this big mess, while sitting on a chair in the back, Alice Coltrane begins another song, everyone seems to be peaceful.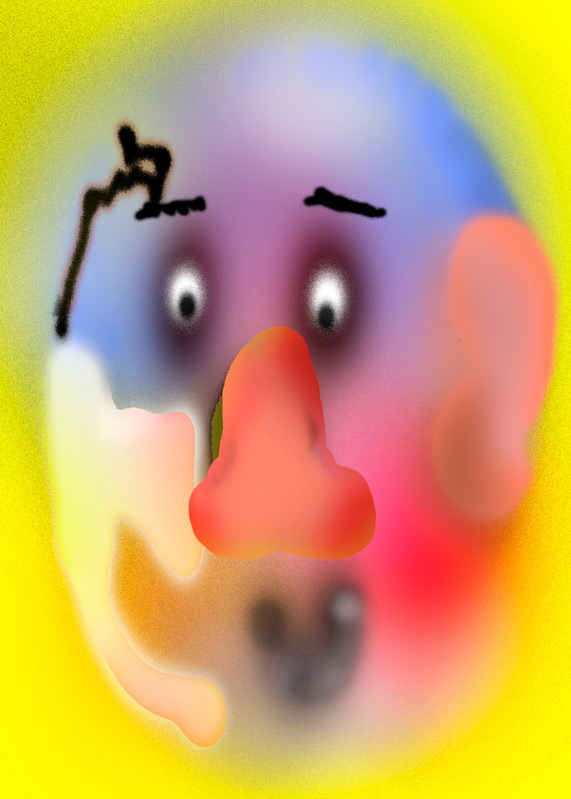 Their dynamic as a collective works out pretty naturally. "We are constantly sharing ideas or inspiration. We are often in conversation about how to develop new images and learn about the old ones. What direction is interesting to explore, which tools satisfy our needs", Javier and Lou explain. "And when the moment comes to materialize our thoughts, it all sounds like a jazz improvisation, pushing each other to the search of a new scale, using familiar tools and sounds to discover new ones".