According to its founders, Torre Alain and Ian Bruner, Solo Show has passed through numerous evolutions before settling into its current form as a dedicated interface for creating and sharing offsite and independent exhibitions. Through their own curatorial projects, Rhizome Parking Garage and Underground Flower, they realized that the artists they worked with had gravitated more and more toward making offsite exhibitions. "Sometimes because of their aesthetic preference, sometimes due to obstacles with institutional participation, and many combinations of these," Torre explains the reasons behind these tendencies. "Through these activities, a visual culture developed, with artworks existing in a symbiotic relationship with their surroundings, distributed online." Solo Show introduces new methods and tools for a broader community of artists, dealing with isolation and existential fears during the pandemic. 
Next to sharing exhibitions on their platform, Torre and Ian create ongoing, collaborative shows that are decentralized, as well as asynchronous. "History is truncated in its iconography and magnification. There are names," Ian tells us, "that get carved in stone and these become history themselves—people, events, places are tokenized and transformed into a warm sensation of past events, things moved forward by those great enough to be recalled. This type of recording or creating of history serves a few purposes: it allows the oppressive forces to funnel power into its asymmetrical forms while appearing to be the shepherds of the past and future, as if the signing of the civil rights act was the 'moment' of history, as if the official's signatures transformed the shape of the human soul and its arch towards anything less barbaric. In the macroization of history, what is lost is the everyday: the actual forces of blood, brain, and body required, to comprise the persons, the communities and movements that actually create history." 
Through decentralizing the exhibitions on Solo Show, the duo aims at allowing for a different kind of history by bypassing existing power structures. Allowing shows to be endless—in the sense that artists can submit to the exhibition even after it has officially "ended"—questions the roles of the curator, artists, and viewer. These exhibitions serve as provocations, endlessly exploring a theme or narrative over time. "The economy of the art market and the gallery tends toward narrow individualism and a strong emphasis on personal career development, but we, artists, are composed of the infinite multiplicity of ideas, artworks, and sensations we have encountered in life, as well as the blood and bones of our multi-layered carnal bodies. We walk in our daily lives with the ancient echoes of our ancestors and all of history, as well as instant communications technology and immediate access to constantly refreshing images and ideas," Torre explains. By forming an open and poly-vocal structure, like Solo Show, the duo has built a platform to channel all of their ideas and visions that is not dictated by the rhythm of the art market. "I hope to circumvent the anxieties inculcated by capitalism as much as possible—the deadlines, the FOMO, the desiring-from-afar that we are all trained to experience—and in doing so, allow our focus and energies to return to the process of creating the work in itself and with others."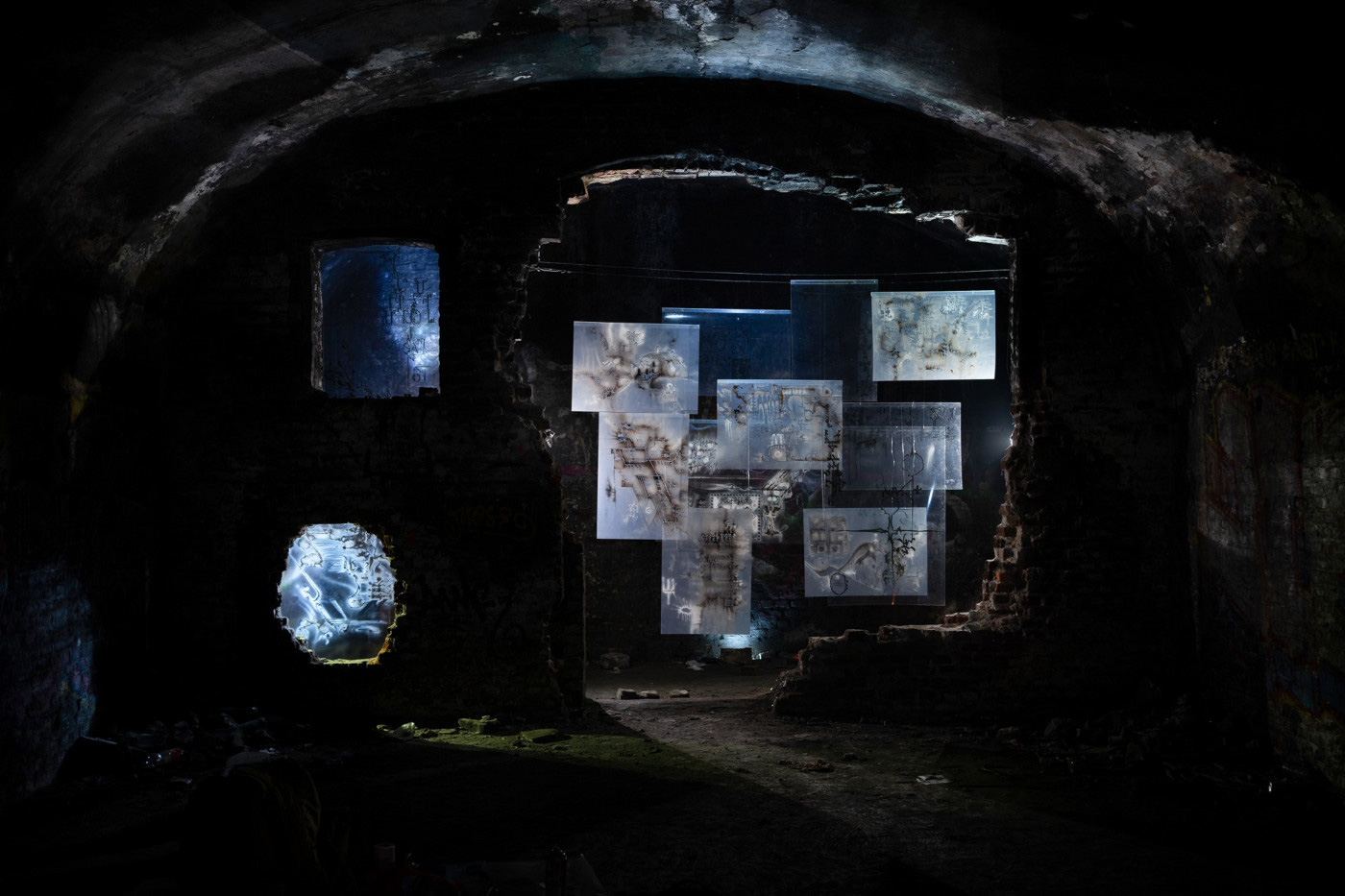 Torre and Ian's critical view on the traditional art world and market is also reflected in the name of the interface, which began as a kind of an inside joke between the two friends. "In the gallery system, a solo show is a prestigious accomplishment which artists strive for; but in the profound disruption of that economy occasioned by the pandemic, anyone could hold a solo show. I think this spirit—that of creating a generative space amidst the reality of crisis, and finding loopholes in Capital through its destabilization—definitely still applies today," Torre explains. The idea of solitude has permeated the projects since the beginning, not only reflected in distance from institutions, but also in the exploration of intimate, personal themes. In Book of Wastelands, the two Polish artists Kamil Sznajder and Hugo Kaszycki collaborated to create melancholic, beautiful sculptural works deeply integrated into their environment, while Japan-based artist runuru utilized materials from an abandoned building site to construct fantastic, dark sculptures in a mystical outdoor installation for their exhibition Biota. 
"For exhibitions we create, we each select a few artists that we believe will add a needed dimension to the form of the show, this is accompanied by a text written prior to the selection of the artist and then sent to each chosen artist. They are invited to respond to the text in any way they see fit," Ian explains. The artists presented on the platform are multi-layered and multi-disciplinary, but loosely connected by an aesthetic thread, often showing gothic, romantic, or post-apocalyptic tendencies. "Most of my curation is guided by aesthetic affinity or eros; I'm deeply attracted to work that carries a certain kind of lyricism, however that expresses itself. In many ways I see myself as simply stewarding this wild growth process— connecting ideas and guiding works into thematic flows," Torre adds. Ritual performances, lore, and spirituality are reoccurring themes in their exhibitions, as seen in their recent shows Gothic Pastoral and MAMAN妈妈. 
It's this spirit of continuity and collaboration that distinguishes the platform from similar formats and online galleries, offering an alternative path away from capitalism and traditional power structures. "I'm very happy to see that Solo Show serves as a meeting-space for geographically far-flung collaborations to occur and kinships to form. Many of the artists we work with come from small towns, suburbs, and rural areas and I actively strive to undermine the dominance of sanctioned cultural scenes in specific urban centers," Torre states. "This is something nearly impossible to do alone. Hermetic creative experiences may be the backbone of our work, but work needs a circulatory system, too—when we come online to find like-minded friends, having our images swallowed by the void of the algorithm can be very isolating. It's important to me to build such a circulatory system, one that exists independently of the market and the dominance of established cultural scenes."
In the future, the duo hopes to see more collaboration between artists, build a creative community, and establish a support system that frees itself from monetization, market values, and status. "The algebra of collaborative work allows you to bypass typical numerical logic, 1+1=3x(number of given participants)=C, and therefore you don't limit the geometric shape to a smooth sphere but rather you can make any shape or something amorphous and free," Ian explains. "It also forces an encounter with the other which will inherently allow for the negative, giving the work more power and clarity and confusion. It creates questions. Freedom is also deeply tied with friendship (As Han has pointed out) and collaboration is an act of friendship and therefore an act in participation with the project of human freedom. "