When it comes to their work, designers Lisa Ertel and Jannis Zell take a lot of inspiration from their surroundings and often incorporate found objects from the environment. With almost childlike curiosity, the couple started to collect beautiful and exciting objects and traces from their recurring walks in urban and rural landscapes, turning their studio into a cabinet of curiosities. Slowly but steadily, the collected souvenirs begin to blend in with the studio's interior, allowing a dialogue between inside and outside.
These souvenirs—a range of different materials, biofacts, and artifacts—were then the starting point for research, delving into the culture, myths, and history linked to Maastricht and served as a resource for experimental work, questioning the stability of our material habitat. "We moved to Maastricht when the pandemic hit its peak. Apart from our own flat, JVE Academie and supermarkets, we could practically not enter any other building," Lisa and Jannis tell C24, "so to explore our new home we just walked around a lot—with no destination and no particular reason—through the empty city, the parks, and the nearby nature." During the Open Studio Days at Jan van Eyck Academie, Lisa and Jannis presented the resulting experiments under the name 'Sense of Place'.
Originally trained as designers, with Lisa coming from a background in product design and Jannis leaning toward graphic design, their precedent education at HfG Karlsruhe allowed them to explore different disciplines and led them to work autonomously and concept-driven, with a strong focus on collaboration with like-minded artists. "Our education gave us the privilege and freedom to follow whatever intuition we had without nailing us down on any disciplines," they state. During their studies in Karlsruhe, Lisa and Jannis moved into a flat together and started collaborating on projects, like a battery-powered torch inspired by a seafaring emergency lamp from a trip to Venice or a coffee table playing with olfactory senses during dinner events. For two years, the duo is part of FAN Collective, working alongside nine friends and fellow artists. "The residency at JVE was a chance to combine our strengths and working methods to collaborate on a completely open project for the first time, " they tell us, "Because we are trained in different fields, we bring a different set of skills and perspectives into our collaborative work. And since we are also a couple, we can be brutally honest with each other. In a team, next to sharing the fun at work you also share responsibility."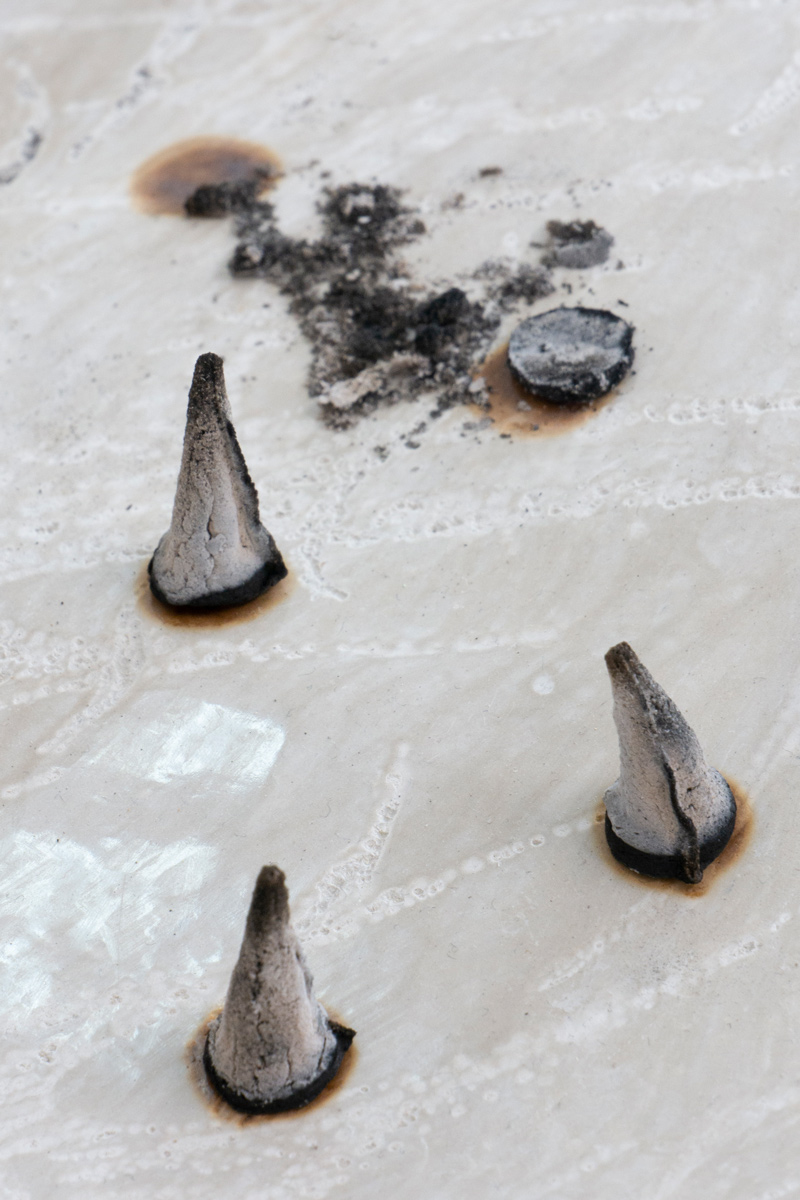 One of their first walks in Maastricht took them to the nearby Frontenpark, a wildly overgrown and untamed garden next to the canal with old fortifications running through. "As it was late autumn at the time, most of the greenery was already gone, exposing the trunks of the trees around the canal," Lisa and Jannis remember, "we noticed that almost every second tree showed marks of teeth or already has been fallen to the ground. Beavers!" Delighted by their discovery, they returned to the same spot again and again and installed a wildlife camera, to observe the beavers and their building skills. "At this time, the park rangers were dressing every untouched tree in chicken wire to protect the carefully curated park landscape from the beaver. Saved from extinction, people are now overwhelmed by the return and activity of this rodent. The beaver has become a kind of collaborator for our show—as an artist, provider of construction material, and teacher."
In their work, Lisa and Jannis utilized a broad spectrum of different techniques and materials that characterize the landscape in and around Maastricht, including soft marl, hard flint, wood chips left behind by the beavers, and metal. "We find it exciting to have a diverse toolset at hand, from traditional hand tools to industrial processing methods to digital 3D software," they explain what drives them across mediums like that, "this helps us explore materials from different perspectives and to find the right method that supports our message and the qualities of the material in the best possible way. Using or repurposing tools and machines in unusual ways also brings us great joy." Their ideas often come from a subconscious flash of inspiration, triggered by the discoveries on their walks. "In the process for our work at the Jan van Eyck, it sometimes happened that one of us grabbed a tool and just started working on collected material, like marlstone or wood, and the other one got infected and just joined in. Without much talking and discussing, we worked side by side. A mixture of attentive observation of the other and joint improvisation. You could perhaps compare it to the collective improvisation of jazz musicians."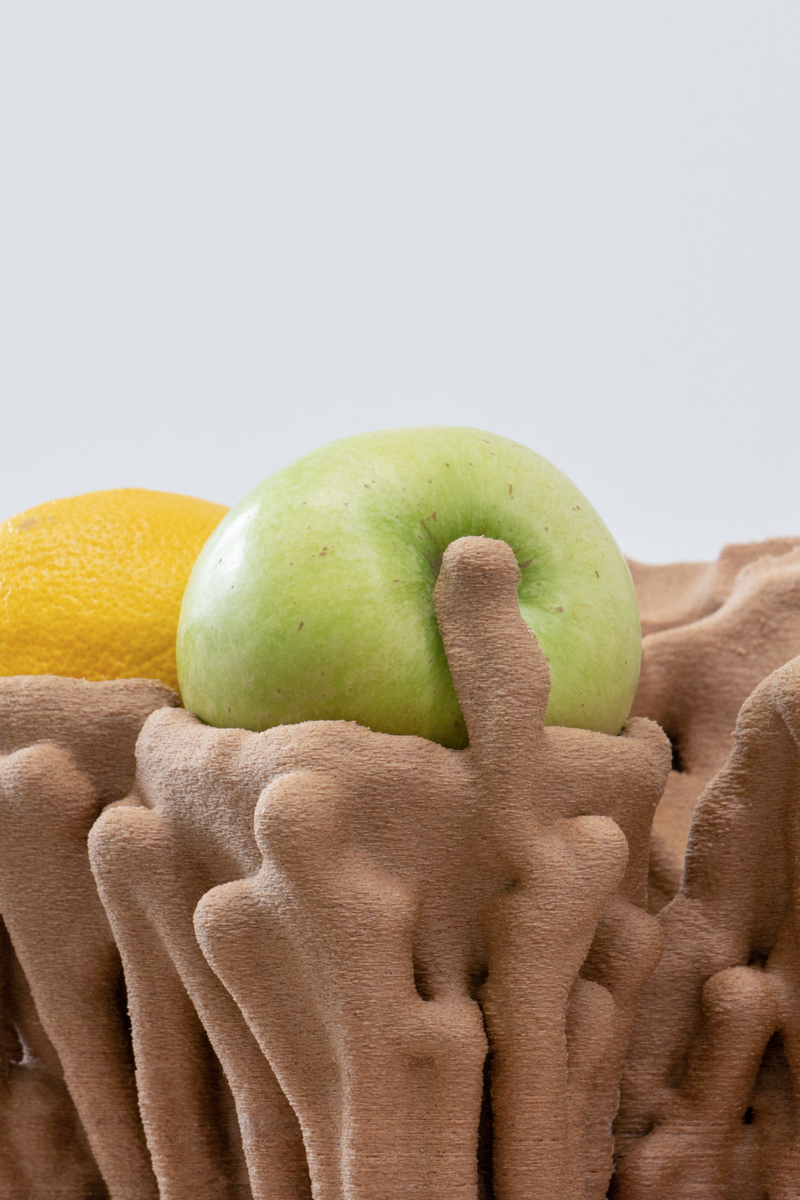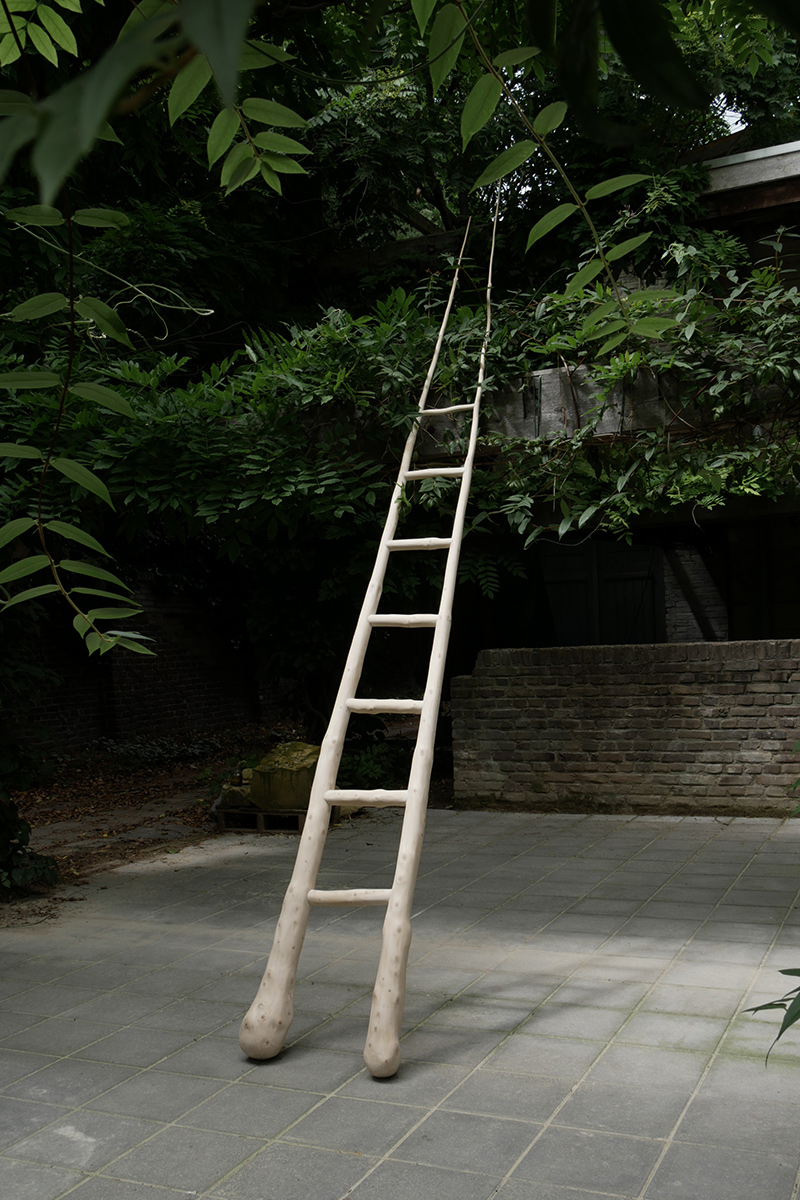 Through experimentation with these materials and objects, the duo gives them a new role, a new context, a new environment, by taking them, as souvenirs, from one place and incorporating them into their studio. "When biofacts and artifacts from different worlds are brought together in one place, unforeseen connections and stories emerge in which history, art, nature, and science collide, like in a cabinet of curiosities," the designers explain, "We like to work with what the genius loci—the spirit of a place—has to offer. It limits us in a pleasant way and helps us to focus our attention on the qualities of the things surrounding us. It trains you to respond to the given circumstances, comparable with the approach of 'Arte Povera' or Levi Strauss's concept of 'the Bricoleur.'" With their work seamlessly fusing function and disfunction, Lisa and Jannis's practice creates a dialogue between nature and culture, showing their masterful ability to draw art out of everyday objects and findings, howsoever small.