"What if this is a world where something is about to kick off?" concludes the exhibition text for Irene Stracuzzi and Leeza Pritychenko's newest collaborative installation, "Enceladus." Plumes of smoke evoke hydrothermal vents while a planetary cross-section imagines an underground sea with the molecular potential to incubate extraterrestrial life, all accompanied by a dreamlike soundscape suggesting what could be. The piece is situated within a larger symphony of mysteries that coalesced at Triennale Milano's 23rd International Exhibition, Unknown Unknowns. The group exhibition, whose subtitle reads: 'An Introduction to Mysteries' exhibits over 100 thematic works on mysteries linked to the universe and deep space.
When Irene Stracuzzi was specially commissioned by the exhibition curator (and astrophysicist!) Ersilia Vaudo to create an installation about extraterrestrial oceans, Irene brought on her serial collaborator, Leeza Pritychenko to help with the task.
Irene is a Netherlands-based designer with an affinity for information design and cartography. She tells us that her past works have dealt with themes of "border politics, GIS software, climate science, geology, legal frameworks, and a reflection on the responsible use of datasets." Meanwhile, Leeza is a freelance 3D artist, working on conceptual media art productions, as well as VJ-ing. As Irene puts it: "Leeza's visual style has often a dreamlike and otherworldly quality." What is certain is that this pairing is "a match made in heaven," Leeza tells collide24. The Triennial Milano piece marks Leeza and Irene's fourth creative collaboration since having become acquainted in 2020 when they worked together on three visual campaigns for the Amsterdam-based FIBER festival. "It was an instant click both personally and in terms of the working process," Leeza tells Collide24.
What transpired in this latest collaboration is a multi-sensory installation of Saturn's sixth-largest moon, Enceladus: a celestial entity that is regarded with special curiosity by scientists for its hydrothermal activity, and peculiar geology. With an underground ocean, it is thought to have a molecular composition with the potential to harbor extraterrestrial life! But ultimately, there is still much unknown about this distant moon. As Irene explains to Collide24, "the question of life on Enceladus is currently unanswered. So how much do we actually know about Enceladus? Why is it interesting for scientific exploration and what will we do with the information?" That ambiguity is gracefully expressed in the design of Irene and Leeza's installation, which is both scientifically informed and speculatively fabricated. Where Irene brings a methodical design approach grounded in evidence, cleanliness and a passion for information design, Leeza's layered and ephemeral visuals speculate a vibrant and psychedelic landscape for Enceladus. The pair communicate that it is exactly this "speculative aspect of Enceladus that gave us room to experiment, as the visuals didn't have to be 100% scientifically accurate."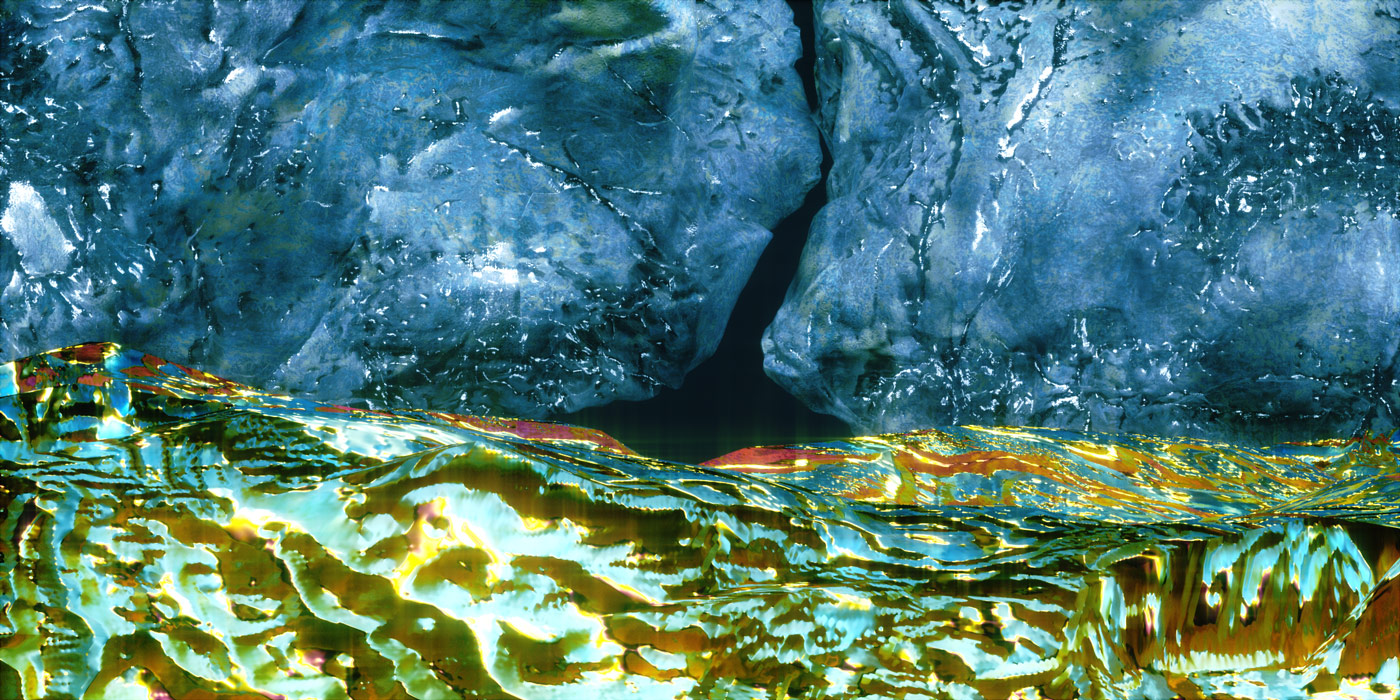 As the viewer encounters the quarter-sphere installation, a 3D-printed surface of what is recognizably the surface of a moon becomes apparent. Circling to the other side of "Enceladus," the viewer is met with a video projection of a less-textbook, more-abstracted visual speculation of the moon's interior. For this, Leeza created a three-minute looped series of animations, describing to C24 that "some animations are set up in a way that is reminiscent of a research submersible POV. I deliberately added shiny bits of bright unrealistic colors to make it look slightly more psychedelic and alien." Other animations are described as being more practical, "with different layers and explanatory infographics designed by Irene." The resulting piece does not fall short of inspiring the childlike wonderment of outer spaces' expansive unknown. What the designer and 3D artist duo demonstrate best is an understanding that collaboration across disciplines necessitates an equally interdisciplinary collaboration of minds. The work is further mediated by bringing in a third collaborative entity: composer and musician Emilio Pozzolini, tasked with producing a lunar soundscape for Enceladus. "But what would an extraterrestrial ocean sound like? These were difficult questions we asked Emilio to work on. In the end, the sound he created evokes an otherworldly atmosphere, while keeping some original terrestrial elements that make the hydrothermal elements understandable," Irene and Leeza tell Collide24.
Besides provoking our curiosity, "Enceladus" goes further: contributing to a broader discourse on the harmonization of nature and culture. "We wish to contribute to the dialogue between science and art, in order to explore how the two fields can influence each other and to create new ways of communicating knowledge and ideas." The pair go on to tell us that their work also carries philosophical intentions, being as much about the planet Enceladus "as it is about showing the difficulties and the unknowns of scientific research, the limits of human knowledge, and our inherent drive to understand the universe." We expect that the future of Irene and Leeza's work will continue to expand our curiosity. Next up from Leeza includes a collaboration on a dance performance, large-scale VR productions, and a music video for an electronic music producer. And from Irene: an expedition in the Arctic Ocean this spring where she will be collecting data for future projects that we can't wait to see.