Bringing together artists from different fields, HOLON is a new interdisciplinary format for research and play initiated by MONOMANGO, an experimental design company founded by multidisciplinary artists and designers in 2007. The Berlin-based team behind HOLON consists of Olivier Fröhlich, Albane Mullabazi, Nahyun Park, and Abigail Toll. Using virtual tools and instruments, HOLON—meaning "a part of a whole"— connects creative formats and their role in society to support the transfer of knowledge, fuel collaboration, and connect people between virtual and physical spheres. It provides a platform for discussions and performances that shed light on new technologies and their environmental and social impact. The opening event "Blurring Barriers" featuring visual artist Maria Braune and multidisciplinary collaborators Hannelore Braisch and 11v151131_m06 will take place on November 24, 2022, and be on show to the public at selected times until December 16, 2022.
"The concept of HOLON emerged out of the NFT and meta verse hype. We wanted to use HOLON as a way to explore the environmental and social complexities of Web3 technologies, as well as their promise of new so-called utopias and escapism from the physical world. This is why our format places equal value on the physical and virtual spheres and everything in between, as well as the chance to connect with different groups of people in different disciplines," the team behind HOLON tells C24. By fueling collaboration between artists from different disciplines, HOLON invites them to expand the limits of their work and explore new contexts at the end of each project period as a site-specific commission. "We see HOLON as an experimental format and not a gallery. This is an important distinction since we want it to be a fluid container for events, exhibitions, and experiments that happen in our research/event space, but also in larger venues and virtually," they state.
During the opening event, HOLON presents an experimental, site-specific installation featuring artists Maria Braune, Hannelore Braisch, and 11v151131_m06. Under the theme "Blurring Barriers," the three artists engage with each other's works through HOLON's physical and digital portals. Maria's physical sculpture crawls into and transforms through the interfaces of Hannelore and 11v151131_m06's digital worlds, melting the threshold between the physical and virtual spheres. "For our opening event 'Blurring Barriers' (…), we hope that the audience is inspired by the dialogue that is brought about by the brand new collaboration. The playful intertwining of their physical and virtual sculptures raises questions about the seductive nature of immersive experiences in both the metaverse and physical reality. We hope it activates some kind of reflection on how technologies have an increasingly complex influence on social life and the perception of realities," they explain.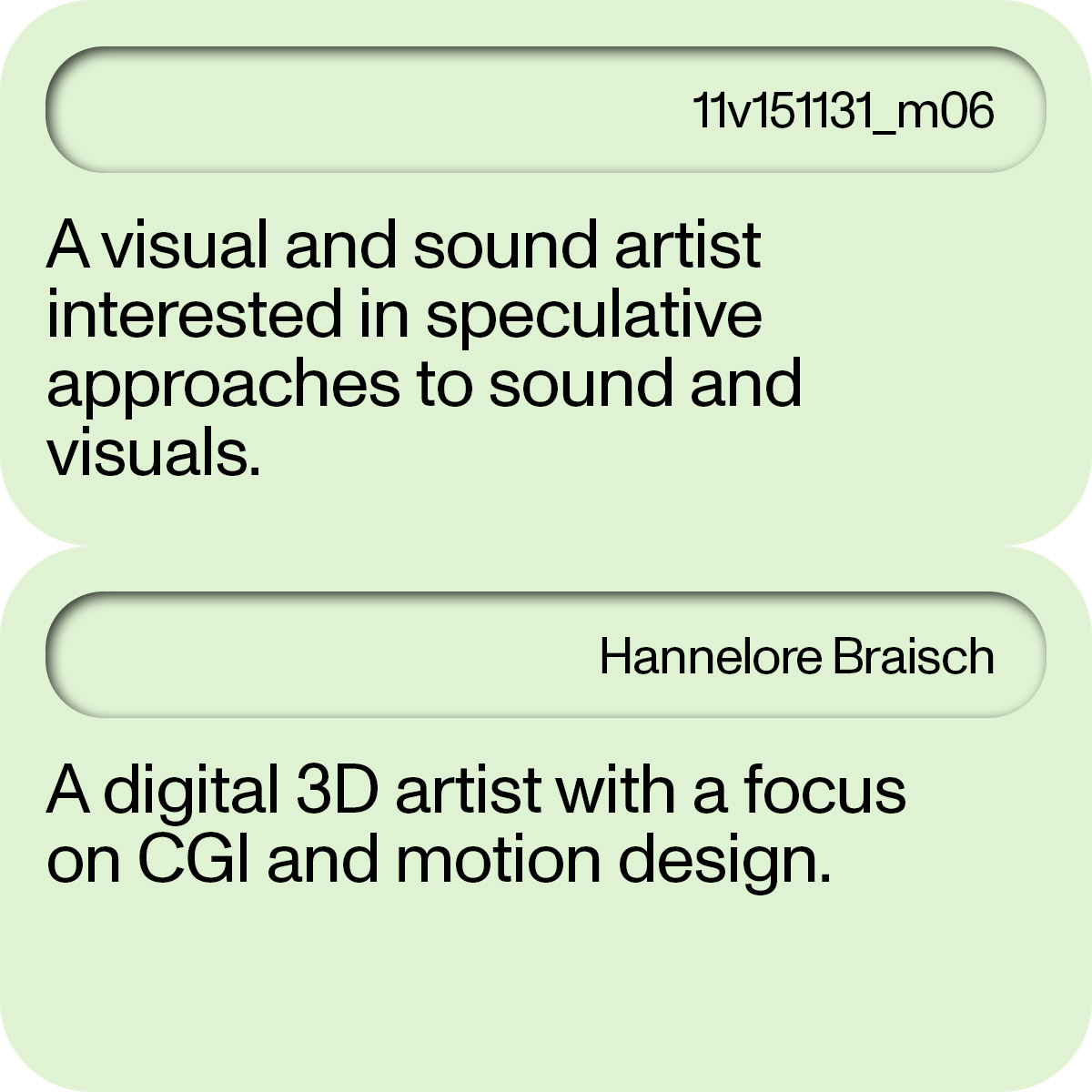 According to the press release written by Anabel Roque Rodríguez, Maria Braune completed an apprenticeship in sculpture at the Berchtesgaden School of Sculpture between 2008 and 2011 before earning her diploma in fine arts at the Academy of Fine Arts in Munich in 2017. Originally from Berlin, the visual artist now works between Chiemsee and Munich where she co-runs the collective art space LANGEVIN. Her work was nominated for various awards and presented at national and international group exhibitions. In the last few years, she has developed the substance "Migma" which consists of eight raw materials. After heating and pouring it into shapes, Maria adds other industrially manufactured materials to cause ruptures and changes within the material before it dries.
11v151131_m06 (MX) is a Mexican audio-visual artist focusing on CGI. After completing his studies in composition at Pompeu Fabra University in 2008, he has worked for various new media art and technology studios across Europe, America, and Asia and collaborated with international artists, including Pauline Oliveros, John Zorn, Yoshida Tatsuya, and William Winant. He is currently researching aspects of ancient futurism and occultism.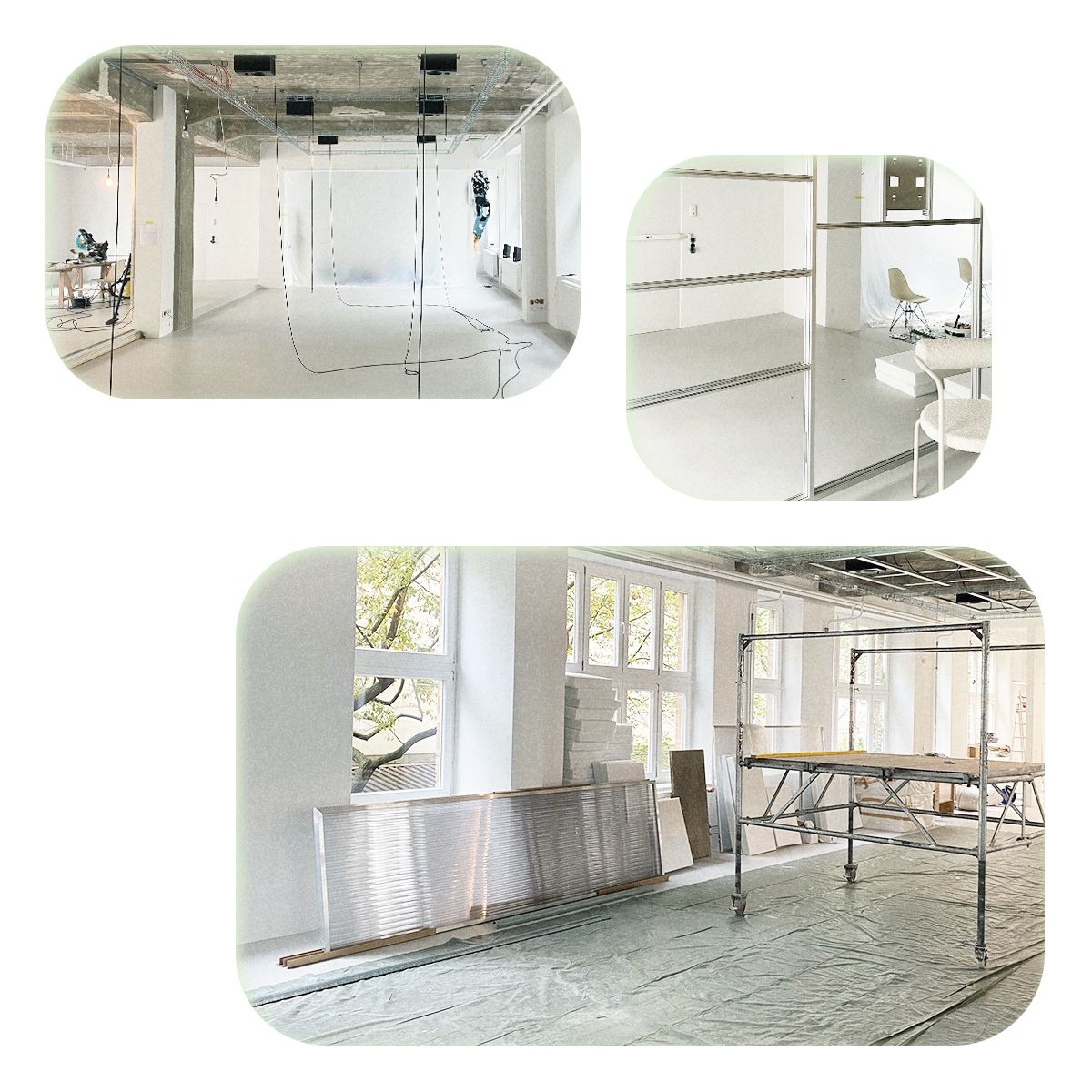 Hannelore Braisch is a digital 3D artist focusing on CGI and motion design. After completing her bachelor's degree in communication design, she now produces 3D-generated artworks for contemporary visual content, mostly in cooperation with clients from the fields of art, music, and fashion. Inspired by traveling through the Carpathian Mountains and her deep connection to nature, her digital artworks explore organic textures and structures combined with futuristic and surreal shapes. Immersing herself in experimentation, Hannelore explores the relationship between the virtual and the physical, the reality and the metaverse.
"For the two opening events," the team behind HOLON explains, "we've worked with artists from our extended network. However, one of our guiding principles is to reach artists, musicians, curators, and creative technologists who we are yet to meet. We invite anyone who works in an interdisciplinary, curious, and collaborative way to propose ideas for exhibitions and workshops. In the future, we also plan to develop a virtual portal that enables audiences and artists from anywhere in the world to participate and to access our events."