"Simulacrum 24/7" is an interdisciplinary, cross-media, and cross-space group exhibition. It uses simulated, artificial materialities and synthetic textures to explore the symbiotic interaction between Hamburg-based Frappant Gallery and its freshly opened digital space "Der Vierte Raum". The gallery is a non-commercial white cube in the middle of a cooperatively managed center for alternative culture, education, creative industries, and social affairs in Hamburg-Altona. Next to their three exhibition rooms, the Frappant Gallery has founded a fourth digital space for hybrid art events in 2022. Drawing upon the idea of the mockup as the ultimate IRL-URL fusion, a collective of students from HAW Hamburg invites visitors to immerse themselves in the fibrous continuum of reality and perception and to gain new perspectives on the relation between the digital and the analog. In the exhibition, the mockup—a design tool used to visualize or demonstrate an idea, process, or product—becomes an autonomous, infinite work of art far beyond the boundaries of time and space. The mockup imitates the final product and thus blurs the line between fiction and reality, function and speculation.
Nameless as yet, the collective began as a collaboration amongst students from Professor Bartholl's classes at HAW Hamburg. In 2020, one of its members, Stefano Dealessandri, was invited by Frappant Gallery to organize an exhibition that connects their digital space "Der Vierte Raum" with their physical space. By inviting other students to participate, the collective became a heterogenous and interdisciplinary group of like-minded artists, illustrators, and designers, among them Gina Bartzok, Lukas Besenfelder, Lucia Girardet, Charlotte Hafke, Julia Löffler, Godje Loof, Chiara Mizaikoff, Laurin Schuh, Jonas Schuh, Rebecca Söhlke, and Vito. Inspired by Gille Deleuze and Felix Guattari's concept of the rhizome as explained in their book "A Thousand Plateaus", the collective rethinks the ways of sharing resources, knowledge, and ideas by forming a non-linear network with fluid power structures.
Other projects like "A Plus", "Samt #2", and "Deep.Dance" show their ability to adapt to the needs of each project, covering art, curation, creative direction, and all of the in-between. "Having several 'brains' and 'hands' when working on the same project is a precious enrichment for everyone involved. Thanks to the exchange of ideas and perspectives, one can evolve and broaden their understanding of a specific topic. Especially in the first stages of a freelance career, it can be reassuring to work with people you trust. We must share the same values, allowing us to create a safe space inside the group. That way, everyone feels valued and encouraged to experiment without feeling pressured by the hectic, intimidating, and 24/7 performant outer world," the group tells us.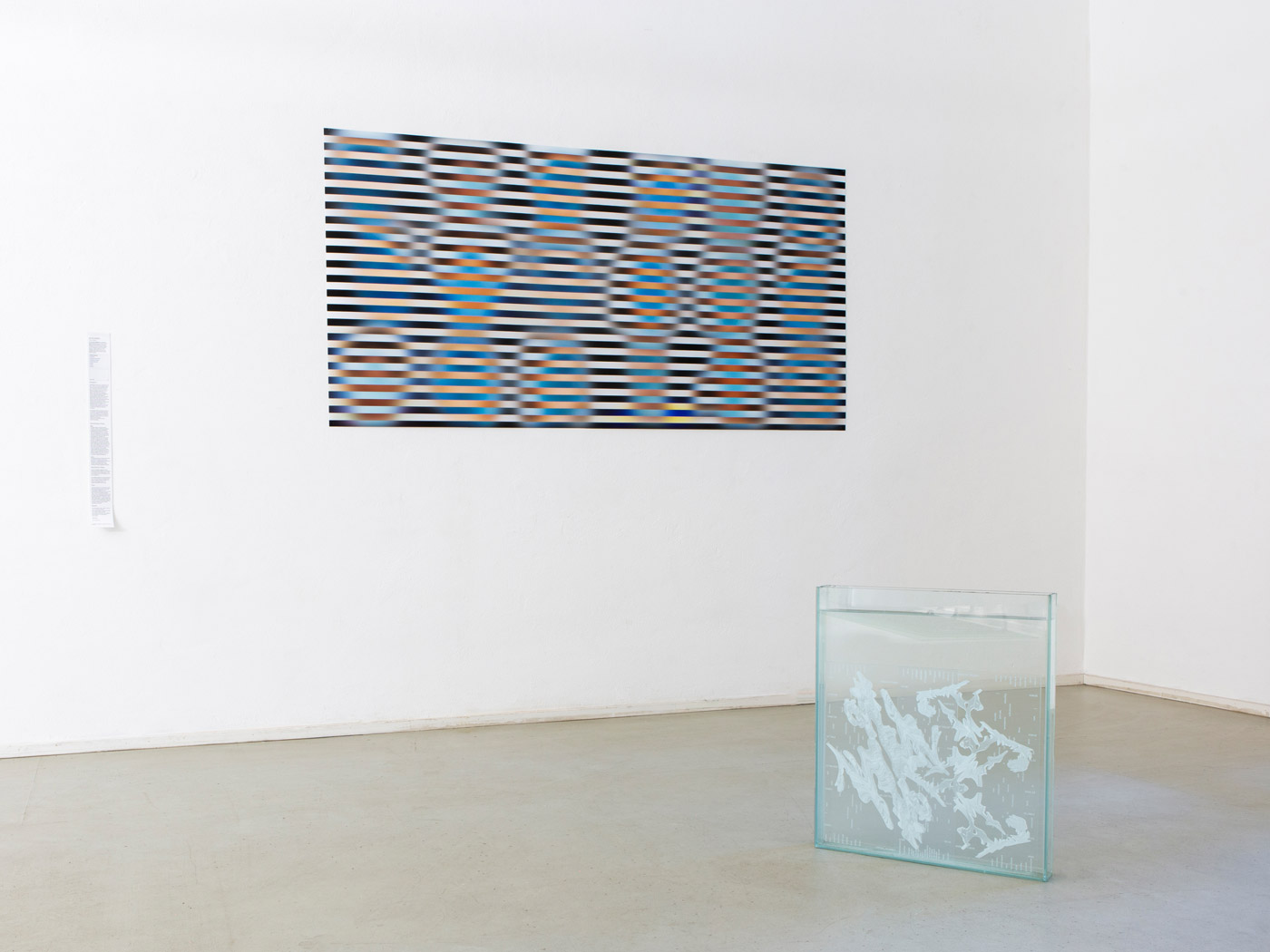 "Simulacrum 24/7" attempts to serve as a model for future synergetic exhibition forms. That way, The exhibition itself becomes a collaborative mockup. It takes its viewers on an epistemological journey through four exhibition spaces presenting works by Lukas, Charlotte, Stefano, Chiara, Laurin, Jonas, Rebecca, and Vito. The speculative cross-space installation "6/6 GLASSES" by Lukas simulates a dystopian future in the metaverse, questioning the concept of digital data protection. Set in the year 2045, the installation depicts people using wearables to protect them from advertised surfaces, popups, data tracking, and the profit-boosting algorithm.
The cross-space installation "Intensivsimulation" by Stefano takes up the ongoing research around the exoticization of artificial turf. In German-speaking countries, they often are sold under the names of paradisiacal islands, like Antigua, Bali, or Capri. By examining the marketing strategies in these countries, the project raises questions about mass tourism, simulated ownership, and ecology. "In this speculative space, artificial grass carpets act like green screens—green projection surfaces of postcolonial thinking," Stefan tells us.
"CC:LASHES" by Charlotte and Chiara is a collection of objects, ready-mades, photographs, drafts, and instructions. The archive works with original and re-interpreted Christian quotes and verses to offer guidance to worshipping the self and the environment. "CC:LASHES" is on display at Frappant Gallery but is also presented as a digital simulation within "Der Vierte Raum". "Their physical, worldly existence woven into an esoteric and magical narrative provides an understanding for our species, serving as a mockup for the magic of being free of judgment and full of freedom and love", Charlotte and Chiara explain.
Next to their individual projects and practices, the collective is already looking for a new studio space where they can keep working together after their studies. "Before most of us will start working on our final bachelor's and master's projects, we are planning to go on a little 'workation' trip to the Venice Biennale. Between one Spritz and the next, we will find new impulses for future collaborative projects."