Easily being one of the most culturally diverse places in Europe, Brussels is a city of contrasts, where old meets new. Presented at the All-In Flanders Festival 2022, the show Capital of Brussels takes its audience on a hop-on/hop-off tour through the city, exploring its hidden gems. When photographer Illias Teirlinck was invited by the Flamland-Holland Központ to exhibit at the opening of their new center in Debrecen, he gladly took the opportunity to get graphic designer Broos Stoffels involved, as the duo had long wanted to collaborate on an art project together. By reinterpreting signs, symbols, or typography found in the streets of Brussels through their photographs and designs, their work offers an authentic glimpse of their city far from sightseeing spots. "What I found most inspiring were the streets secluded from the tourist highlights. These—at least for the tourists!—meaningless places are the daily reality for the city's residents," Illias reflects.
Getting his start taking photos at concerts and music shows in exchange for free entry, Illias uses his medium to reveal an authentic and humorous look into everyday life in Brussels, shooting urban spaces and their residents. "I think the biggest influence on my work is the city in which I live. Every day, I see new faces, shapes, and colors," Illias raves about the diversity of Brussels. The documentary photographer received his postgraduate in Digital Storytelling at the Royal Academy of Fine Arts in Belgium and his work was published in several renowned Belgian media since.
Since we last caught up with Broos in 2021, the graphic designer and art director has started his own design practice in Brussels after working at DIFT in Ghent for five years. Approaching each design with a unique perspective, Broos enjoys developing design systems for identities, publications, campaigns, scenographies, and websites.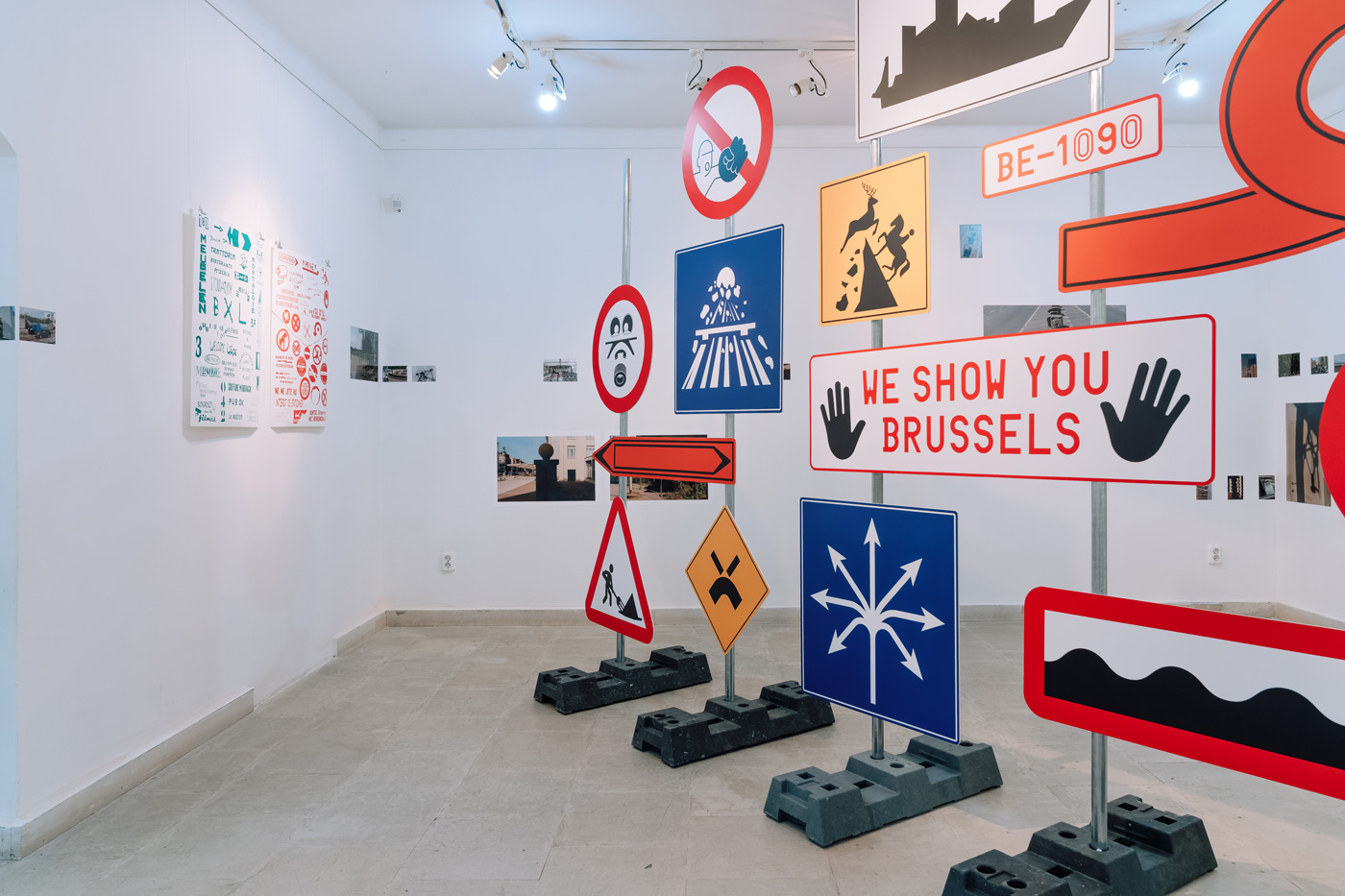 Best known for its art nouveau buildings, Brussels has an extraordinarily rich and diverse architectural heritage. While documenting the city's structures, Illias and Broos took a special interest in its wayfinding system. Since Brussels is multilingual with most residents speaking either Dutch, French, or German, every corner of the city is full of rich contrasts and ambiguities. "It causes a huge urban chaos of wayfinding and a flood of information," Broos explains. It's this ambiguity and diversity that inspired the duo to search for contrasts and absurdities in their surroundings. The way the viewer moves through the exhibition resembles this process, as Illias explains: "Sometimes the visitor has to bend down to observe a photo properly, then take a step back to take in a larger photo print. To add visual complexity to the series, I used different layers of narrative, such as playing with paper type and size."
Belgium is divided into three highly autonomous regions, Flanders in the north, Wallonia in the south, and the Brussels-Capital Region. Its institutional organization is complex, born of its linguistic diversity and related political conflicts. To capture this friction between the three regions, Broos has redesigned the Belgian flag, including their three symbols: the Walloon Rooster, the Lion of Flanders, and the yellow Iris of Brussels. "They are intertwined, but also turn their backs on each other," Broos explains about the flags flanking the exhibition entrance.
Through their work, the duo hopes to give visitors a different perspective on Brussels. "The city has a bad reputation, both in Belgium and abroad. We want to pay our tribute to the city but not in an ironic way. As with much in life, things are not always black and white but shades of grey. Just let Brussels be a beautiful grey city."