Inspired by the electronic, ambient song "Forth Rendez-Vous" by Jean-Michel Jarre, graphic designer Najmi Arifin teamed up with Allya Matisa to explore the universe in their collaborative project "Universal: A Guide To The Cosmos". Based on a former illustration of Allya, the two designers have created a mysterious and dark visuality which leaves you captivated by its energetic colors and futuristic formal language. While the radiant colors remind you of cosmic spaces and far galaxies, the narrative illustrations of Allya awaken science fiction fantasies. "I wanted to highlight 'Cosmos' as something that represents a unique experience. The inspirational research purposes focused on the exploration of the universe."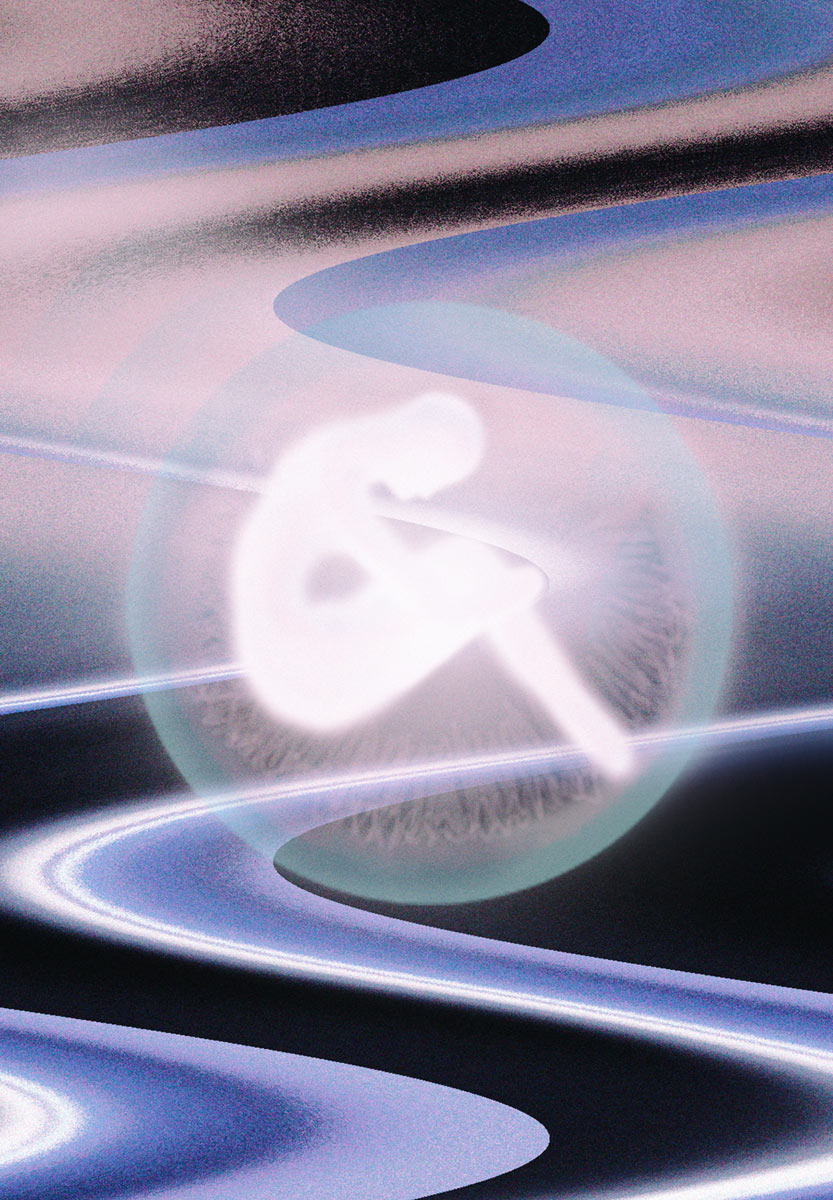 Soon after they first met, Najmi found Allya's illustration on her portfolio and suggested to work on a project together. "For the first steps I came out with a few drafts for the look and feel. But the first drafts lacked conceptual clarity, so we decided to concentrate more on the individual elements. Our time was really limited but I really wanted to use this limitation to push our inventiveness and creativity." To him, collaborations are a good way to broaden the own perspective and to get insights in the other person's workflow. "It is a new learning process. The initial ideas always become the hardest challenge when it comes to a collaboration. Every designer needs to get acquainted with each other styles. I always want to create something new for everyone involved, which will be beneficial to our practice in the end and will lead us the way to a medium that we are less confident in."
The two designers live and work as freelance designers in Kuala Lumpur. Both describe the design scene in Malaysia as "thriving", especially in Kuala Lumpur. "The creatives here are making some really impressive march with their craft. Their progression is really motivating me to push my boundaries. If I would have the chance to encourage designers through personal projects and self-initiated projects, I would love to guide them", Najmi tells us about the design scene in his hometown.
His own portfolio reaches from futuristic album covers to fancy shirt designs and bold artworks. All his projects have something in common: a dark and alluring visuality with an internet-inspired formal language and a detailed focus on typography – a good mixture of classical, swiss influence and contemporary, bold design styles. "I am heavily inspired by 90's hardcore punk flyers/posters. My passion to music became the major factor for me to become a graphic designer."
Because music was not only the source of inspiration for this project, it was also the staring point of Najmi's design career. "I really loved music since high-school. I remember back in the days when I got this one album from Akta Angkasa with the title "Kognitif". The album was designed by Zulhezan who is the brain behind the band itself. I listened to this album on repeat and it really just blew me away", Najmi tells us while indulging in his memories, concluding: "I was so impressed with the idea of the cd packaging and the whole album at that time. The layout was inspired by the swiss style: They used Helvetica typeface with white and silver spotted pantone print. The whole thing is like a synthesis of my love for the music. "Since then I thought of graphic design as such a fascinating career that I really wanted to pursue. I still think back to this experience years later, now working as a graphic designer. I am really grateful that I had this album, it means a lot to me." As an inspiring collaboration from the past, he names the 90's album of the Malaysian legends Tan Sri P. Ramlee and his wife Saloma as a huge inspiration for him.
As Music has always been an important part of his working process, it is hardly surprising how Najmi imagines his next collaboration in the future: He would love to work for the identity of a music festival. To him, collaborations are a good way to broaden the own perspective and to get insights in the other person's workflow. "It is a new learning process. The initial ideas always become the hardest challenge when it comes to a collaboration. Every designer needs to get acquainted with each other styles. I always want to create something new for everyone involved, which will be beneficial to our practice in the end and will lead us the way to a medium that we are less confident in."